The UK may not get the most extreme weather conditions compared to other countries, but there are still often hazardous conditions on our roads during winter that we should prepare for. Understanding the potential hazards on wintery roads and preparing to tackle them accordingly is a great way to drive safe during the colder months.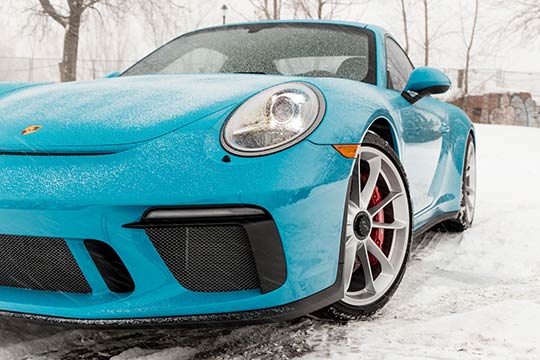 How to prepare for driving on ice
When the weather is bad it is advisable to drive only when necessary, but if there is no avoiding getting behind the wheel then preparation is key.
Keep supplies in your car – this includes a blanket or extra clothes to keep you warm, food and water, a torch, a shovel and ice scraper and a first aid kit. You will be thankful for these supplies if you end up braking down in bad weather!
Have a full tank of petrol – the last thing you need is to be stuck on the side of the road in the snow due to an empty tank. Keep it filled up to get yourself home safely.
Check the tyre tread – the tyre tread needs to be at least 3mm to provide the right amount of grip. If you have some extra money, it can also be worth investing in some winter tyres.
Tips for driving on ice safely
Once you have prepared yourself for the worst, it's time to learn how to drive safely if caught on icy roads.
Take extra care – drive slowly and attentively to reduce chances of skidding. Leaving bigger gaps between you and the vehicle in front can also reduce the chances of a collision if you were to skid whilst braking.
Stick to major roads – busier roads are more likely to be free of ice due to the amount of cars that have already driven on it, and are also the first to be serviced by a gritter or salt spreader. Quiet back streets are more likely to see snow and ice built up and are potentially more dangerous.
Clear your whole windscreen – while it may be tempting to simply scrape away ice and snow just from the driver's side of the windscreen, you should really clear the entire surface of the glass. Once the car starts to heat up and gain some speed, ice and snow can come loose and fall directly into your line of vision, especially dangerous if you're driving on the motorway.
Stay calm if you skid – the worst thing to do is to panic and slam your foot on the brakes. Gently take your foot off the accelerator and let the car slow down gradually. Also, steer into the skid so it straightens up naturally.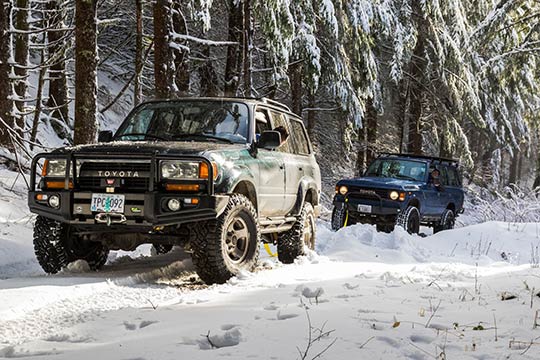 The best cars for driving on ice
There are certain vehicles that are better suited to handling poor road conditions. The best cars for driving on ice will often have a four-wheel drive to provide a smoother and more controlled performance. Here are a few of the top cars for winter driving ranging from a budget option to a more luxurious choice.
Dacia Duster SUV – the Dacia Duster is one of the best value for money SUV's on the market. What it lacks in style and equipment, it makes up for in driving performance. When selected with a four-wheel drive, its off-road ability is just as good as those in a higher price range making it capable of remaining in control on slippery tracks.
Land Rover Discovery Sport – Land Rover are known for their luxury range of SUVs and the smallest of the fleet, the Discovery Sport, is just as capable in tricky situations as the larger and bolder models. As soon as winter hits and the conditions become icy, the four-wheel drive can be selected and this is where the Land Rover really shines. The impressive traction makes winter driving more reliable and safe.
The BMW 3 Series Estate – if you're looking for a car that performs well in challenging conditions but you're not a fan of a large SUV, then take a look at the BMW 3 Series Estate. It's practical, stylish and its xDrive four-wheel drive system is just what is needed to stay in control in the winter.
If you find yourself regularly driving in bad weather conditions and want a vehicle that is more capable to handle the icy roads, see how much your car is worth and upgrade to a more versatile and well-performing vehicle.