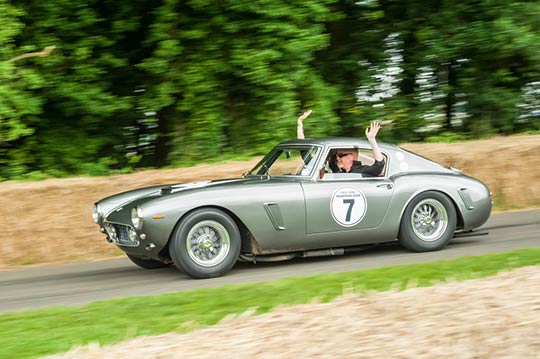 Chris Evans loves cars. He really loves cars. Chris Evans loves cars so much that after making his name as a media mogul in the 90s he all but blew his not-so-small fortune on a fleet of expensive cars. The rest was pretty much spent on buying pubs and living the high-life…
So just how much has Chris Evans spent on his impressive collection? Let's take a look…
Evans' Fleet of Ferraris
Back in 2009, Evans famously spent £5.5 million on a Ferrari 250 California SWB once owned by Hollywood hard man and Magnificent Seven star James Coburn – here's Top Gear's James May taking it for a spin…
And that's not even the half of it. Evans owns ten more, including a 1961 TR61, a 1961 250 SWB California Spyder, a 1963 250 GT SWB, a 1965 275 GTS Spyder, a 1985 288 GTO, a 1990 F40 and a 2011 SA Aperta.
There's also a 246 Dino, a 250 GT Lusso and a 275 GTB quad cam in there, too.
For a long time, there was one glaring omission from Evans' fleet of Ferraris though, as he pointed out in 2009: 'I want to earn enough money to get a 250GTO,' he says. 'It'll never happen, they're making £16m these days. How the hell am I going to manage that?'
It didn't take Evans long to figure out a way, and in 2010 he splashed out £12 million on this red 1963 250 GTO…
More recently, Evans spent over £2 million on a classic Daytona Spyder – a world record price for the model.
Oh, and Evans also bought Billie Piper a silver Ferrari full of red roses the day after their first date, before buying another Ferrari, a Range Rover, a Jaguar and two Ford Mustangs during their four-year marriage.
Oh, You Pretty Thing…
So you've just bought your dream car, where do you go from there? Buy a classic of the silver screen of course – and that's what Chris Evans did in 2012 when he spent a cool £500,000 on the iconic car used in Chitty Chitty Bang Bang.
The car became available after its previous owner won it at a Los Angeles auction only to find that, at 17-feet long, the car wouldn't fit in his garage – and Evans spent no time in taking it off his hands, largely because his son, Noah, loves the Disney classic.
The Dirty Dozen
Chris Evans doesn't like to keep his cars under lock and key and famously takes them to auto shows across the UK. Last year he treated Goodwood Festival of Speed goers to his 'Dirty Dozen' – which comprised his 'Magnificent Seven' Ferraris and his 'Famous Five' classics.
Featured in the 'Magnificent Seven' are:
● 1961 Ferrari TR61
● 1961 Ferrari 250 SWB California Spyder
● 1963 Ferrari 250 GT SWB
● 1963 Ferrari 250 GT Lusso Competition
● 1965 Ferrari 275 GTS Spyder
● 1973 Ferrari 365 GTB/4 Daytona
● 1990 Ferrari F40
While the 'Famous Five' is made up of:
● 1964 Aston Martin DB5 Convertible
● 1965 Aston Martin DB5 (star of Goldeneye)
● 1965 Mini Cooper S (Italian Job replica)
● 1970 Jaguar E-Type
● 1973 Lamborghini Miura
So just how much has Chris Evans spent on cars? After examining the evidence, it's difficult to say – there's a good chance Evans himself doesn't even know the exact figure. Let's just say whatever he paid, it's worth every penny. And more.
Have you been debating whether yo get yourself a new car or not? Treat yourself like Chris Evans does and get that car you've always wanted. But first, let's get rid of your old one. Get your free car valuation today to see how much it is worth.