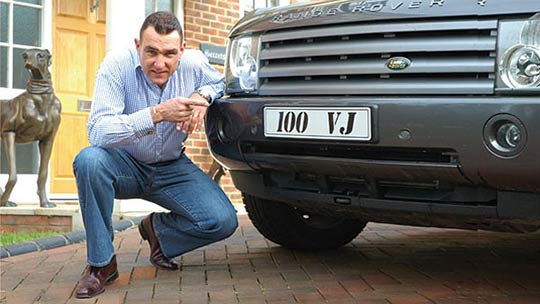 Are you a celeb spotter? If so here's a run-down of some the UK's most prominent plates.
VIP1
Originally commissioned for the visit of Pope John Paul II back in 1979, these digits were snapped up by Chelsea owner Roman Abramovich for a cool £285,000 back in 2006, a lot to you and me but that's only just enough to cover Jose Mourinho's wages for a week! However, I'm disappointed to confirm the Russian billionaire hasn't acquired himself the Popemobile yet for his fleet of supercars, that special plate on is on a Maybach 62.
TH1EO
The Apprentice isn't the only business-based reality show whose stars have their own plates. Dragon's Den has a few of its own with Theo Paphitis, in particular, a bit of a reg plate addict. The Cypriot born investor owns TH1EO and RYM4N (the name of his stationery business). Scottish entrepreneur Duncan Bannatyne's got a whole host of plates too, including F1TSO, for his gym repair van.
MAG1C
Septuagenarian entertainer Paul Daniels has one up his sleeve with this plate. After first enquiring about it back in the 60s, he finally got his hands on MAG1C in 1985 when he bought it with a Ferrari. Another TV star from that era with a similar reg is Jimmy Tarbuck who picked up COM1C from a Birmingham garage in 1968, the comedian had it fitted to one of his Mercedes and it's still on one of the German manufacturer's cars now.
WE11JEL
Fast forward to a more modern TV celebrity and former The Only Way is Essex (TOWIE) star, Amy Childs. £80,000 made this plate hers, more than doubling the cost of her Range Rover in the process. The reg is based on her catchphrase 'well jel', although she was left a little red-faced and shaken after writing off the vehicle last year. Thankfully unlike the vehicle, she escaped unharmed, but who knows where that reg has got to now?
FAB1
Lady Penelope's fabulous, rosé Roller had a reg plate to match its appearance in The Thunderbirds, but back in the real world, this number's owned by new Top Gear presenter Chris Evans. He's had the plate on a few different cars over the years but for the last couple, it's been fixed to a bespoke built, candy pink, Rolls Royce Ghost. The motor was built to raise awareness for Breast Cancer Care and is still available to hire, with all proceeds going to charity.
100 VJ
From something very lady-like to The Mean Machine himself. Ex-footballer turned movie hard man Vinnie Jones owns the plate 100 VJ, he always gave everything out on the pitch and rumour has it the 100 stands for 100%. Funnily enough, during his acting career, the most memorable moments have involved motors, from the brutal car crash scene at the end of Lock Stock and Two Smoking Barrels, to the car thieving film which introduced him to American audiences, Gone in 30 Seconds.
Have you ever tried to value a star's car? Do you have a desired number plate you love to get your hands on? Or have you seen another famous reg to tell us about? Get in touch!
Top tip: personalised number plates can devalue your car, so if you're thinking of selling your car, bare this in mind when estimating your resale price.