From the Batmobile to KITT, we've rounded up 10 of TV and cinema's most iconic black cars. Turn heads and take to the roads in one of these slick black rides.
#10. Smokey and the Bandit – Pontiac Firebird
First appearance: 1977
Make: Pontiac Firebird
Top speed: 123mph
Fast cars, cold beers and Burt Reynolds, what more could you ask for from this 1977 classic. The iconic Pontiac Firebird driven by Reynolds in this film was heavily customised for the production, adding bespoke decals and even reshaped headlights to give the car a more muscular look. Pontiac even made four 1977 Trans Am models for the film before the vehicle was released for general sale public. What Burt wants, Burt gets!
#9. Blues Brothers – Bluesmobile
First appearance: 1980
Make: 1974 Dodge Monaco Sedan
Top speed: 127mph
"It's got cop tires, cop suspensions, cop shocks… Is it the new Bluesmobile or what?" The 1980 American film, The Blues Brothers, showed Elwood Blues tell his brother how he traded in their precious Cadillac for a microphone and ended up with '74 Dodge Monaco police car. But the question is, would the Cadillac have been able to jump the bridge?
#8. John Wick -1969 Mustang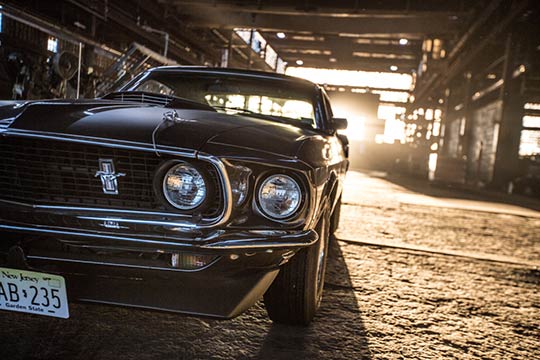 First appearance: 2014
Make: 1969 Mustang
Top speed: 104mph
Unfortunately, we couldn't find a John Wick clip that didn't contain graphic violence or language, but if you're over 18 and haven't seen this film, it's a must-see! Any action movie fans are sure to be familiar with John Wick, and more to the point, his stunning classic 1969 Mustang. In fact, it's the theft of John's car (as well as some other unforgivable indiscretions) that lands the villain of this action-packed flick in such hot water with John and sets the wheels of the movie in motion. This beautiful 1969 Mustang sure takes some punishment, but handles it well!
#7. Green Hornet – Black Beauty
First appearance: WXYZ radio show in 1936
Make: Imperial Crown Sedan
Top speed: 200+mph
The Green Hornet was originally broadcast in 1936 as a radio adventure series, quickly becoming popular with listeners of the WXYZ station. Perhaps one of the Hornet's most memorable assets is his trademark car – 'Black Beauty'. This Imperial Crown Sedan was capable of reaching speeds of over 200 miles per hour and was expertly driven by the Hornet's high-kicking sidekick, Kato (formally played by Bruce Lee, earlier in his career!).
#6. Mad Max – V8 Interceptor
First appearance: 1979
Make: Ford Falcon GT Coupe 1973
Top speed: 141.5mph
Mad Max is back in the spotlight after Tom Hardy's recent portrayal of the road warrior, and with such a strong focus on customised cars and mechanical engineering in each Mad Max movie, it is no wonder that Max himself has a signature ride! Max's V8 Interceptor appears in both of the first two movies in the series and is based on a 1973 Ford Falcon XB GT Coupe. What a lovely day!
#5. The A-Team – 1983 GMC Vandura
First appearance: 1983, NBC
Make: GMC Vandura
Top speed: 100mph
The A-Team first appeared on our screens on the NBC TV show in 1983, which later became a huge blockbuster film. The indestructible ex-special force soldiers on the run from the law continue to fight crime in their just as indestructible GMC van. The black GMC Vandura with distinguishable red stripe outruns the police due to its fearless driver (except when it comes to flying), played by Mr T, and its ability to jump!
#4. Fast & The Furious – Dodge Charger
First appearance: 2001
Make: 1970 Dodge Charger R/T
Top speed: 221mph
If you love fast cars, then you will love The Fast and The Furious saga. The original of the American franchise was released in 2001 and introduces the powerhouse that is the Dodge Charger; a supercar passed down from Toretto's father. This sleek black favourite can really pick up some pace in a drag race reaching an impressive 221mph!
#3. James Bond – V8 Vantage
First appearance: 1987, The Living Daylights
Make: Aston Martin V8 Vantage
Top speed: 170mph
James Bond is known for his fast cars, particularly his love for Aston Martin supercars. The Living Daylights film released in 1987 stars a sleek black V8 Vantage modified with all the gadgets Britain's number one spy needs. Missiles, check, lasers, check, rocket motor, check, and we get to watch Bond, played by Timothy Dalton, test out his toys in an epic car chase.
#2. Knight Rider – KITT
First appearance: 1982
Make: Pontiac Firebird
Top speed: 200+mph
Who doesn't love an excuse to watch a David Hasselhoff clip? Knight Rider was one of TV's most popular action shows, with a successful 4 season run from 1982 to 1986. While we like to think a large part of the show's success was due to the Hoff's powerful perm, a lot of the credit has to go to KITT, a quick-witted talking car. Capable of speeds over 200 miles per hour and spouting some unbelievably cheesy one-liners, this list wouldn't be complete without mentioning KITT!
#1. Batman – Batmobile
First appearance: DC Comic #27, May 1939
Make: Lincoln Futura
Top speed: 330 mph
Perhaps the most iconic of the black beasts on our list, the Batmobile has had countless redesigns and reimaginings over the years. From the original design of the first Batmobile which made its first appearance in DC Comics back in 1939 (and was bright red!), to the much bulkier armoured iterations of the vehicle in Christopher Nolan's Dark Knight trilogy, this car packs the speed, power and gadgets to strike fear into the hearts of even Gotham's most fearless criminals!
Did you see your favourite iconic black car on our countdown? Be sure to let us know your favourite in the comments below!