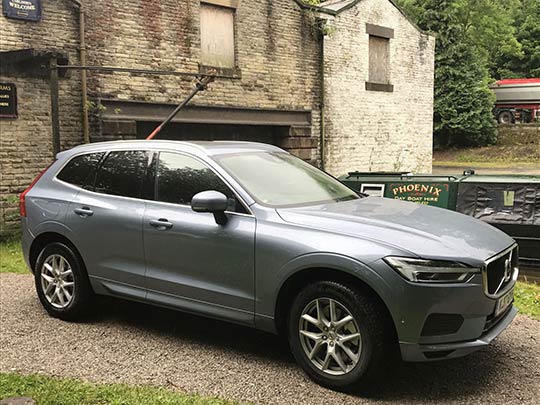 Volvo is a company on a mission to hit the headlines. This is one of its last new models with no electric motor hybridisation.
It was a very bold statement. From 2020, nobody should be killed or seriously injured in a new Volvo car. So said the Swedish company's chief executive a year ago.
Then came the recent headline-grabbing pledge. From 2019, every new car that Volvo launches will either be electric or hybrid, or have a small electric motor working in harness with its petrol or diesel engine to optimise economy – a system known as a 'mild hybrid'.
Volvo has long been known for its strong emphasis on safety, and is keen to re-assert that reputation. But with a major focus on safety now common right across the motor industry, that protective leadership is no longer such a stand-out selling point. So now Volvo wants to lead the way on across-the-range electrification.
That's still a couple of years away. Meanwhile, here is the Chinese-owned, Scandinavian car maker's newest model, the latest XC60. This is Volvo's size-friendly, scaled-down sibling of the award-winning XC90. A third SUV, smaller than the other two, is on the way, but the XC40 won't arrive until next year.
Slick and classy
So here we are in the new XC60, with its slick looks and classy cabin. It's slightly longer, wider and lower than the outgoing model, and has freshened styling. The Swedish 'Thor's hammer' design of the headlights is more pronounced, and stretched right to the edges of the front grille, and the signature L-shaped rear lights are distinctive when you see the car from behind.
Volvo does cool Scandinavian chic in its cabins very well, and this new model XC60 is a good example. It doesn't have quite as many hidden 'Easter egg' surprises as its big brother XC90 – notable for a spider and web etched in a boot stowage box – but it does have a tiny Swedish flag tastefully engraved on the edge of the glovebox.
One of the car's most novel and useful details is its deep shelf compartments located unobtrusively beneath the rear seats. These are perfectly sized to stow laptops or iPads securely out of sight.
Driving experience
Behind the wheel, the new XC60 is brisk, civilised and sure-footed. The two-litre D4 diesel engine is a strong performer, free-revving and with good mid-range torque, giving the car a zestful feel. It has tidy handling and good body composure around the bends.
Slightly numb feedback means that it isn't quite as much fun to drive as some of its similar-size SUV rivals, it doesn't feel as dynamically alert as the best of them. But it is briskly efficient, has good refinement and is comfortable, quiet and reassuring on a long trip.
It's easy and relaxed to drive, with its smooth and efficient eight-speed auto transmission and well-damped ride. It isn't the sharpest driving experience – it's no Porsche Macan – but it has a very rounded, low-fatigue feel.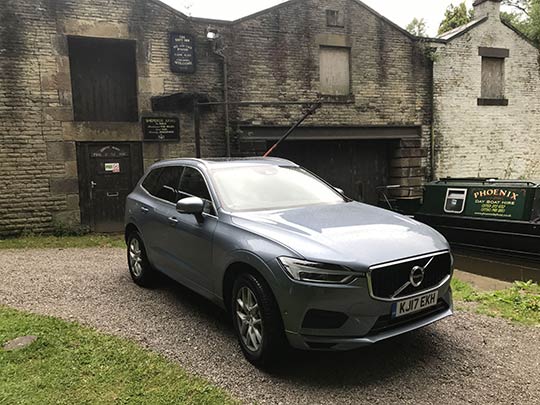 Semi-autonomous
The XC60 is on the path towards a driverless car future, with its semi-autonomous technology. Optionally, it can come equipped with Pilot Assist, to moderate the strain of a long motorway trip by doing the accelerating, braking and steering for you at speeds up to and just beyond the legal limit.
It lets you sit back and relax while the car automatically adjusts to other traffic. You have to keep your hands loosely on the wheel, though.
There is a standard City Safety technology pack that includes Steer Assist, which detects the presence of something in the road ahead and steers you away from it. Other safety features include Ongoing Lane Mitigation, which steers you back into your lane if you inadvertently drift towards the path of another vehicle.
There are three trim levels in the new XC60 range: Momentum, R-Design and Inscription, plus extra-kit Pro versions of each. Engines choices are three two-litre, four-cylinder units: two diesels with power outputs of 187 (the D4) or 231 bhp (D5), and a 250 bhp petrol (T5). A twin-engine petrol-electric plug-in hybrid, the T8, joins the range later this year.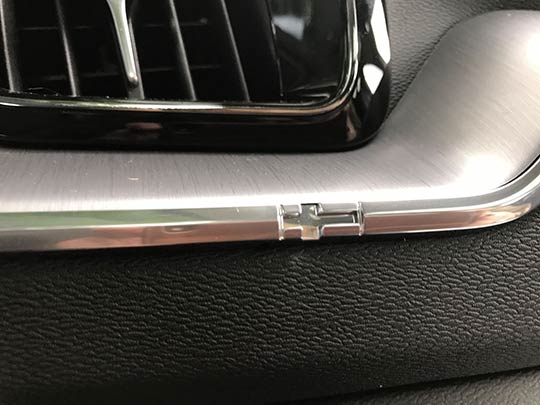 Tough competition
The XC60 is up against some strong rivals, mostly German but including a couple of Brits: BMW's X3, Audi's Q5, the Porsche Macan, Mercedes GLC, Land Rover Discovery Sport and Jaguar's F-Pace.
All versions of the XC60 are all-wheel-drive. The most economical in the range is our test car, with 55.4 mpg and a CO2 output of 133 g/km. The sportiest, with a T5 petrol engine, averages 38.7 mpg on the combined cycle and emits 167 g/km CO2.
The new Volvo kicks off at £37,205 for a D4 AWD Momentum, and the range tops out at £45,600 for a T5 AWD Inscription. Extra kit can bump up the price quite steeply. Our bottom-of-the-range test car's options push its final price, at £45,885, to more than a standard-kit range-topper.
Volvo XC60 stats
Model tested: XC60 2.0 D4 AWD Momentum
Top speed:  127 mph
0-62 mph:  7.9 secs
Economy:  55.4 mpg
CO2:  133 g/km
Price:   £37,205
Considering an upgrade to the new Volvo XC60? Selling your old car to webuyanycar.com and using the money you receive to put down a cash deposit on the XC60 could help you negotiate a better deal! Get started today by finding out how much your car is worth, and if you're happy with the price you receive you can book an appointment at one of our 250+ UK branches to sell your car!