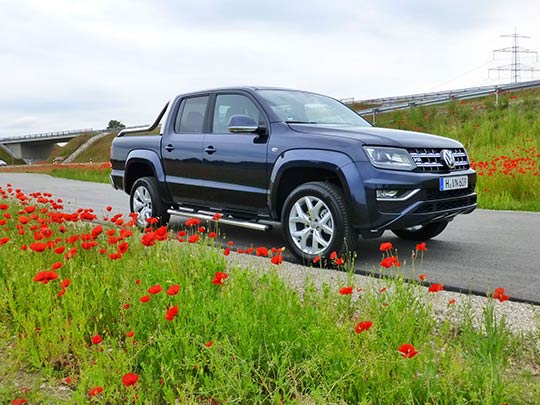 Car comforts in a tough and capable workhorse.
Six years ago Volkswagen launched the company's first pickup, the Amarok. Why that name? Well it's a native American Inuit tribe word for a wolf, and of course VW's world headquarters and main factory is in the German town of Wolfsburg. Except that the Amarok isn't made there, it is produced in Hanover. Nice link though.
Music fans will recall a successful 1990s album of the same name by Mike Oldfield, and for Irish speakers it closely resembles the word for 'tomorrow', giving it a futuristic edge, at least in Gaelic. It also has a nice predatory ring about it, intended to bare fangs at rivals like the Nissan Navara, Toyota Hilux and Ford Ranger. Pickups have long enjoyed huge popularity in the US, and now they are clawing more ground this side of the Atlantic too.
The capable Amarok went down well from the start, with its curvy body designed by VW's renowned car styling chief Walter da Silva, as well as its car-like cabin and its trusty two-litre, four-cylinder turbodiesel engine with power outputs of 138 or 178 bhp.
More style and substance
Fast forward to now, and here comes the second generation Amarok. It has undergone minor exterior cosmetic tweaks, and a much more major cabin overhaul, but the big change is under that elevated bonnet. Gone is the old four-pot 2.0 engine that needed more power, but crucially would have had to be very expensively reworked to meet the latest Euro 6 emissions regulations. In comes a gutsier, cleaner, three-litre V6 with power outputs from 161 to 222 bhp.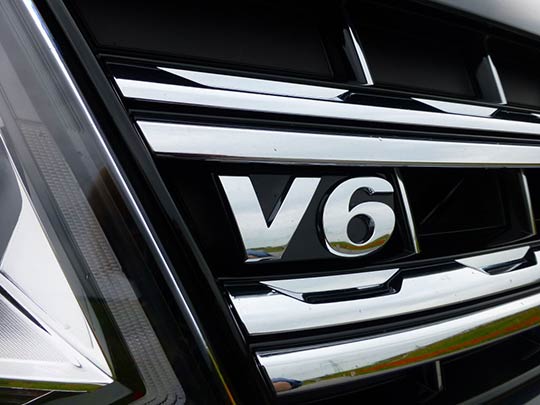 There is a downside to this engine upgrade. Two more cylinders and increased power come at the expense of fuel economy, which unusually for a newer vehicle is actually slightly poorer than before. But Volkswagen rationalises that apparently backward move by quoting the results of customer research in the run-up to the new Amarok. Owners of the current vehicle craved a bigger engine with more power as a main priority. So says VW, anyway.
The basic structure of the Amarok stays the same, though. It is classic pickup territory, with a separate body mounted on a sturdy ladder chassis, rather than the all-in-one monocoque body of a typical car. It is four-wheel-drive with a live rear axle and leaf spring suspension.
Off-road capable
On the road, the new Amarok drives like a big VW car up on stilts. The ride is firm but really quite civilised. The engineers have gone for a relatively stiff suspension setup to equip the Amarok as a workhorse capable of carrying a heavy payload, of up to a tonne. Some pickups roll a bit on the bends, but the Amarok doesn't particularly, which makes for agreeably taut handling on a meandering B-road.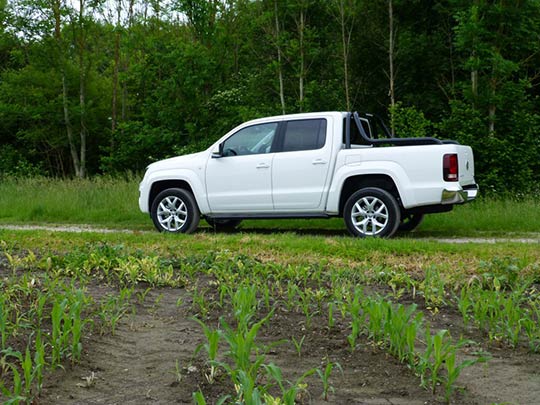 Off-road it's quite an impressive beast, capable of clambering up and down muddy slopes with a fair amount of panache, and it will cope with a steepish side-slope too. Equipped with a limited slip differential and hill descent control, it deals with the rough stuff solidly enough and feels quite wieldy for a pumped-up vehicle over five metres long with elevated ground clearance.
Car-like cabin
The interior has been given a re-vamp and if you hadn't just done a steep upward haul to get into the driving seat, and now found yourself looking out at an elevated level, you could think you were in an up-scale Volkswagen car. The driving position is not unlike that of a Golf, just a lot higher. The surfaces are mostly hard-touch, but lots of car-like kit is there, from the latest VW car group infotainment screen to Bluetooth connectivity and climate control.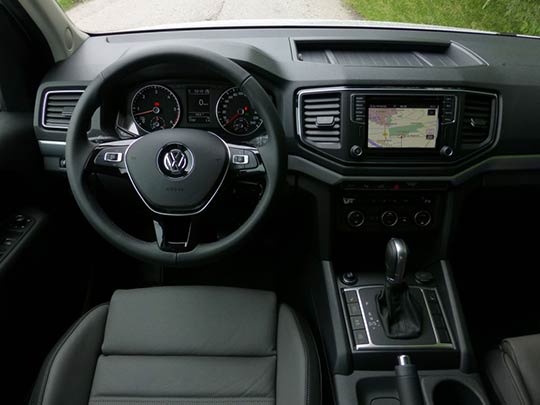 Switch on, hear the thrum of a V6 engine just ahead of you, and within eight second of pressing the accelerator you can be reaching dual carriageway cruising speed. Acceleration is zippy and there's plenty of punch through the gears. Performance is much perkier than the previous model, so the new engine has been a worthwhile change. Pity about the increased fuel thirst, and the price goes up too, at around £1,000 more, model for model, than the old one.
Volkswagen Amarok: Stats Review
Model tested:  Amarok Doublecab 3.0 V6 HDI Highline
Top speed:  120 mph
0-62 mph:  7.9 secs
Economy:  37.2 mpg
CO2:  199 g/km
Price:  £34,500 (est)
Images: Sue Baker