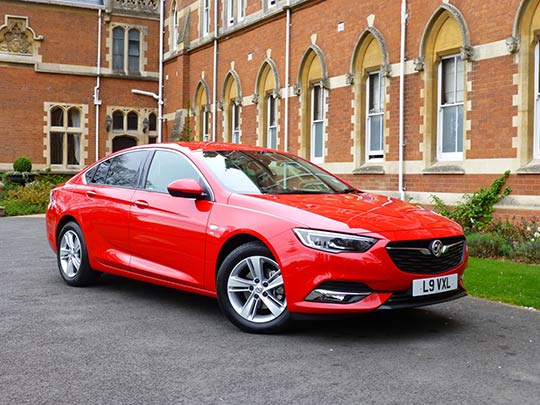 Goodbye Vauxhall Insignia, hello to its successor with a longer body and a name to match.
Up and down the motorways of Britain you see them, munching the miles as company cars and family transporters. Vauxhall's Insignia has long been a strong seller and is regarded as a thoroughly British car, even though it is actually made in Germany by sister company Opel.
The Insignia first appeared in 2008 as a successor to the old Vectra. Now, nine years on, it has been replaced by a second generation model that is longer in both body and name. It has a slightly stretched wheelbase that pushes the wheels a little further out to the corners of the car, and a name with two more words added to it.
It has also been restyled to smooth out some of the fussy detailing and give it a bit more visual flair. The result is a more handsome hulk that has been freshened up for the ongoing fight for sales against its key rival, the Ford Mondeo.
Are you getting bored of your old Vauxhall Insignia? Sell your car and upgrade to the new an improved 2017 generation.
Slicker manners
From behind the wheel the Insignia, now with its Grand Sport badging, has undergone a driving calibre upgrade. It has slick manners and better handling precision than has previously been associated with Vauxhall's range-topper model. The balance between cornering prowess and ride comfort is nicely judged.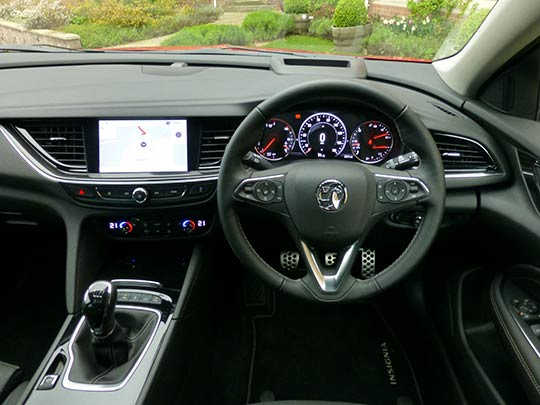 The body feels taut, doesn't lean much at all on the bends and the whole driving experience is a notch closer to the more upmarket car brands that Vauxhall would love to emulate. The 2.2 litre diesel engine of our test car packs a good punch with 168 bhp of power and 295 lb ft of torque. Its top speed is exactly double the UK limit and a 0-62 mph sprint takes 8.2 seconds.
Economy is reasonable at 54.3 mpg and the CO2 output is 136 g/km. But this is at the upper end of the Insignia Grand Sport range, and the kick-off point is a 1.5 litre petrol model with 138 bhp and 47.9 mpg, while the most frugal version is a 1.6 diesel with 108 bhp and 70.6 mpg.
Cabin clout
Vauxhall's British design chief Mark Adams steered the look of the new car, and it has a more cohesive exterior style with a bit more flow to its shape. That' s quite nice for kerbside appeal, but what potentially matters more to most people who might contemplate buying one is what they've done to the cabin.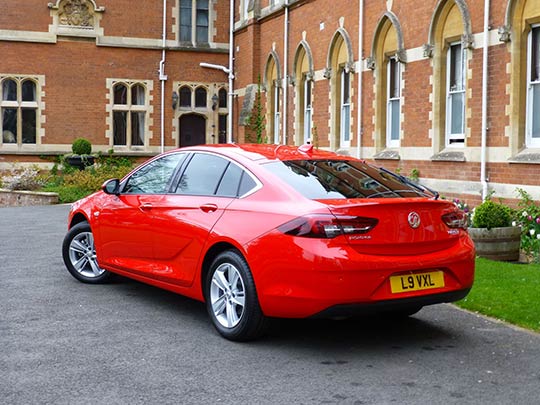 You spend a lot more time inside a car looking out than gazing at the outside, and when you climb aboard the Insignia Grand Sport it's evident that it has undergone an upgrade to give it a bit more of a premium feel. Vauxhall likes to call it 'near-premium'. The design flows round from the dashboard to the doors, all the trim feels a bit better quality and there are some eye-candy piano black sections in the higher-spec versions.
Space wise it's not quite such a rosy picture. The car is quite generous for passenger room, but the boot at 490 litres is outstripped by a rival Mondeo, which boasts just over 50 litres more. Oddly, though, the Insignia Grand Sport manages a slightly bigger overall load space with the rear seats folded. At 1,450 litres that's 13 litres more than the Mondeo's cargo bay as a two-seater.
Costing it
Unsurprisingly the Insignia Grand Sport's pricing goes head on against its Ford rival, and the test car at £23,800 costs £105 more than its closest oppo, but balances that out by being better equipped. Apart, that is, from the lack of a spare wheel in the Vauxhall. You only get a tyre inflation kit, which can make coping with a puncture on a long trip a bit of a faff.
Overall though, Vauxhall has done a good job of freshening up the Insignia, although whether the grandiose new name is a good thing is debatable.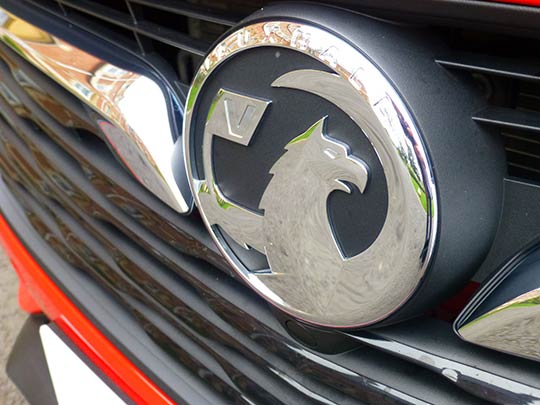 Vauxhall Insignia Grand Sport Review
Model tested: Insignia Grand Sport 2.0 SRi VX-Line Nav
Top speed:  140 mph
0-62 mph:  8.2 secs
Economy:  54.3 mpg
CO2:  136 g/km
Price:   £23,800
Images: Sue Baker