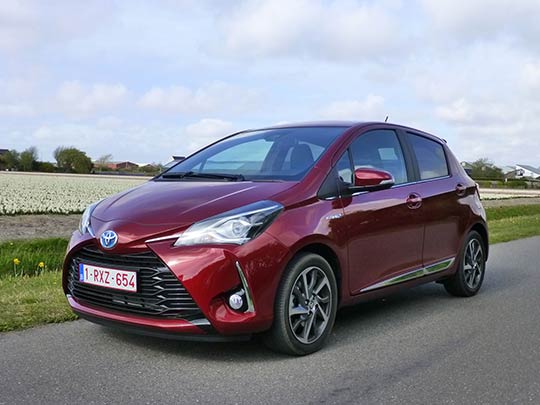 If you want to go greener, a hybrid car is an interesting prospect, and it doesn't have to be big and bulky.
Cars have existed for 131 years, and in all that time fossil fuels have been at the heart of what moves them. But the motor industry is now in transition, with a shift towards cleaner alternatives looming on the horizon.
Electric cars are the future, and they are already growing in numbers on the roads. But their more limited range than petrol and diesel models, the time it takes to recharge them and the paucity of charging infrastructure remains a deterrent for a majority of car buyers.
So the best option for now if you want to go a bit greener is a hybrid car, with dual-fuel flexibility and range-friendly convenience, and Toyota has the smallest and least pricey available with its new Yaris Hybrid. This is the most interesting version of the new Yaris range, which has just emerged from an extensive revamp to update the previous model that has been around since 2011.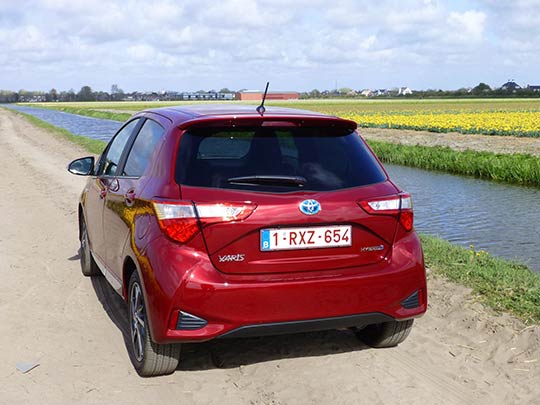 Roomy small hatch
The Yaris has been given a fresh look with new headlamps and grille, and changes at the back end that include a revised tailgate. The cabin has had some detail improvements to the air vents and switches, and out of sight are some revisions to suppress noise and improve refinement.
The Yaris has always been a friendly, practical little hatchback with decent interior room for its diminutive size, and that's still the same. It now drives just a bit better thanks to some minor modifications to the suspension and steering, and it's a likeable and efficient small car and good fuel economy.
It isn't the most energising car to drive amongst its size peers, but it does have a lot going for it as a compact, easy-to-park and friendly-mannered hatchback that helpfully comes with a longer-than-average warranty lasting five years.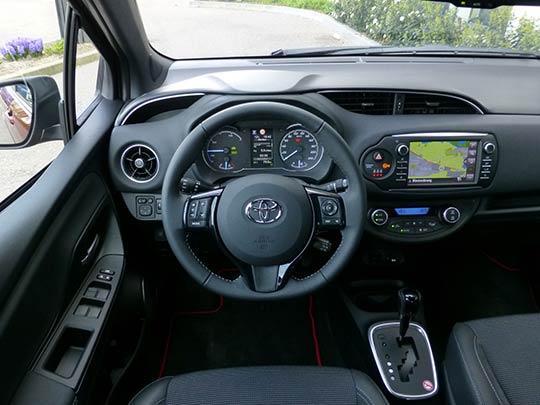 Hybrid on a budget
Hybrids are inevitably dearer than comparable cars without the added complexity, but the starting price of a Yaris Hybrid is £17,595 and our well-equipped test car with colour satnav and a CVT auto transmission is over £18,000. That's at the pricier end of similar-size hatchbacks, but compensated by the low CO2 and better-than-most fuel economy.
The hybrid system combines a 1.5 litre, 16-valve petrol engine with a 45 kW AC electric motor and a Nickel-metal hydride battery pack. The combined output of the engine and motor is 99 bhp.
The Yaris Hybrid may be small, but it has a top-notch safety rating with five stars in Euro NCAP crash tests, and its insurance rating is group 8.
On the road
Inevitably you tend to think of a Toyota as a Japanese car, although some of its models hail from the company's factory in Derbyshire. Not this one, though. The Yaris was re-styled at Toyota's European design studio near Nice on the French Riviera, and is made at a factory in northern France.
So what's the driving experience? The car handles neatly, rides well over most surfaces and has reasonable steering feel. It accelerates briskly and feels quicker than its almost-12 seconds sprint time suggests. The hybrid system switches unobtrusively between engine and motor to optimise economy.
There's a helpful dashboard dial that shows when the petrol engine is being driven gently enough to spare some energy for recharging the battery pack, when the engine is being worked hard in power mode, and – in between – when you are driving in a manner that benefits the system and lets you make progress while still achieving a good mpg.
While it's not exactly a petrolhead's car, the Yaris Hybrid is a likeable and practical small hatchback that looks quite chic and should be reasonably cheap to run. As a first step towards greener motoring, it makes a lot of sense.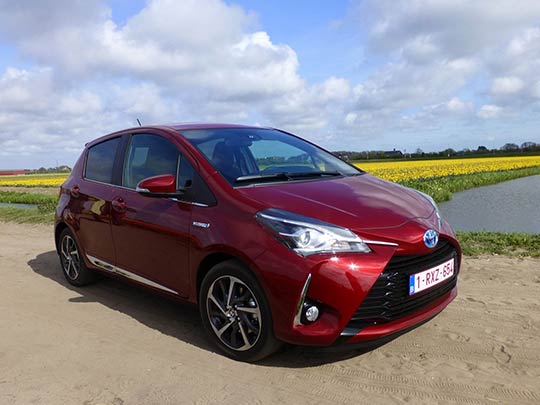 Toyota Yaris Hybrid Stats Review
Model tested: Yaris 1.5 VVT-i Hybrid Icon Tech
Top speed:  102 mph
0-62 mph:  11.8 secs
Economy:  85.6 mpg
CO2:  75 g/km
Price:   £18,145
Considering the new eco-friendly Toyota Yaris for your next car? By selling your previous vehicle with webuyanycar, you can use the cash you receive as a deposit on your next car! Find out what your car is worth today to begin.
Images: Sue Baker