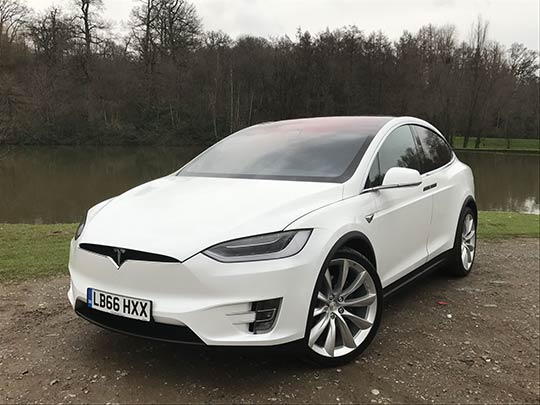 Can a tall, pumped-up 4×4 SUV be environmentally friendly? It can if it's a Tesla Model X, but it comes at a high price.
Tesla is an intriguing car maker. Born in California, it famously specialises in electric cars, is barely a decade old, but is already making significant headway in the motoring world.
By the end of last year, Tesla had totted up 186,000 sales of electric cars globally. Its luxurious Model S is now here in sufficient numbers to be a familiar sight in UK traffic, and has just become the world's second all-time best-selling plug-in electric car, after the Nissan Leaf.
Soon to join Tesla's expanding portfolio is a new smaller, more affordable – at around £35,000 – and keenly anticipated Model 3, due on sale this autumn.
Meanwhile, current interest is focused on the Model X, a six or seven-seater four-wheel-drive family SUV with outrageously eye-catching 'falcon wing' doors. These are double-hinged to open upwards and outwards with the functional elegance of a bird taking off for flight.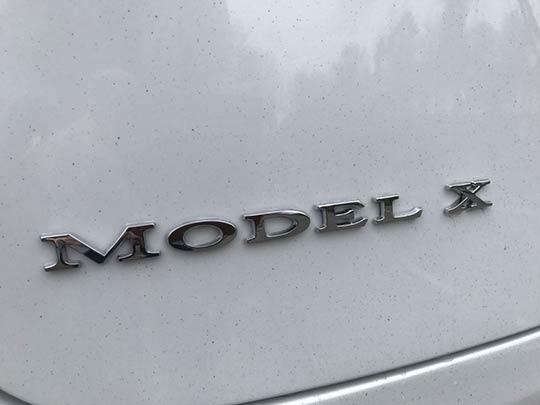 Those doors
So here is a new Model X, waiting to be driven. The first thing you notice is what a big car it is, at just over five metres (17ft 7 ins) long, almost 2.3 metres (7 ft 6 ins) wide and taller than most cars at 5 ft 6 ins to the roof-top. With a sliver of a front grille and quite slabby styling, it isn't exactly pretty, but it's no ugly duckling either.
The Model X is a bit of a pioneer, and currently there is nothing else quite like it. There are hybrid SUVs, such as the Mitsubishi Outlander, Volvo XC90 T8, Audi Q7 e-tron and Range Rover Sport Hybrid, but no pure electric ones. Rivals are coming, though. Audi's all-electric Q6 e-tron and Jaguar's i-Pace are both due next year, and Volvo has an electric SUV under development ahead of launch in 2019.
Meanwhile, the Model X has a clear road ahead for now, has a floor-length 100 kWh battery pack, and a range of hopefully around 300 miles on a full charge, although realistically rather less. It also has those doors, its wow factor every time you step aboard. Press the car-shaped key fob, and five seconds later the driver's door has arched upwards and out of the way, ready to let you in.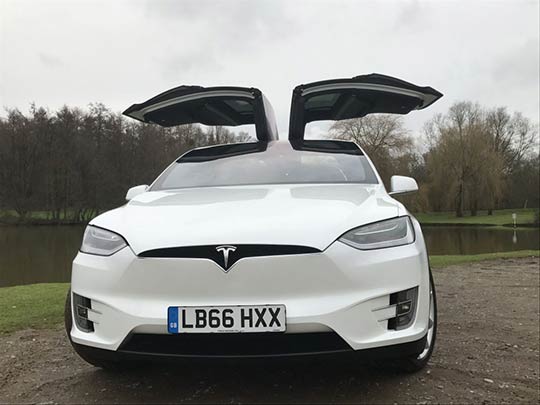 Electrifying performance
With no engine purring into life, the Model X is totally silent until you press the accelerator, and even then it makes very minimal noise. There is just the faint whirr of the electric motors spinning into action as the car surges forward, uncannily quiet.
Anyone who has yet to drive an electric car would be startled by this car's acceleration. It is vivid, supercar fast off the mark, at just under five seconds to 62 mph. Use its sprinting ability too liberally, though, and the distance you can go, before needing to plug it in and replenish the battery pack, will decline quicker than you want it. Even so, a realistic 200-250 miles makes the Model X a practical proposition.
With twin electric motors, located front and rear, the car has drive to all four wheels with a total of 371 bhp, so it's no slouch and is well endowed with traction.
On the road its feels the big and bulky car that it is, and it's quite a hulk to hustle along a country lane. But its low centre of gravity, with all that battery weight carried low down beneath floor, means that the car feels planted and very stable on the road. It has a firmish ride, jarring over a pothole but mostly adequately cushioning.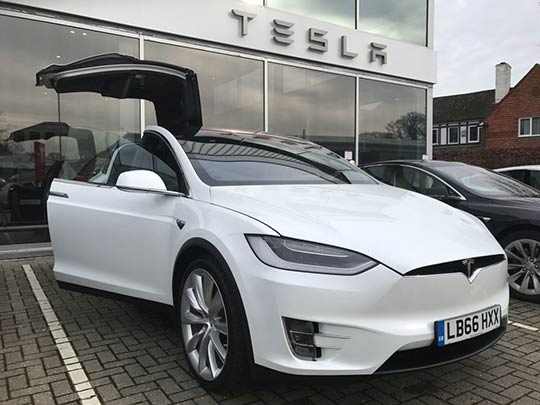 Versatile seating
It's a roomy car inside, with up to 2,180 litres of cargo space, depending on how many seats you choose to have in it. You can specify it with four, five, six or seven seats. Six is a practical choice, because it leaves room down the centre to move between them.
As a seven-seater the boot space at the back is small, but there's also another 187 litres of room under the bonnet. That's a bonus of not having an engine. You do need a bit of space for stowing the charging cables though, which are an essential accessory and quite bulky.
Like Tesla's Model S, the Model X has a huge dashboard screen the size of two iPads, and you can run all the car's systems from it. It's also a very handy size when you park the car and want to use its wifi to go online.
Odd Fact
What to know something surprising about the Model X? Well here's a pub quiz-worthy fact. It has the largest windscreen of any car currently available on the UK market.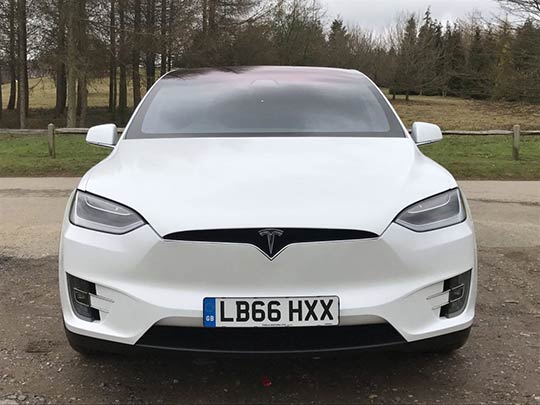 Tesla Model X Stats Review
Model tested: Model X 90D
Top speed:  155 mph
0-62 mph:  4.8 secs
Economy:  electric plug-in
CO2:  0 g/km
Price:   £89,300