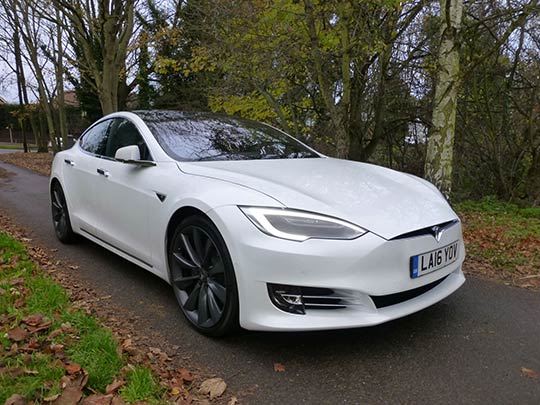 If you are the kind of bright spark who wants to drive an electric car, and has a pretty elastic budget, this Tesla will be high on the wish-list. Drive it, and you won't be disappointed. Pity about the high price. 
Motoring writers are often asked the inevitable question: money no object, what would you buy? Here's one that would have to be on the short list. There's something very engaging about this Tesla, the most practical electric car currently available in terms of its range and recharging convenience.
Sleekly styled and beautifully crafted, the Model S is a luxury saloon that looks good, has vivid performance and can supposedly do up to 346 miles on a full battery charge, although the real world distance is rather less, nearer 280 miles.
It also has the largest interactive dashboard screen you'll see in a road car. At a massive 17-inches, it's as big as a pair of full-size iPads bonded together.
Dear though it is to buy, the Tesla Model S has been very successful. Last November, global sales of the car reached a milestone 150,000 in only three years. It ranks second in the list of the world's best-selling plug-in electric cars, beaten only by the much more affordable Nissan Leaf, at a third the price.
Still a novelty
Tesla is a tiddler in the longevity stakes of the world's car makers. The oldest, Mercedes-Benz, dates back to 1886. Tesla's history as a motor manufacturer only began in 2008, when the Californian-based company produced its first Tesla Roadster, a pioneering electric sports car produced in collaboration with Lotus.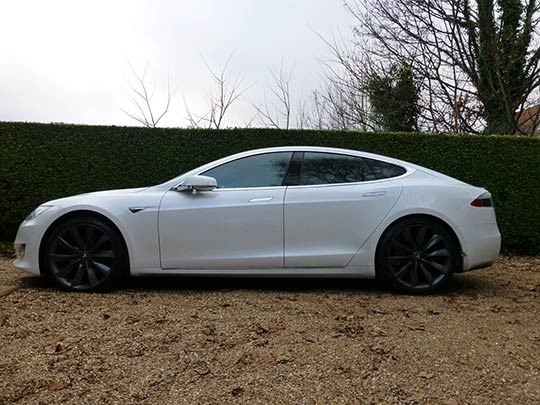 Although we're starting to see more Teslas on the road now, they are still relatively rare here. It is only three years since Tesla opened its first UK dealership and started selling the Model S.
A third model is newly-arrived, the Model X, a bulky SUV that is notable for being a six-seater and having the largest windscreen of any car currently in production – bigger even than a Bentley Bentayga's.
Driving experience
Back to the Model S. Its car key is a little gem, a miniature model of the vehicle's shape. On the car itself, the door handles lie flush with the bodywork until needed, then they magically emerge to give hand-room. As soon as you're in the driving seat, sensors detect your presence and the car switches itself on.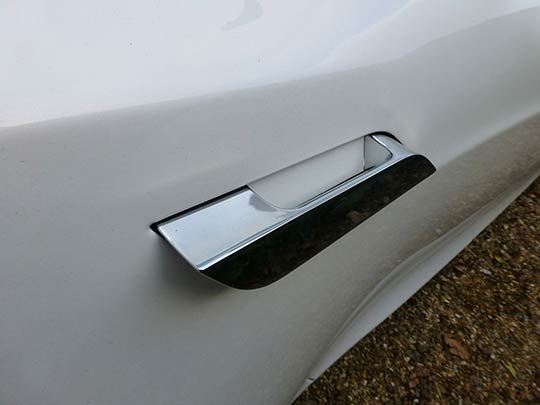 Engage drive on the steering column gear selector, press the accelerator, and you're off with urgency but in virtual silence. Being in an electric car is initially weird, after driving a conventional fossil fuelled model, but the lack of engine noise is one of the joys of EV motoring.
Vivid response
The Model S has vivid throttle response, and the acceleration is, well, electrifying. It quickly becomes obvious, though, that using too much of it saps the range. There are very informative dash displays to show the car's energy flow and how you're doing.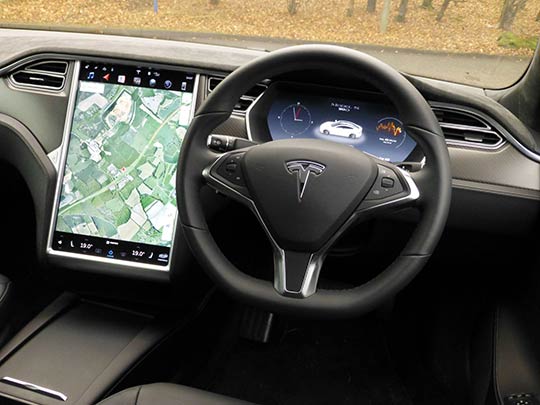 The car has regenerative braking to help recoup energy. Some drivers don't like the reined-back feel of it, and it can be switched off, but it's worth acclimatising to it as an aid to enhancing the battery range.
The handling isn't exactly sporty, in a car which is relatively heavy with a vast battery pack taking up most of the under-floor area, but it has a solidly secure feel and the ride is comfortable enough. Swift, silent and immensely civilised, the 90D is very good to drive.
Locked out
You can't help being glued to the little bit of the instrument panel that tells you the remaining mileage, and it's handy to always be aware where the nearest Tesla supercharger is located. Find one, and within 20 minutes you can restore the batteries to 80 per cent charge level. Existing owners can use them for free, but from this year new owners will now be charged to top up.
I went to use the supercharger at the Bluewater retail park near the Dartford crossing, and was initially flummoxed when I exited the Model S to plug into the charge point, leaving the key fob inside. The car shut itself down and locked me out, and I had to seek help to have it remotely unlocked. An owner would be able to do so via an app on their mobile phone – assuming that wasn't in the car as well.
Model S range
The Model S ranges starts from £58,900 – or a monthly PCP of £585 – which buys a rear wheel drive car with a 130 mph top speed, benchmark acceleration in 5.5 seconds, and an official range of 248 miles on a full charge.
The quickest Model S is a humdinger of a pacey car. The P100D, with the P for performance, boasts of having 'Ludicrous' speed, with a 0-62 acceleration time of 2.7 seconds. Yes, really. The standard price is almost £124,000.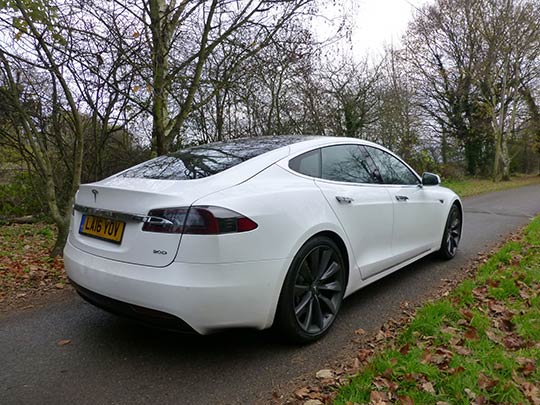 It's hard to imagine that anyone really needs as much performance as the range-topping 'Ludicrous' model has on offer, and our 90D is plenty quick enough with acceleration that leaves just about everything else standing in a traffic light grand prix start.
The standard price of just over £80,000 includes a government plug-in car grant, but optional extras on the test car have pushed the final price to an eye-watering £101,300. Insurance doesn't come cheap, either. It's top-of-the-chart in group 50.
Name game
Where did Tesla get its name? From 19th century electrical engineer and physicist Nikola Tesla, whose 1882 design for an electric motor was the ancestor of the AC motor used in the cars.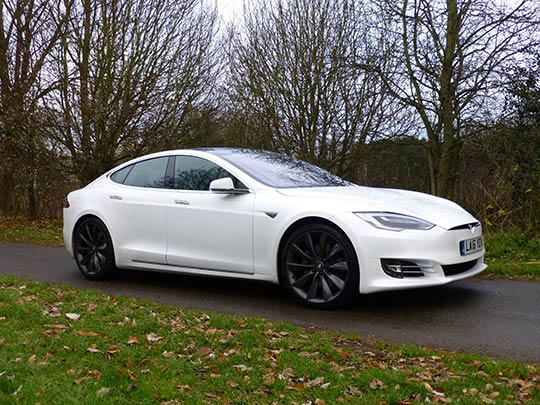 It's also interesting to note that inventor Tesla was first with an idea for smartphone technology, way back in 1901.
Tesla 90D Stats Review
Model tested: Tesla 90D
Top speed:  155 mph
0-62 mph:  4.2 secs
Economy:  n/a mpg
CO2:  0 g/km
Price:  £80,100
Images: Sue Baker