It's described by its maker as an ultra-compact SUV, and with prices starting at £10k it's small in price as well as size.
It had to happen. The rapid momentum of the growing tide of SUV-crossover models shows no sign of ebbing, and now here is one that undercuts all the others on size and price.
Suzuki, the Japanese car maker with a flair for budget models, has brought out a little city car-sized but pumped-up crossover. The Ignis is only 3.7 metres long, about the same size as a dinky Fiat Panda, but it stands tall like a Panda Cross and has butch styling, roof rails and modestly elevated suspension. It has 18 cm of ground clearance.
The Ignis has a 1.2 litre petrol engine, comes in both front-wheel-drive and four-wheel-drive versions, and the range even includes a mild hybrid model with 65 mpg economy and a CO2 output of sub-100 g/km.
Slick, though not that quick
This cheap-ish and cheerful little crossover looks quite funky, with its butch body style and those raked grooves on the rear shoulders. Black edged windows, dark wheel arch protectors and matching door sills give it a rugged character.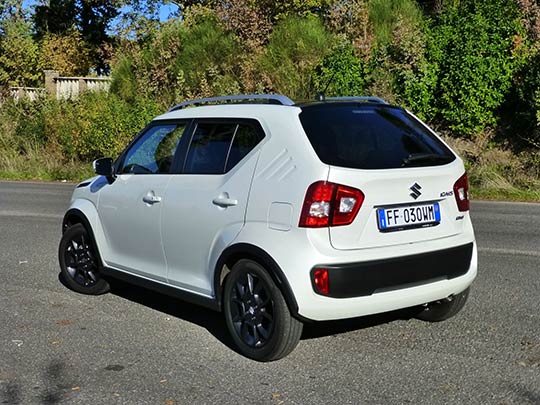 It's quite a perky performer too, although not particularly quick. The top speed is not far past 100, so it sounds a bit busy at motorway pace, and the 0-62 mph figure is a reasonably leisurely 11.4 seconds.
It drives very decently though, with a slick gearchange, adequate body control and tidy handling. The busy little 1.2 litre, four-cylinder engine does its job without undue fuss, and has a likeable sound. Push on a bit, though, and there's a fair old ruffle of wind noise around the front pillars when the speedo's showing a motorway-pace 70 mph.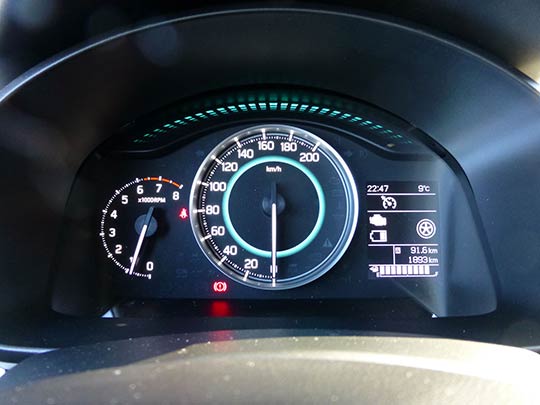 Funky cabin
Some good design flair has gone into the cabin, which manages to look fresh and modern without too many gimmicks. The dials are very well designed for to be chic and easily readable at a glance. You can choose colour inserts to enliven the interior trim, and the most attractive is a funky orange that looks trendy and brightens the ambiance.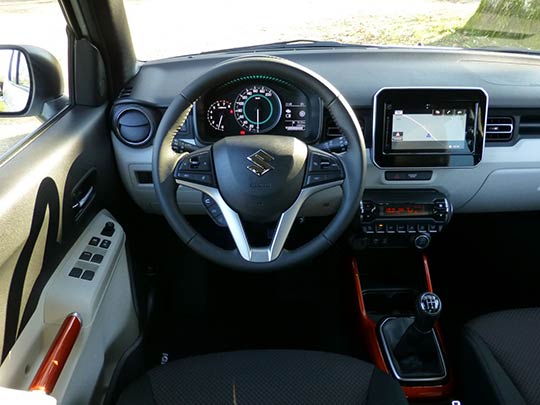 On upscale versions there is a seven-inch satnav screen atop the dash, and the Ignis is decently equipped with standard kit. Even the base SZ3 trim comes with a DAB digital radio, front electric windows, air conditioning, CD player and rear privacy glass.
The top-spec SZ5 includes auto aircon, cruise control, slideable rear seats, LED headlamps and other desirable niceties, and its dual camera brake support system qualifies it for a five-star Euro NCAP crash safety rating. 
Mild hybrid with ISG
The most interesting version of the Ignis has the same 1.2 litre engine as the others, but it is combined with a mild hybrid system using an ISG – integrated starter generator. This helps push the fuel economy a handy notch above the rest, to 65.7 mpg on the combined cycle, with CO2 at 97 g/km. Called the Ignis SHVS, it stand for Smart Hybrid Vehicle by Suzuki.
What else about the Ignis is interesting? Well it has what Suzuki claims is a class-leading boot size at 260 litres, which is enough to fit in two wheelie suitcases of the largest size allowable as cabin baggage. A Panda, for comparison, can only accommodate 225 litres.
With the Ignis's rear seats stowed, the maximum load space is 1,100 litres, which wouldn't disgrace a much larger car.
Another notable thing about the little Suzuki is its ultra-tight turning circle, at 4.7 metres. That's better than anything else its size. Prices start from a quid short of £10,000, and the dearest Ignis model with Allgrip 4×4 is a pound change from £14,000.
Suzuki Ignis Stats Review
Model tested: Ignis 1.2 Dualjet SHVS SZ5
Top speed:  106 mph
0-62 mph:  11.4 secs
Economy:  65.7 mpg
CO2:  97 g/km
Price:  £12,999
Images: Sue Baker