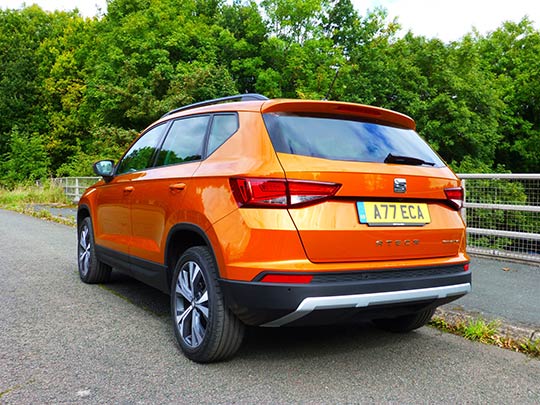 The tidal wave of SUV-crossover cars rolls ever onwards. Here's another new one, the Seat Ateca.
Let's start by getting the name sorted out. When the Seat Ateca was first announced, some waggish chums took delight in saying it like 'a tikka masala'. Which didn't go down particularly well with Seat. So at the launch drive we were sweetly asked to please not pronounce it that way. 'It's not a curry', was the message.
So here it is, Seat's first crossover model, and the way to say it is A-teck-a. In the established tradition of Seat cars, it takes its name from a place in Spain. It's called after the Spanish town of Ateca, in Aragon.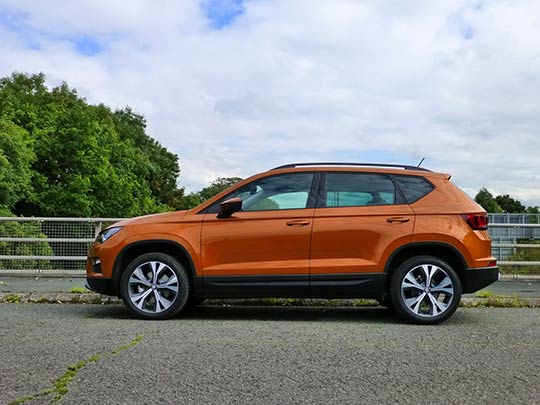 It isn't made in Spain, though. As Seat is part of the Volkswagen Group, the Ateca shares its chassis and engines with other models in the group line-up, notably the VW Tiguan, and Skoda's Yeti and new Kodiaq. So the Ateca is manufactured at a Skoda factory in the Czech Republic.
Mildly butch
From the outside it's quite a smooth looker, with its sleek lines very similar to those of a Tiguan, and its front dominated by some stylishly sharp-edged headlamps. It's a bit butched up with roof rails and some black trim around the windows and door sills, to trick the eye and make the body look a bit sleeker than it really is. The simple big 'S' badge, Seat's logo, features prominently on the front grille and wheels.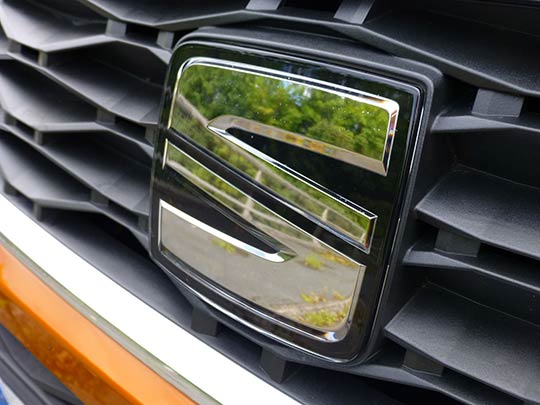 Inside the Ateca has a smart cabin that feels quite airy and doesn't squash you in any direction. Five six-footers can sit comfortably without grazing their heads on the ceiling. Like most elevated-body crossovers there's no squeeze on headroom, and there's also very reasonable legroom for the size of car.
It has a pretty decent boot too, with 510 litres of luggage space. That beats most rivals, measuring 38 litres more than a Renault Kadjar, 40 litres more than a Tiguan and giving the lofty new Seat a 80 litres advantage over a Nissan Qashqai.
Mannerly driving style
The reason why crossovers are so popular is due to their elevated seating that sets you higher than more traditional cars, and also down to their family-friendly practicality. If you regularly need to carry with you a child's buggy, a kiddy bike or two, a pile of leisure kit or a load of stuff from the DIY store, it's good to be in something taller and roomier than your typical low-slung family hatch.
Some crossovers can be a bit mundane to drive though: pleasant enough, but unremarkable and a bit short on any sporty enthusiasm. The Ateca  won't thrill a very keen driver, but it has more verve and pert driving character than most of its ilk, and it has a meaty feel on the road. Hustle it along a twisty country lane, and it's a bit more fun than many of its rivals.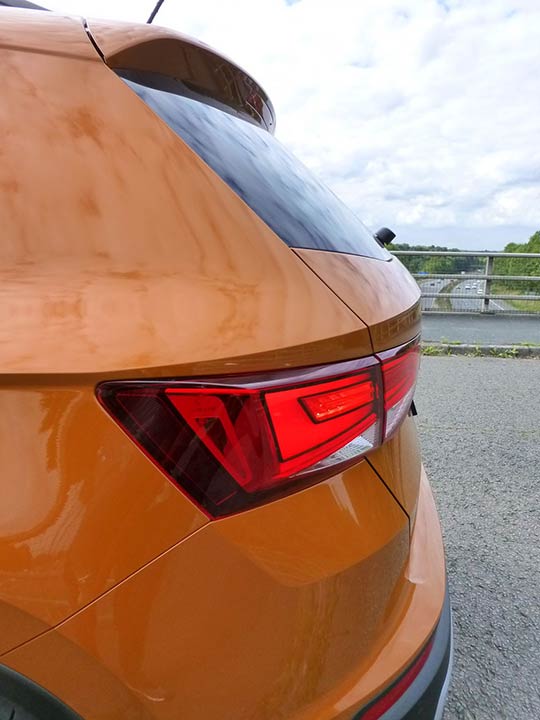 It has calm, well-sorted handling, tidy body control and is quite grippy on the bends. The ride is a bit on the firm side, so you do feel some of the back-road bumps. But it's not enough to unsettle the kids in the back seat, and its partly what makes the car rate well for driver enjoyment.
Kitted out
Every Ateca, including the base level S versions, comes equipped with air conditioning, USB connectivity, a five-inch touchscreen in the dash and rear seats that split-fold to let you have three or four people on board and extend the luggage space into part of the rear cabin. With mid-range SE versions the kit list includes cruise control, dual-zone climate control and reverse parking sensors.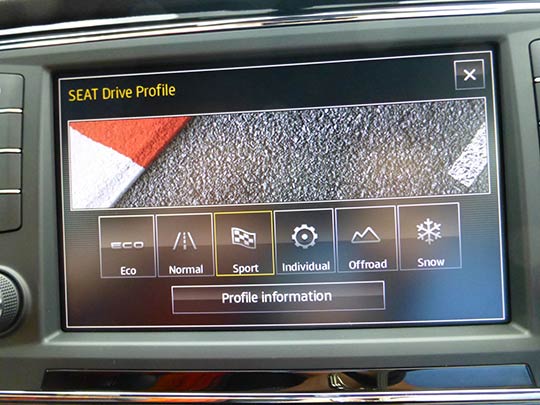 There's a choice of petrol and diesel engines, from the surprisingly sprightly one-litre TSI petrol with 114 bhp and a six-speed manual gearbox, to the range-topping two-litre TDI diesel with 187 bhp and a twin-clutch auto transmission. Prices start from £17,990 and the range-topper is a tenner short of £30k.
Seat Ateca Stats Review
Model tested: Ateca 1st Edition 1.6 TDI
Top speed:  114 mph
0-62 mph:  11.5 secs
Economy:  64.2 mpg
CO2:  114 g/km
Price:  £24,305