It's goodbye to Skoda's most instantly recognisable model and hello to its smoother successor.
In the constantly evolving motoring landscape, some cars stand out like beacons on a hilltop. The Skoda Yeti is one of those cars.
Its distinctive silhouette, reminiscent of a Postman Pat van, makes it instantly recognisable. Loved by owners for its flexible spaciousness and versatility, it has had a loyal fan base. But the flow of automotive design surges onwards, and the Yeti has started to look out of step.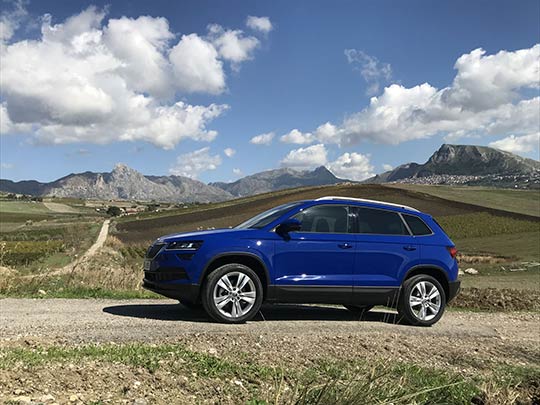 Just like Citroen with its Cactus, Skoda's Yeti has been visual Marmite, and so its replacement has gone more mainstream in design. Here it is, the new Skoda Karoq.
Are you intrigued by the new model in the Skoda range? Value your old Skoda and sell your car easily with webuyanycar.com
Alaskan origins
Where does that strange name come from? Alaska. Like its bigger brother the Kodiaq, the Karoq's nomenclature originates from the native people of Alaska. It is a combination of two of their words – kaa'raq, for car, and ruq, for arrow. It fittingly echoes the arrowhead of the Skoda badge.
New shape and name apart, the Karoq is pretty much what the Yeti has always been: a roomy, practical compact SUV. It's actually slightly bigger than the Yeti, with an extra 20 cm in length. Visually it's a very different car, more like a scaled-down Kodiaq than an evolved Yeti.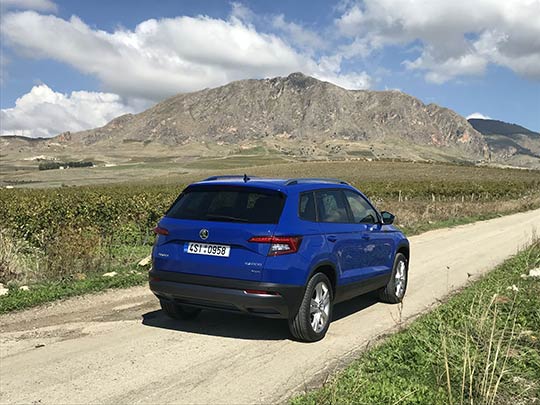 That means it's no longer the sore thumb stick-out in the Skoda range, but a car that's recognisably a Skoda and one that blends in more harmoniously with its stablemates. In some ways that's a pity – I'm an unashamed Yeti fan – but somewhat inevitable in a move to attract more car buyers to Skoda ownership.
Classy driving manners
So, what's the Karoq like to drive? Highly civilised, and really rather likeable. It has classy road manners, handles well through the bends, has a comfortably absorbent ride quality, good steering feedback and a slick gear change.
It has a very good driving position, amply adjustable for different heights, and seat comfort is excellent. It has gone upmarket in cabin design too. The Yeti had a well-conceived cabin that both looked good and worked well, but the Karoq has added design flair with muted colours and tactile materials that make it look more contemporary.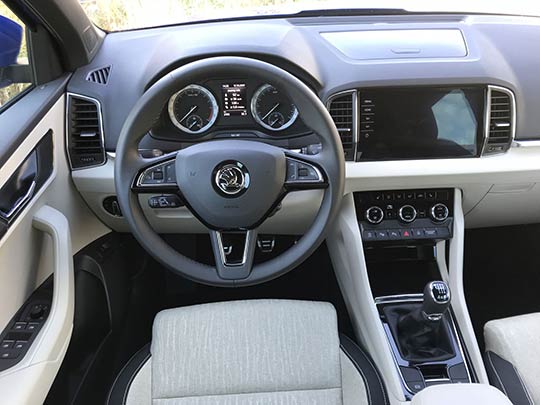 Best of all, it retains the Yeti's renowned flexibility, with VarioFlex seating that lets you vary the positions of the rear seats to choose between more back seat legroom or an increased boot size. The standard boot, at around 520 litres, is pretty good anyway. It can also be increased to a maximum 1,630 litres with the rear seats folded.
Lots of kit
The Karoq comes well equipped with kit. SE versions – the most basic level – come with 17-inch alloy wheels, dual-zone climate control and privacy glass, as well as a range of safety features, including a driver fatigue monitor to warn when the car thinks you're tiring at the wheel.
Further up the range, you get satnav, keyless entry, heated front seats and adaptive headlights, and range-topping Edition models have a panoramic glass roof and leather interior.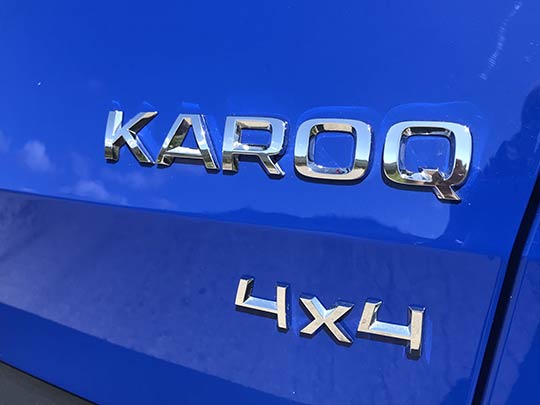 Karoq prices start from £20,875 and the first ones will be on the road by January.
Skoda Karoq Stats Review
Model tested: Karoq SE-L 2.0 TDI 150 4×4 man
Top speed:  121 mph
0-62 mph:  8.4 secs
Economy:  56.5 mpg
CO2:  132 g/km
Price:   £30,390
Images: Sue Baker