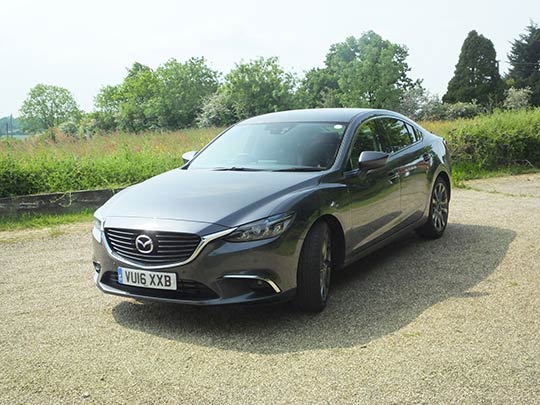 Some cars have a bit of a spark to them, something that lifts them from the mundane and is more than the sum of the parts that go into making them.
The Mazda 6 is a good example.
The current version has been around long enough to have had a minor facelift. It's a broad-shouldered, good-looking thing, with a low-slung stance and plenty of curves, creases and swoops to its panel work. The end result is stylish rather than fussy. If this car were a person, it would be male, in a well-cut suit and wouldn't have a hipster beard.
The same can be said of the interior, which in the 2.2 diesel I drove was a well put together smorgasbord of conventional black plastics and leather. The controls and instruments are, more or less, where everyone else's controls and instruments live, but there's a fuss-free simplicity to them that makes this car instantly user-friendly.
This is because there's a happy medium of having the right number of buttons in the right places, rather a willful minimalism where functions are controlled by a few controls that are fiddly or less than intuitive, or the driver is confronted by a baffling number of things to press.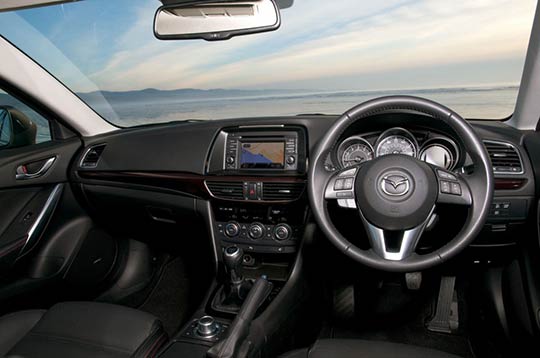 The Mazda does have the usual push and click centre console wheel and touch screen for things like the hi fi and sat nav, but this proved idiot proof. Well, I could use it from the off without much difficulty.
So the cabin has a sure-footed aesthetic which might lack originality but works well. I would say the same about the driving position, which I found to be instantly comfortable and ergonomically sorted.
As something to drive, this car is actually fun, in a way that many of its otherwise very good rivals are not. It's got a bit of fizz dynamically, which starts with this example's utterly conventional, six-speed manual gearbox. Its action is short and sweet, the lever falling easily to hand.
Then we come to the steering. As is common these days, the Mazda 6 has electric power assistance, with the usual accompaniment soft, mechanical groans and whirrs as it goes about its business, but the system has a pleasing directness and communicativeness which cars that otherwise steer and grip with the same aplomb often lack. It's a very good set up, which engages with driver and keeps things interesting.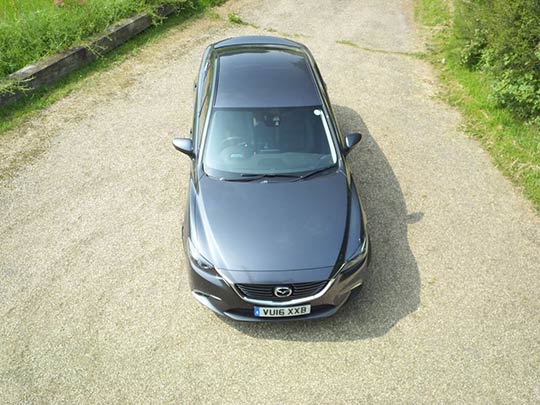 The ride has a typical executive car firmness as the Mazda tracks and moves about on the road with commendable accuracy. I'd expected its bulk and breadth to be a handicap, especially in narrow country lanes, but from behind the wheel, the Mazda feels smaller than it is –the exact reverse of the Audi A3 saloon that I'd been driving the previous week.
Its 2.2 diesel engine was free revving and quiet, delivering its power in a sustained, unobtrusive way from low speeds. It seemed very well suited to the car.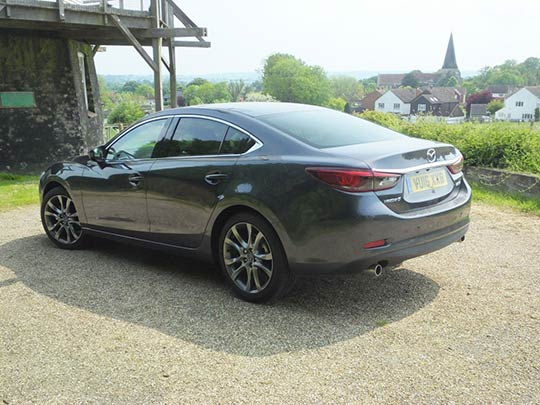 Of course, it wasn't all perfect. At motorway speeds, where the engine was often spinning at around 2,000rpm, I was aware of quite a lot of wind noise, on some surfaces the Mazda's big tyres generated plenty of road roar, and a passenger with mild hearing loss found it quite difficult to hear in the cabin, but that aside there was sickeningly little to complain about.
Sometimes a stream of new test vehicles can merge into one slightly amorphous driving experience, but the Mazda stood out because it was so nice to use. As you will have gathered, I liked it a great deal. If I was in the market for a car like this would be very tempted to spend my own money on one.
Mazda6: Stats Review
Model tested: 2.2 Saloon 150ps Sport Nav Diesel
Navigation: 184PS S tronic
Top Speed: 130mph
0-62mph: 9.1sec
Economy: 68.9mpg
CO2: 107g/km
Price: £26,395
Are you in the market for a new car and like the look of the Mazda 6? See how much your car is worth thanks to our easy to use car valuation tool.