We review the Evoque Convertible, the first de-lidded SUV
Land Rover has long built its reputation on boldly going where others dare not. A long way off-road, up mountains and across deserts, mostly. Even its posh top-notch Range Rovers are perfectly capable of some pretty primitive mud-plugging, although most owners are rather more likely to plough the streets to Alderley Edge or Wimbledon.
Now Land Rover has entered new territory that so far has been a barren landscape, untrodden by any other car makers. It would have been fun to be a fly on the wall and seen the reaction when some bright spark at Land Rover HQ said 'I know, let's take one of our Range Rovers and chop the top off, turn it into a convertible!'

There hasn't been a convertible SUV before. So Land Rover takes pride in there being 'nothing else quite like it', as we were told several times at the launch. It is the world's first four-wheel-drive, four-seater, luxury drop-top. A bit of an oddity, therefore.
Marmite looks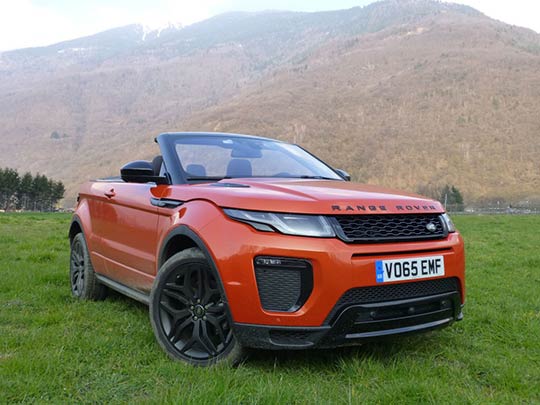 The Evoque coupe, on which it is based, is generally viewed as a handsome car, one that even puts looks above practicality: its sleekly uncompromising roofline is at the expense of headroom generosity for rear seat passengers.  The Convertible, though, is a bit of a gangly offspring from its stylish parent. Its looks are Marmite – liked by some, likened to a bathtub by others – but hugely admired, it seems, by no-one.


That is unlikely to stop it being sold by the bucket-load, though, and it went on sale this month with 2,000 advance orders. So Land Rover must be getting something very right with its open-top ugly duckling. They are certainly onto a money-spinner. Changing the roof from steel to fabric enables them to charge £4,800 more for the car than its coupe equivalent.
The hood handicaps reward vision, so  it's just as well that parking sensors come as standard. That apart, it's a pretty clever design of hood, multi-layered and motorised, fitting tightly enough to seal out the weather and avoid undue wind noise, and it's quick. It takes 18 seconds to open, 21 seconds to shut, and can do either on the move at speeds up to 30 mph.

Modest practicality
Convertibles are chic, glamorous and mostly desirable, but few endear themselves for their practicality. This one is no exception. De-lidding the coupe to accommodate a hood also uses up a bit of back seat space, there are only two rear seats instead of the Evoque coupe's three. Fit the mesh wind-deflector screen that makes the car less of a scarecrow's hair-raker with the top down, and those two rear seats become temporarily unusable except as a shelf for a few bags.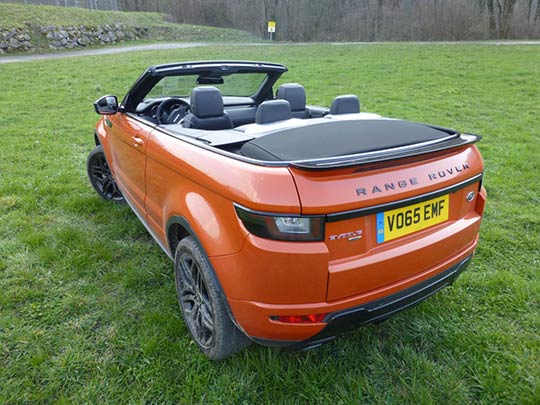 You have to make do with a shrunken boot, too. The standard steel-top Evoque has quite a decently sized boot at 550 litres, but more than half of that disappears into the space needed to occupy the folded hood, so the Convertible's boot is only 251 litres, exactly the same size as the tiny city car Volkswagen up!
Driving manners
Cutting off the roof means adding lots of body strengthening to maintain structural rigidity, and as a result the Evoque Convertible weighs 279 kg heavier than its coupe sibling. That's about equivalent to four average adults, so the engine has extra work to do. Even so, the two-litre Ingenium diesel engine is a sturdy performer and makes little fuss about doing its job.
img loading="lazy" src="https://cms.webuyanycar.com/globalassets/images/car-magazine/2016-04-P1070867-1024x768.jpg" alt='Range Rover Evoque Convertible Interior Review' />
It has a healthy enough top speed to allow for relaxed cruising at the legal limit, and the 0-62 acceleration time is on the right side of 10 seconds for crisp overtaking. The car's handling is civilised, although with a bit more body roll. Refinement is pretty fair, it's quiet with the hood raised, and it isn't unduly loud even when you're driving topless.
Off-road capability is as good as a coupe Evoque, and the Convertible is nimble over tricky terrain with its dial-a-surface electronics and an array of safety aids for tricky conditions. Not that this is a car for any serious trekking. Its natural habitat is much more likely to be outside Harrods than up the Himalayas.
Range Rover Evoque Convertible: Stats Review
Model tested: 2.0 4WD HSE Dynamic
Top speed: 121 mph
0-62 mph: 9.7 secs
Economy: 49.6 mpg
CO2: 149 g/km
Price: £47,500
Images: Sue Baker