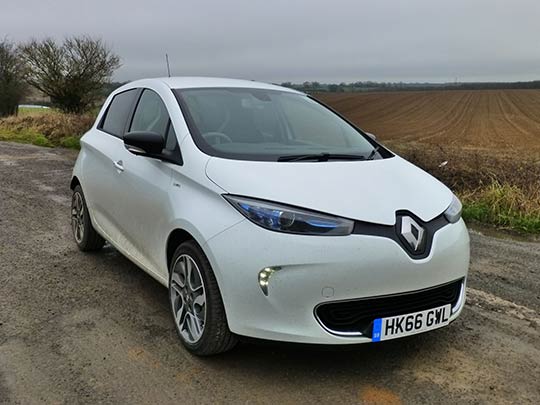 A bigger battery and a longer range between charges has made the electric Zoe a better bet than before.
Fossil fuels are running out, we keep being told. One day we'll all be driving electric cars, or maybe hydrogen-powered ones, or fuelled by something else not invented yet. For now though, most of us do drive petrol or diesel cars, and electric vehicles are still very much in the minority.
Range anxiety has long been the problem that handicaps their greater acceptance. Driving an EV comes with the worry about running out of electricity at some inconvenient moment, with refuelling neither as quick nor as easy as popping into a filling station and driving out moments later with a full tank.
In reality, most drivers' daily trips cover far less miles than the range of a modern electric car, so range anxiety shouldn't really be a problem. But the new buzz phrase is charge anxiety, with drivers worrying instead about finding a convenient recharging place when they desperately need one.
Longer-range Zoe
So with all these thoughts in mind I've been driving Renault's new Zoe. The little electric hatchback has been around for quite a while – around five years now – but with a modest 22 kWh lithium-ion battery pack, and a quoted range of 150 miles. That's ideal world stuff, and in real world driving it was probably more like 120-odd miles. Not really enough for peace of mind.
Now Renault has updated the Zoe with a bigger 41 kWh battery pack, stretching the range between recharges to nearer 250 miles. Realistically, that still optimistic and around 200-or-so miles is more likely, especially in winter when the need for a heater and using other electric equipment is an added drain on the system. Even so, that makes the car a much more viable possibility for more people.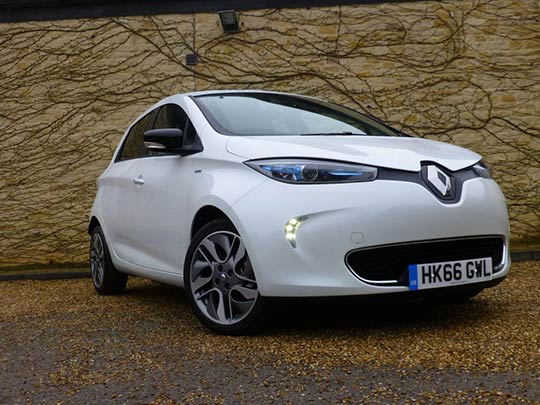 Blissful quietness
One of the nicest things about any electric car is how quiet they are. The total absence of engine noise and mechanical action makes any EV, Zoe no exception, just whisper along with no more noise than a faint whirring from the electric motor.
The lack of internal combustion means that other noises become more noticeable. So you tend to hear the tyres rolling along more than in a normal car, and wind movement over the car body tends to be more pronounced.
Overall, though, it is much more refined and near-silent than any rival cars of a similar size that aren't electric.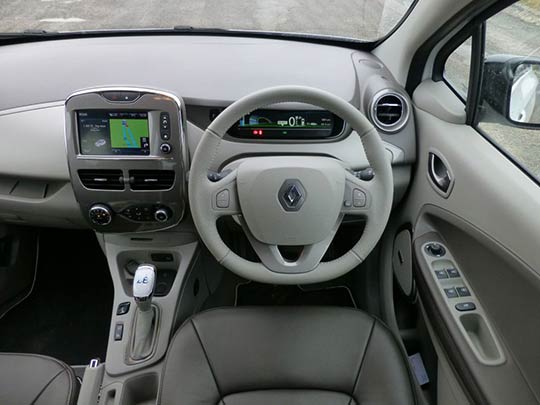 Zippy acceleration
If you've never driven an electric car, you might expect it to be sluggish, but on the contrary. The little Zoe feels rapid off the mark, and Zoe zips along, seeming quicker than its 0-62 acceleration time suggests. It has a respectable 91 bhp power output, and 162 lb-ft of torque. Every time you brake, the regenerative braking system recoups a bit of energy to help maintain the range.
The car comes with a 'Chameleon' charger that automatically adjusts to whatever strength of power supply is available, and is well equipped with standard satnav on all versions. The warranty last for four years.
You can buy a Zoe for an all-in price that includes the battery pack, or pay £5,000 less up front and rent the battery for £59 a month. The price quoted is after a government plug-in car grant has been applied. For normal recharging, the car plugs in overnight, and a home charge unit installation is included in the purchase price. A special fast charger, topping up to 80 per cent in two hours, is an optional extra but a rather pricey one at £750.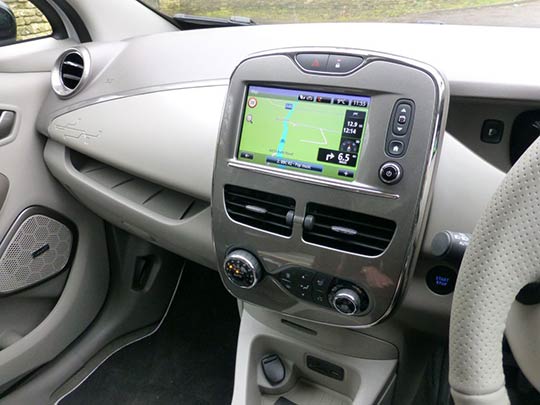 Thinking of upgrading to the new Renault Zoe? You can sell your old car quickly and easily here with webuyanycar!
Renault Zoe Stats Review
Model tested: Zoe Signature R90 Z.E.40
Top speed:  84 mph
0-62 mph:  13.5 secs
Economy:  47.9 mpg
CO2:  0 g/km
Price:   £19,985 + £59 monthly battery rental
Images: Sue Baker