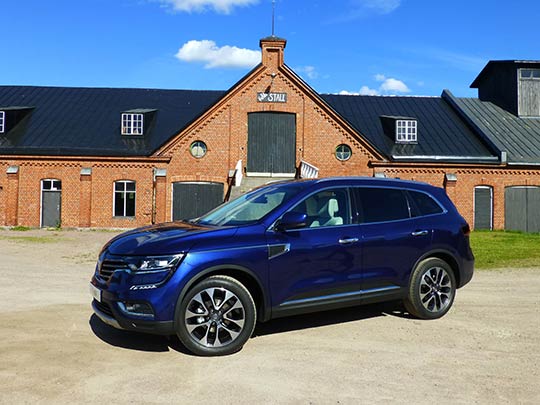 Joining the Captur and the Kadjar, here's number three in Renault's SUV-crossover line-up, the new Koleos.
Nationalities have become very blurred in the car world. We tend to think of anything with a Renault badge as being quintessentially French, but Renault's two popular crossover models, the Captur and Kadjar, are both produced in Spain as part of the company's alliance with Nissan.
Although they look quite different, they are actually closely related to the Juke and Qashqai. Now Renault has added a third string to its crossover bow, the Koleos – named after the Greek word for a sheath. It is manufactured in South Korea, and is a cousin car to Nissan's X-Trail.
The Koleos is the flagship model of Renault's crossover range, as the largest of the three at almost 4.7 metres long. It is big enough to accommodate seven seats, but unlike some rivals (X-Trail amongst them) that is not an option in the Koleos, and it is only offered as a five-seater.
Considering an upgrade to the new Renault Koleos? Selling your old car to webuyanycar and using the money you receive to put down a cash deposit on the Koleos could help you negotiate a better price. Get started today by finding out how much your car is worth, and if you're happy with the price you receive you can book an appointment at one of our 250+ UK branches to sell your car!
Five-star car
In company with Renault's other crossovers, the Koleos has a five-star safety rating in Euro NCAP crash testing. It's a roomy, tall and comfortable family car that comes pretty well equipped with a safety kit that includes an array of electronic driver aids to help minimise collision risk.
It has a big boot, which at almost 500 litres gives you more luggage capacity than some of its rivals, and an option is to have it openable by waving your foot under the rear bumper. That's a handy feature for popping open the tailgate when your arms are full of luggage or shopping. There's also an optional motorised towbar, and the car can tow up to two tonnes.
Renault boasts that the Koleos' seats are the biggest of any car in its category, and they're certainly armchair-comfy with commendable lateral support. There are some other nice interior details too, such as the centre console cupholder that can be heated or cooled to keep a drink at the right temperature.
Other handy features, depending on trim level, are heated and cooled front seats, heated rear seats, heated windscreen and steering wheel. All those heating options may be a potential drain on fuel consumption, but they sound agreeably winter-friendly.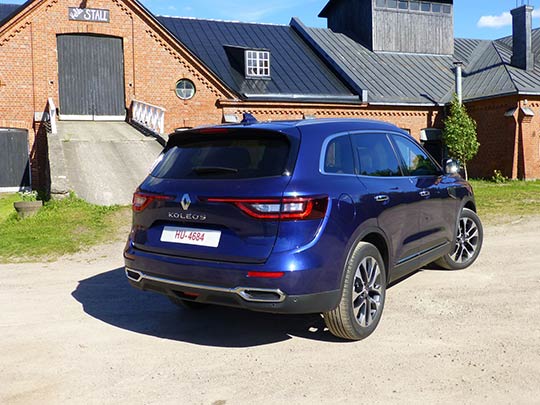 Drive calibre
Under its Renault-badged skin, the Koleos is a doppelganger for the Nissan X-Trail, and the driving experience is similar. It isn't a sparkling performer, but a very solid one. The 1.6-litre diesel engine has a respectable 236 lb-ft of torque, which is enough to give pretty good mid-range punch.
The steering isn't particularly pert, though it's nicely weighted and very adequately precise. The six-speed gearbox is decently spaced and has a slick action through the gears. Refinement is pretty reasonable, with very little wind noise, modest road rumble and an engine note that is generally subdued unless you push the car particularly hard.
Ride quality is mostly ok on urban roads. A pock-marked country back road can make the suspension feel rather lumpy, though not significantly more so than most rivals. There is a bit of body lean on the corners, but no more than you'd expect of any similarly tall crossover model.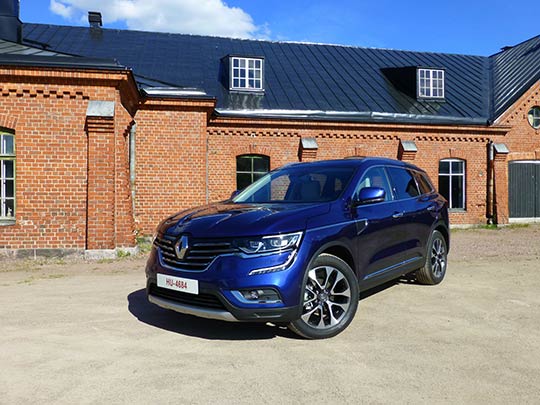 Affordability
The Koleos range in the UK is exclusively diesel, perhaps surprisingly when black pump fuel is currently so much under the spotlight, but it's Renault's view that it's the right engine range for a large SUV-crossover.
On-the-road pricing starts from £27,500. That's for a two-wheel-drive Dynamique S Nav with a 1.6 litre, 128 bhp engine and manual transmission. The top level model is £34,200, which buys a four-wheel-drive Signature Nav with a two-litre, 172 bhp engine and Auto X-Tronic transmission, a continuously variable CVT design with a manual mode.
Our test car is a mid-range model with the most economical engine and front-wheel-drive. If you hate parking, the options list includes hands-free automated parking to do the job for you, at an extra £350.
 Renault Koleos Stats Review
Model tested: Koleos Signature Nav dCi 130 4×2
Top speed:  115 mph
0-62 mph:  11.4 secs
Economy:  57.6mpg
CO2:  128 g/km
Price:   £29,800
Images: Sue Baker