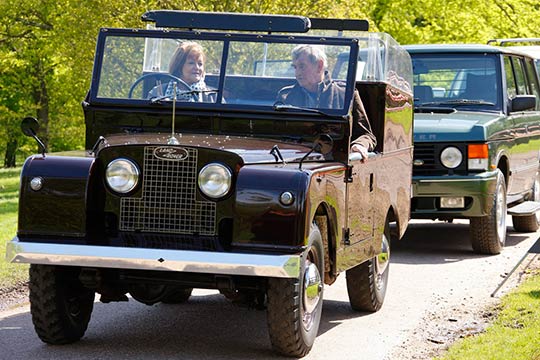 While the nation has been agog waiting for the Royal baby to arrive, I have been delving back into the records of a memorable occasion that coincided with the Royal Jubilee Pageant weekend nearly three years ago.
That was when Land Rover, long-time supplier of vehicles to the Royal family, was granted the special privilege of being permitted to take a convoy of historic vehicles through Windsor Great Park. I was one of the lucky few invited to drive in the convoy, on roads that are normally reserved for the exclusive use of the Royals and their personal staff.
These were no ordinary vehicles. They were an assortment of very special Land Rovers, all of which had seen service as Royal transport, either as ceremonials cars or personal ones. All are carefully preserved for their historic significance, having been seen across the years in television newsreels and newspaper photos, carrying her Majesty to some state occasion or on private leisure trips.
My favourite was a 1954 Series 1 Land Rover, a Royal Ceremonial Vehicle known as 'State IV'. It was a special adaptation of a basic 86-inch wheelbase Series 1 model, custom-designed with a viewing platform at the back. Its paintwork was that distinctive shade of brownish-red known as Royal Claret, used for all the Queen's state vehicles.

 
At first glance it looked as though the number plates were missing, but of course it never wore any. Like all state vehicles used to carry our monarch, it was not requited to be registered. It was one of a fleet of vehicles that accompanied the Queen and Prince Philip on a six-month Commonwealth tour in the early 1950s, soon after the Coronation. The tour travelled half way around the world, covering some 50,000 miles. Afterwards, State IV stayed in Royal service for another 20 years, before it was pensioned off in the 1970s.
Driving it was a rather eerie experience. Behind the wheel, I sat where her Majesty's chauffeur once did, and directly in front of the elevated viewing area where the Royal couple travelled, to be easily seen by the cheering crowds who thronged their route. Unsurprisingly, this very special car has been cherished in Land Rover's Royal collection, and is now only rarely seen on public view.
Another intriguing car was a dark blue 1983 One Ten Station Wagon that was once the personal property of her Majesty. Suspended from the left-hand side of the dashboard was a chunky traditional telephone handset, an early mobile phone.
Yes, I know that carrying a telephone in your car is commonplace today, but it was very rare back in the early 1980s. This was no ordinary phone. In its day it was a hot-line direct to the Home Office, an official link between the Queen and Whitehall.
The most nostalgic car in the convoy was a 1995 Range Rover LSE, with dark green paintwork. This was for a while the personal transport of Her Majesty Queen Elizabeth The Queen Mother. This week we remember her as the great grandmother of little Prince George and the new Royal baby.