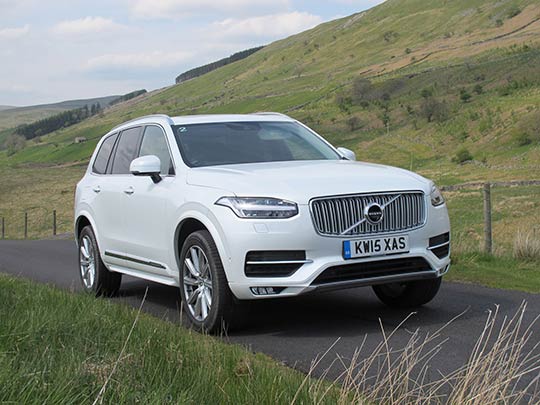 How times have changed on the car buying scene. It used to be looks and performance that dominated the decision making. Now, though, economy and safety have accelerated their way towards the front of many buyers' wish lists.
So it's interesting that this week the Volvo XC90 has been named by Thatcham Research, the organisation that determines car insurance ratings and is the authoritative voice on UK car safety matters, as the safest new car in Britain. That's the latest in a string of awards for the Volvo, which is also the reigning supreme winner of the Women's World Car of the Year, amongst many other accolades.
Thatcham's chief executive Peter Shaw commended the XC90's "outstanding complement of active and passive safety features that affords drivers, passengers and other road users the highest levels of protection currently available." High praise indeed from the head of a national centre of safety expertise.
There's more. "Volvo has really raised the bar," says Thatcham's safety chief Matthew Avery, "with features including pedestrian and cyclist recognition, auto braking, run-off road protection and rear collision alert." That's worth knowing, especially if you're looking for a new car to keep the family safe on the move.
Upping crash protection
Other models earning top Thatcham approval are the Honda Jazz and Toyota Avensis. Something all three cars have in common is they are equipped as standard kit with Autonomous Emergency Braking, or AEB in one of those acronyms beloved of the motor industry.
AEB is the new  star feature on the safety agenda, described as "a technology that Thatcham Research believes is key to reducing crashes and saving lives on British roads."
It works by using radar, lasers and optical sensors to detect obstacles such as a vehicle ahead rapidly braking, or a pedestrian stepping out into the road. Then the car sounds a warning, and automatically applies the brakes if you are not reacting quickly enough to the danger.
Guardian angel kit
As anyone who drives a car fitted with it will know, it's like a guardian angel riding with you. What started out as a high-tech piece of kit fitted to a few expensive, up-market models to help prevent or reduce collisions, is now percolating down into some more mainstream and accessibly priced cars.
The new Honda Jazz, for example, is hailed by Thatcham as "the safest supermini in Britain" for its standard fitment of AEB across the range. It is also one of the smallest models offering lane departure warning and traffic sign recognition as options. Not bad for a modest little hatchback with a starting price of just under £14,000.
"The overall crash protection of the Jazz is as good as anything in its class, and a number of good features such as AEB are fitted as standard," says Avery. "We like the one-touch function on the steering wheel that sets the speed limiter system so you don't have to worry about staying within the speed limit. That's not nannying you or badgering you, it's just a useful safety device."
Top star ratings
Most safety-savvy drivers are aware of Euro NCAP star ratings as a safety benchmark worth checking before making a new car choice. A top-notch five star rating confirms that the model you may be considering has been crash-tested and expertly assessed for its collision-protective qualities. The place to check what rating a car has is euroncap.com/en.
These are currently the best cars – all five star rated – in each class of vehicle:  Supermini – Honda Jazz, Small family car – Infiniti Q30, Large  family car – Jaguar XE, Small MPV – Volkswagen Touran,  Large MPV – Ford Galaxy, Roadster sports car – Mazda MX-5, Small Off-road – Mercedes-Benz GLC, Large Off-Road car – Volvo XC90.
It used to be an old motor industry adage that safety doesn't sell cars, but it does these days. Good looks give a car eye candy appeal, performance gives it driver engagement, but safety features can be life-savers. On today's crowded roads, safety is emerging as a sexy selling point.