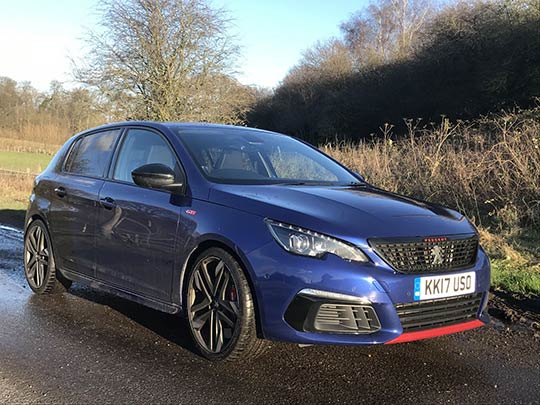 Touches of red and twin exhausts are the clue to this car being a bit elevated from the more mainstream range of Peugeot 308s. It's the sporty GTI.
In the crowded market of modern cars, with their mostly lofty elevation and family-friendly features, there are some that stand a little apart as beacons of sporty enjoyment. Driving them is less about convenience and compromise, and more about single-minded fun.
This is one of those cars. The GTI badge is an instant identifier that here is a smile-inducing petrolhead model, intended to get your keen-driver juices flowing. It is in distinguished company, a rival for Volkswagen's Golf GTi, the Ford Focus ST, Seat Leon Cupra and Hyundai i30N.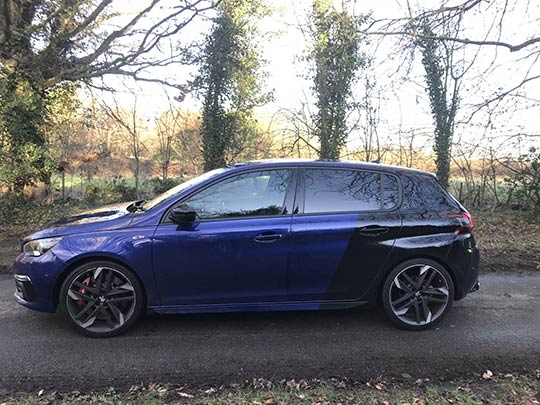 Under the 308 GTi's short snout is a 1.6 litre, 16-valve turbocharged petrol engine that dishes out some eager performance. With a 267 bhp on tap, it's a very lively athlete of a car. Six seconds from stationary to 60 mph is a pretty rapid sprint time for a modestly sized hatchback.
Have you had enough of conservative, practical models and want to grab yourself something more exciting but still want to be able to run the family around? Why not see how much your car is worth and take a look at the Peugeot 380 GTI.
Hot hatch handling
Putting down that much power via the front wheels means that at times the car scrabbles a bit for grip under over-eager acceleration, but you quickly adjust to driving it accordingly. Mostly it feels grippy good fun, just deserving of a bit of respect, as does any car of a similar size with such a quantity of performance.
It's a classic hot hatch, eager and exuberant, and the strong, solid braking hauls the car back very securely when needed. You just need to keep a close eye on the dials, because this car flies and could put your licence on a knife edge if you over-indulge in its lavish athleticism.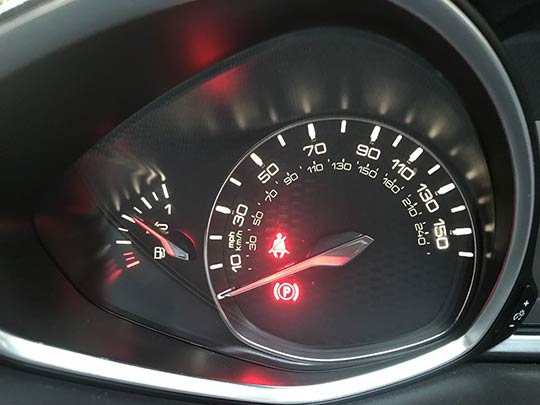 Those dials are something a bit different. The rev counter oddly moves in the opposite direction to most, revving from right to left rather than the more usual left-right. There is a motorcycle-esque look to the instruments, which are great for clarity and have unusually elegant tapering red needles.
High drive  
It's a slightly odd driving position, with Peugeot's high-set instrument cluster atop the dash. It is designed to be viewed over the top of the steering wheel, rather than the more normal view through it. It works fine for tall drivers, but less conveniently for anyone of average size or shorter. So it's a bit Marmite, and more so in this car than some of the more recent larger Peugeots.
With the driving seat set at a typical height, the wheel top obscures the dials. So you have to pump the seat up higher, and position the steering wheel lower than you might naturally choose, in order to have an uncluttered view of the speedo.
The steering wheel is sportily flat-bottomed and smaller diameter than in most cars, which accentuates a pointy feel to the steering and enhances the driving experience. It's a bit of Peugeot conjuring that is oddly effective.
Slanty aesthetics
The test car's paint design is an oddly oblique two-tone confection, known as 'Coupe Franche'. It's very eye-catching and seems to intrigue other drivers, so there's rather a goldfish bowl effect when you're on a motorway and become aware of being constantly eyeballed.
For all that it's a fun drive, the 308 GTi is quite pricey compared with some of the opposition, and that quirky driving position won't suit everyone. It does feel very nicely put together though, and a fair match for non-French rivals in terms of fit, finish and quality, which is something that Gallic models have been criticised for in the past.
Practicality isn't the prime reason for considering a car like this, but it still matters. So it's worth noting the 308 GTi's very reasonable 470 litres boot size, extendable to 1,309 litres with the back seats flopped forward. Single-minded fun, yes, but without too much of a compromise.
Peugeot 308 GTI Stats Review
Model tested: 308 GTi THP 270
Top speed:  155 mph
0-62 mph: 6.0 secs
Economy:  47.1 mpg
CO2:  139 g/km
Price:   £28,590
Images: Sue Baker