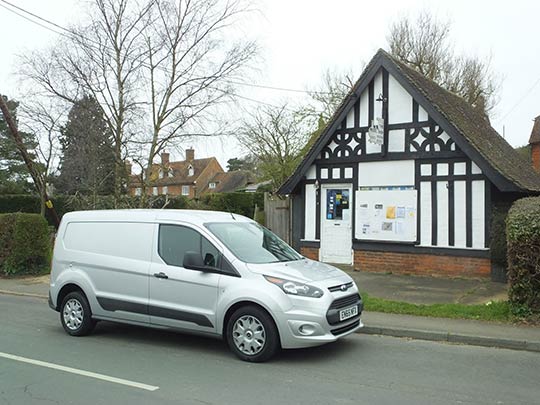 Some vans lead lives that are harsh, brutal and short.
You need only look at the occupants of a building site car park to reveal battered body panels and weary, dust-covered interiors in vehicles which, had they been cars, would still be cherished, but vans exist to serve a purpose. They're working vehicles, and often that work is hard and they suffer accordingly.
Despite this, a great deal of work goes into designing them in the first place. After all, for the likes of Ford, Renault and Mercedes, vans are big business, and to build one that breaks or is in some way not up to the job would be a profit and image-shredding catastrophe. As people can spend entire working lives behind the wheels of light commercial vehicles, making them user-friendly and pleasant means a lot of thought goes into their design.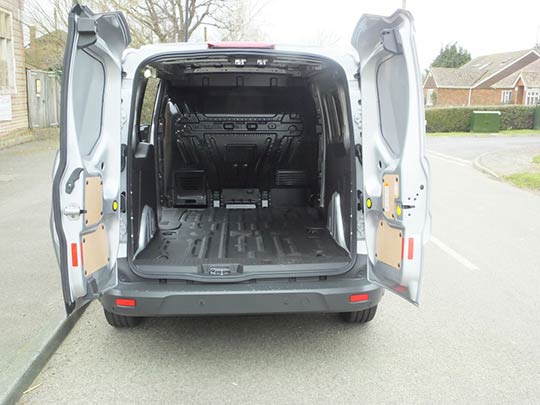 This occurred to me when I spent a couple of weeks driving around in a long wheelbase Ford Transit Connect van, which is part of a family of vehicles that are vaguely the modern day equivalents of the old Ford Escort vans, which were basically car fronts with large metal boxes attached to them. The Transit Connect, which doubtless shares some of its substructure, suspension and mechanical bits with today's Ford cars, is otherwise designed as a van from the ground up, and it filled with clever touches.
For instance, the plastic surfaces of the load deck are robust but not smooth, so that items stored in the back will be resistant to sliding about. The Connect I drove had a hefty bulkhead between the cabin and load area (with a 'load through' hatch), which for a van novice made for intimidating blind spots, only helped in part by clever, huge, split-level door mirrors and a rather good (optional) reversing camera. It also made for a potentially dark and gloomy load deck, so Ford has fitted high intensity LED interior lamps that you wouldn't want in a car but were ideal for a van.

The deck itself was accessed by a pair of double rear doors or a huge sliding kerbside side door.
Inside the Connect will seat three at a pinch, and has a high, comfortable driving position, plenty of neat oddments storage areas and the passenger seat can fold into a sort of mini table. The Connect also has a variation of the fussy, jazzy but effective enough dash and instrument cluster design you'll find in today's Fiestas, Focuses and Mondeos, but the plastics are harder wearing. It all works very well and is a comfortable place to be.
The example I drove had an automatic transmission, mated to a lively, high output 1,500cc diesel engine that went about its business quietly, especially on motorways, where it was very impressive, and did this with impressive verve. This large vehicle/small engine combo is a sign of the times, as is the Connect's long list of safety kit, deadlocks and modern security aids.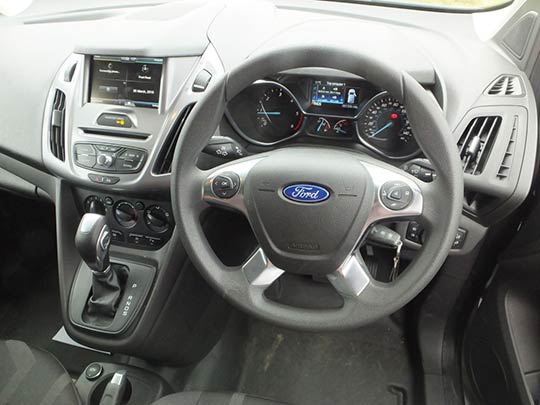 As something to drive the Connect is actually fun. It doesn't quite have the dynamic exactitude of a Focus, but it's not far behind, with brisk, accurate steering, neutral, today handling, and a ride when unladen that's firm rather than wheelbarrow like. Strong brakes are another plus.
As for the way the thing looks, well, as a mobile box created for utility, it's a stylish thing, although someone did point out that the old Connect had flat, simple side panels that were a sign writer's dream, something its replacement lacks.
Still, I've driven plenty of cars that I've enjoyed less and found the current Transit Connect to be engaging and thoroughly user-friendly, which presumably is the idea. If I had to spend five or six days a week on the road, it would be a good place to be.

Ford Transit Connect Trend LWB 1.5 TDCI Powershift Auto: Stats Review
Payload 700-1,000kg
Loadbox volume 3.6cu.m
Combined fuel consumption: 56.6mpg
Emissions: 129g/km
Price: £22,542.