Once, BMW was entirely predictable. It made conventionally good looking, shark-nosed cars with rear wheel drive that could be a bit tail happy in the wet.
They were well built, often had lovely petrol engines and clinically efficient interiors that all looked very similar.
Each new 3 and 5 series had styling that evolved from the one before and as these cars remained on the wish lists of Ford and Vauxhall drivers, BMW's sales, and profits crept ever upwards.
BMW was a German icon, the last company that would muck about with a winning formula, but about fifteen years ago that's exactly what it did, hiring enfant terrible car stylist Chris Bangle, a man with a beard and an attitude, who gleefully set about trashing BMW's sporty-but-staid image. Its cars gained bodywork swathes and creases, wiggly lamp clusters, and in the case of his 7 Series big saloon, a huge bottom.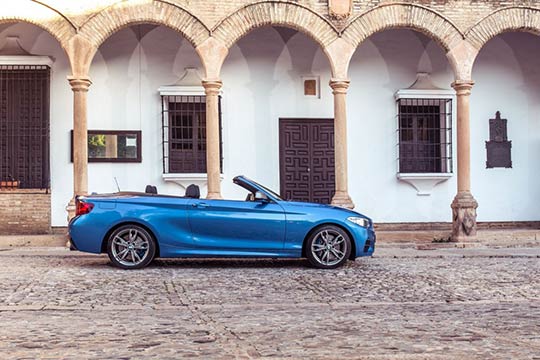 Jeremy Clarkson once memorably described Bangle's 5 Series as having headlamps shaped like Dame Edna Everage's glasses. As he pointed out, Bangle's BMW's looked odd, and visually bits of them didn't always work, but as time wore on his take on the 5 Series aged well, as everyone else caught up with it. In fact, the current 5 is visually much less interesting, and BMW has generally gone back to what it knows best for its biggest selling models but seems to have stuck with the willful peculiarity with the Golf-sized 1 Series, which nobody could call conventionally beautiful.
The original 1 also had a coupe and convertible siblings, which to your correspondent's eye somewhat resembled sawn off perambulators. Their replacements now wear 2 Series badges, but being just a bit longer and broader they've given their stylists a bit more metal to play with, resulting in cars that stick to some of Bangle's swathes and creases, but are generally rather better looking, as I found when a convertible came my way to test.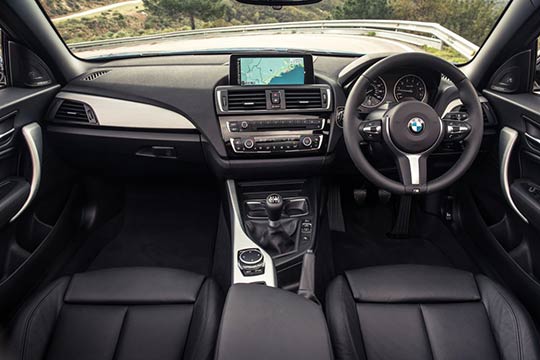 Most of these will have four-cylinder diesel engines, that won't attract ruinous company car tax bills and are quick, rewarding things to drive, but BMW also sells an M235i version with a full fat, 3 litre, six-cylinder petrol engine and a six-speed manual transmission. This car might not look like the sort of thing BMW made in the '80s and '90s, but in terms of the way it sounds and behaves, the thing is very much the inheritor of their vibe.
One small detail that is entirely inimitable is the accurate, but slightly springy way the gear lever moves from slot to slot. Rewind forty plus years and the elegant 2002's four-speed gearbox wouldn't feel very different. Start the M235i and its straight six motor makes a deep, expensive burbling noise that hardens into a civilised growl somebody at the wheel of an '80's 6 Series coupe might tune in to.
For a car that's had the tin snips taken to its roof, the M235i has a commendably stiff body, and handles with familiar rear drive precision, gripping well and cornering tidily. It's more a compact, quick grand tourer than headbanging sportscar, but a very nice place for two –as rear seat legroom is not generous. Boot space with the electric hood folded is surprisingly OK, and very good when it's raised.
With its 5.2sec 0-62 and 155 top speed, the car provides relaxed performance, unspooling its power in a way that means gears don't have to be changed too often to maintain momentum. Emissions of 199g/km C02 and 33.2mpg combined MPG are more than respectable for something with such a big engine, but in a world that wants cars that are conspicuous, but consume less, and taxes them accordingly, pushes this car to the margins in terms of the people who will actually buy it. They are likely to be a select bunch, but the few who can afford this car will probably enjoy its old school charm a great deal. Like the sound of it? Why not treat yourself to a bit of luxury and sell your old car today.