Here comes the biggest car MINI has yet produced, the new Countryman grown even a little larger than the old one.
It was a cheeky question, but the one that was asked at the press launch of the new MINI Countryman was, 'Did you consider naming this car Maxi?'
We were in rural Buckinghamshire, at a country manor house, which is currently mecca for motoring writers from around the world. Well, it is the debut of the newest MINI, and the company headquarters are in the UK, even though under BMW ownership.
Most of the cars are built here too, in Oxford, although this particular model is made in the Netherlands at a factory where now-defunct Daf cars were once produced.
Half a million
As well as being the biggest MINI in the brand's 57-year history, the Countryman is one of the most successful. Since it was first launched in 2010, some 550,000 have been sold around the world, including 79,000 in the UK.
With its somewhat bloated styling, it isn't frankly the best-looking model in the range, but it is the most practical, and that is what won the first generation Countryman its popularity as one of the best sellers.
A lot more car
This new one is a bit more of everything all round: added dimensions, extra practicality, a bit more kit, better to drive. Size-wise, it is 20 cm longer than the previous model and 3 cm wider. So now it actually occupies more road-space than a Nissan Juke, which is one of its main rivals.
That may be sacrilege to fans of the original, miniature, Issigonis-designed Mini born way back in the 1950s. But on today's congested roads, the bulky Countryman is scaled up to the size of other traffic. It's a chunky crossover-SUV with all the same hark-back styling cues of  other modern MINIs.
It has a roomy five-seater cabin, more headroom and elbow space than before, and slide-and-recline rear seats. It also has a decently sized boot which has grown by 100 litres over its predecessor and is now a respectable 450 litres.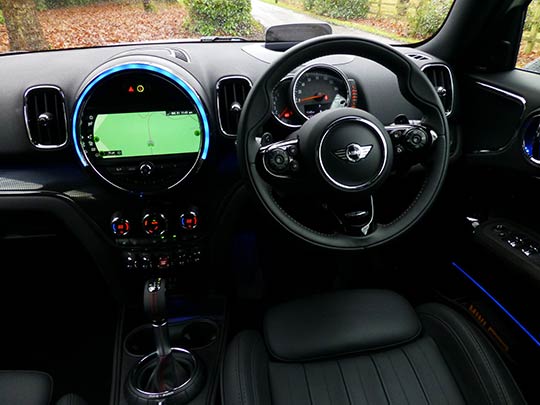 No go-kart
An essential ingredient of any MINI is its driving calibre, and it is stereotypical of the smaller cars in the range that they have 'go-kart' handling. Not this one. It isn't anywhere near as much fun to drive as a MINI hatch, but even so it is more engaging behind the wheel than most of the obvious rivals.
It has the same under-structure 'platform' as a MINI Clubman, and it's what underpins a BMW X1 too. So its foundation is sound, and topped by a body that is a bit more rugged-looking than the previous model. Those roof-rails are standard kit.
The driving experience is rather grown-up too, smoother and more civilised than the car it replaces, with a solidly well-built and secure behaviour all round. It is bend-clingy and a superior motorway glider. Our test car was the Cooper S version, the sporty one, but it is more the mature sportsman than bright young athlete. More family car than singleton's delight.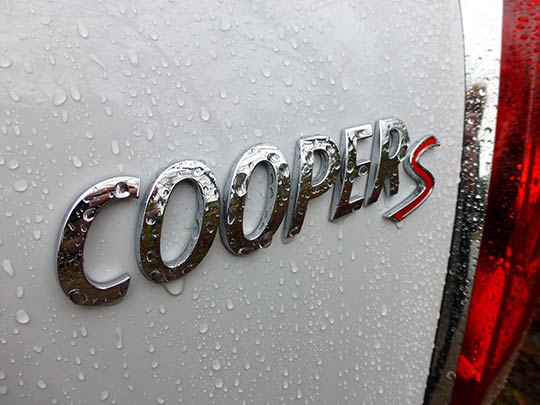 Kitted out
As with any MINI, there's plenty of scope for personalisation, and some handy kit on offer. We particularly like the optional boot-edge cushion that is attached inside the boot and pulls out from under the floor. It lets you perch on the boot sill in cushioned comfort. Another handy option lets you wave a foot under the car's tail for hands-free opening of the tailgate.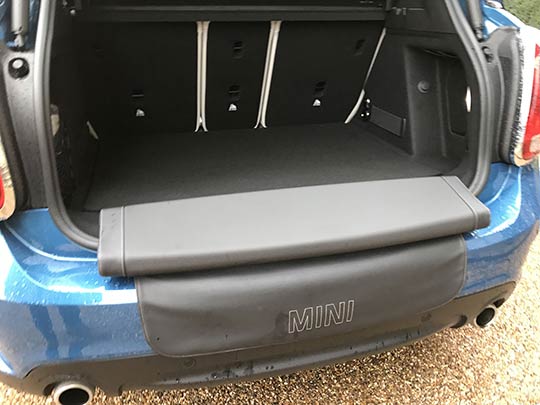 Most Countrymans are front-wheel-drive, but some are 4×4. The four-wheel-drive ALL4 models are capable of some very boggy off-roading. I got one very grubby playing in mud puddles for grown-ups.
Prices start from £22,465 for a Cooper model with manual transmission, and the dearest is a diesel-engined Cooper SD ALL4 with eight-speed auto. A front-wheel-drive Cooper S manual is £24,715.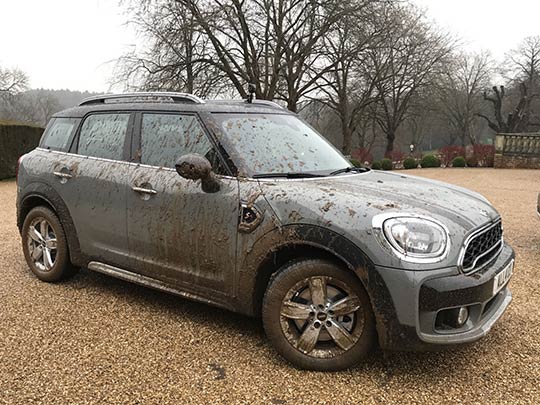 MINI Countryman Stats Review
Model tested: Countryman ALL4 Cooper S auto
Top speed:  138 mph
0-62 mph:  7.2 secs
Economy:  44.1 mpg
CO2:  150 g/km
Price:  £28,025
Images: Sue Baker