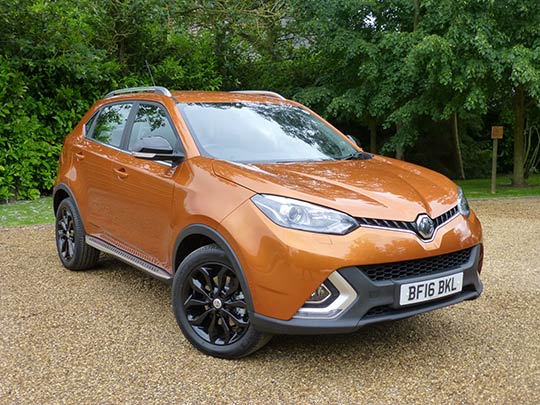 Another newcomer joins the ever-growing ranks of SUV-crossovers.

Think MG, and it will probably conjure instant images of a two-seater sports car, a classic MGB or Midget. MG's sales chief tells a wry tale about a cheery chap who recently told him: "I'm your best customer, I've had my MG for 30 years!" On the contrary, came the response, you're our worst customer because you haven't bought another one.
Modern MG is a very different car company from its heritage era. The firm is still based at Longbridge, where the cars are designed, but the current range isn't built there. MG is now owned by the giant Chinese SAIC corporation, which annually makes five million vehicles – more than double total UK car sales across the entire industry. Today's MG cars are made in China, with minimal final work on arrival in the West Midlands.
The company doesn't produce sports cars anymore, sadly, but instead a very modest range of models: the large MG6 saloon launched five years ago, the smaller MG3 hatchback added three years ago, and now a newly-arrived SUV-crossover intended as a rival for a Nissan Qashqai, Kia Sportage, Honda CR-V or Ford Kuga.
What about the MG that enthusiasts crave, a new sports car? Don't hold your breath waiting for one to appear. The company's UK sales and marketing chief Matthew Cheyne recalls that MG founder Cecil Kimber said his cars were meant to be affordable and fun to drive, but didn't specify that they should be two-seater sports cars.
Stylish outside, budget interior
So five seats and a pumped-up body is what the new MG GS is all about. The styling is quite chic in the manner of a typical modern crossover car, with muscled curves and chiselled light-reflecting edges, set off by handsome petal-pattern wheels. Under the bonnet is a 1.5 litre petrol engine – there's no diesel, at least not for now – teamed with either a six-speed manual gearbox or a seven-speed auto.
Inside, the MG GS is a bit oddball, with some oddly shaped air vents and a dash design that is rather old-school in comparison with the more chic cabins of some of its rivals. Apart from small areas of squidgy armrests on the doors, all the surfaces are hard plastics, giving it all rather a budget feel as well as look.
On the plus side, it's comfortable enough, and also very roomy. There's loads of legroom, including very generous space in the back seats, and ample headroom all round too. The boot is a good size at 483 litres, and it's extendable to 1,336 litres with the back seats folded.  The rear seat-backs can be reclined, a handy feature with tired children in the back on a family trip.
Bumpy on a back road
The driving experience is pleasantly undemanding, a typical SUV-crossover with mannerly handling and reasonable refinement. The engine, with a 138 bhp power output, is well up to the task of hauling a car this size, and it is quite brisk off the mark with a sub-10 seconds sprint time. For those interested in towing, the ability to haul 1,750 kg of trailer will be handy.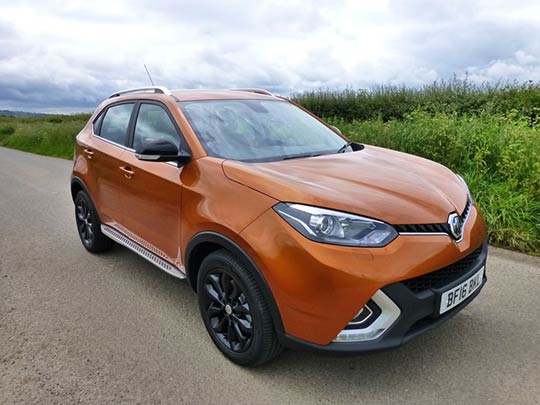 The six-speed manual gearbox is the better choice of the two transmissions. The seven-speed auto box does not distinguish itself, tends to lurch at times and often seems not to be in the gear you'd choose. Then there's the ride quality, which is tolerable on a smooth A-road, but tends to become lumpy on a coarser-surfaced back road. That could be partly due to the 18-inch wheels fitted to the test cars, and standard 17-inch alloys may be a better choice.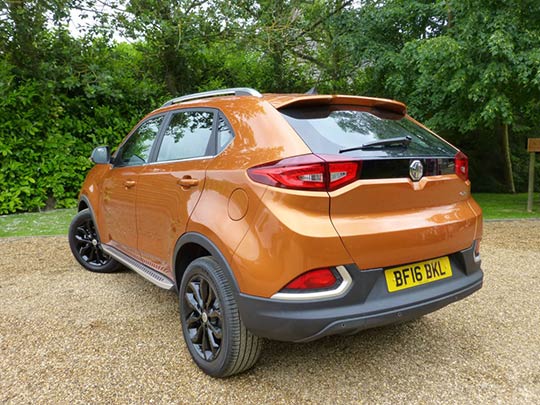 MG GS prices start from a fiver short of £15,000. That's for a base level Explore trim and a manual gearbox. There are two higher trim levels, Excite and Exclusive. A top-spec manual model is £19,495. Our test car's 'sunset orange' paint adds £395, and 18-inch alloys are £900, pushing the final bill to £22,290.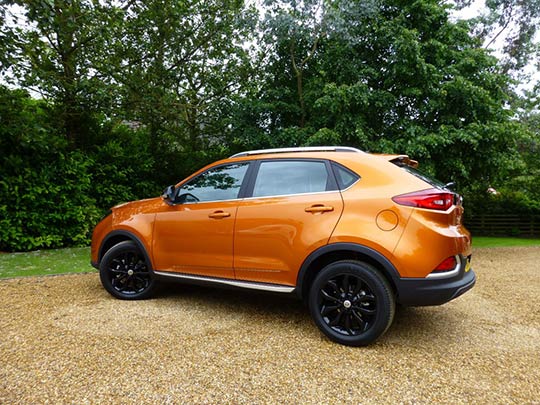 One good weapon MG does have in its armoury of sales appeal with the GS is a new five-year manufacturer's warranty, good for 80,000 miles. Most of its rivals are only covered for three years. Kia's Sportage tops the lot, though, with seven years/100,000 miles.
MG GS: Stats Review
Model tested:  MG GS Exclusive Auto
Top speed: 112 mph
0-62 mph: 9.6 secs
Economy: 45.5mpg
CO2: 141 g/km
Price: £20,995
Images: Sue Baker