A dream of a car would make a terrific Christmas present for any petrolhead. If you can't afford the real thing, there's a fabulous push-along toy McLaren that any car-keen infant would love this time next year.
If only. I know what I'd really like for Christmas, but it's out of our league price-wise. The McLaren 720S is a dream of a supercar, sexy looking and sizzling to drive. I'd love one – what petrolhead wouldn't – but the six figure price tag is a bit of a hurdle.
I can tell you what it's like to drive, though. It feels alive, tactile, nerve-tinglingly special. It has enormous power output in a lightweight construction, so its power-to-weight ratio is exceptional, and it has the performance to match. The ride is a bit brutal, but the sound of the engine is muscle music, and the instrument panel is balletic, it swivels between a choice of two displays.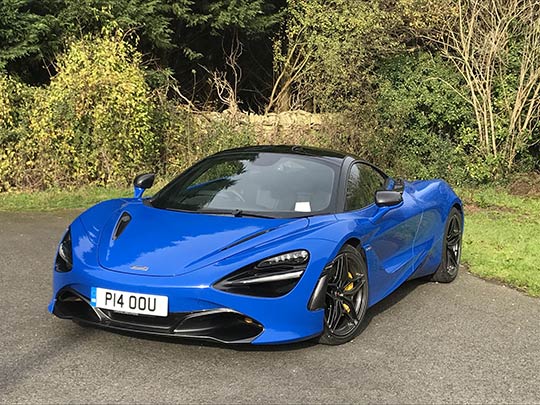 Jeremy Clarkson doesn't like it, he'd rather have a Ferrari. But I love it. It's proudly, magnificently British. Surrey-built, in a factory so pristine you'd be happy to let your baby crawl across the floor, it's a beautiful piece of British engineering at its best.
First of 15
McLaren is based at Woking, in a stunning building designed by Norman Foster, and home to both the McLaren F1 team and supercar maker McLaren Automotive. The 720S is the company's newest road car. It replaces the 650S, and is the first of what chief executive Mike Flewitt says will be 15 new cars arriving over the next five years.
If you are lucky enough to afford a 720S and order one today, it will be the middle of next year before you'd take delivery. Despite the daunting £200k-plus price tag, the car is sold out until next summer. Maybe worth the wait, though, for a car that is reigning Dream Car of the Year in the Women's World Car of the Year Awards.
This thing is stunningly quick, one of the fastest cars on the road. It is rear-wheel-drive and has a four-litre, twin-turbo V8 engine, with a power output of 710 bhp (720 metric horsepower, hence the badge) and a 0-62 acceleration time that beats three seconds on your stopwatch. Torque is a stonking 568 lb ft. Even if you're not techy, that's a heck of a lot from a road car.
Supercar fast
On a test track it would be capable of sprinting from zero to 124 mph in what would be a good 0-62 mph pace for most cars – 7.8 seconds – and then brake to a halt again from that elevated speed in just 4.6 seconds. No, I didn't try it. I drove the 720S on the road, and I value my licence!
There is no manual version of this car, the standard transmission is a seven-speed auto, but deft paddles on the steering wheel let you shift gears manually when the mood takes you.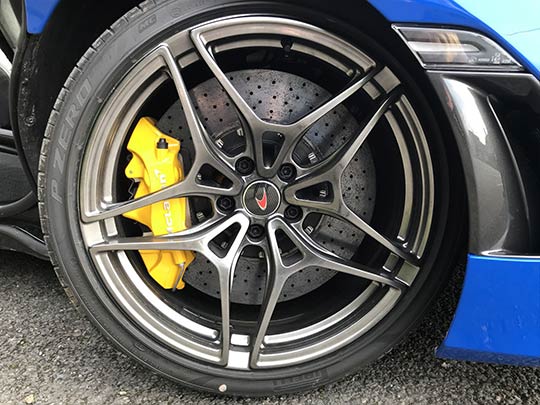 There are also selectable driving modes for comfort, sport and track that make adjustments to the engine and chassis. Of the two road modes, comfort is the one to choose most of the time, unless you're in a bonkers mood and don't mind driving a rock-hard missile.
Capability and kit
The 720S is a very snug two-seater. Its sculpted body is pure eye-candy, but the drama comes when you park and open the doors. Then it is an instant crowd-grabber, with the dihedral doors opening like a bird's wings, moving outwards and forwards as they lift away from the car sides.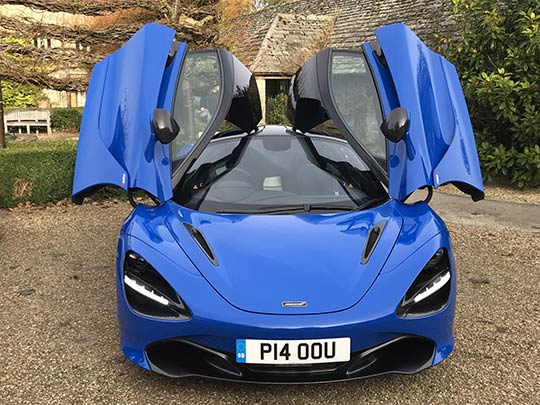 The body is built on a carbon fibre cage. The mid-mounted engine is sited in its own totally enclosed compartment behind the seats. There is no access, it is only openable by McLaren for servicing. You have luggage? Not much of it, hopefully, because the tiny compartment under the short front bonnet only has room for minimal weekend kit.
Cabin quality is superb, a stunningly precise confection of leather and lush controls, including an instrument panel that rotates to change the display. Drawbacks? The driving position isn't easy to adjust sufficiently if you're below average height, and the view out of the car is pretty restricted even though the 720s's front pillars are slimmer than previous McLarens.
Baby McLaren
If you lust after a McLaren, but like me can't stump up the dough to spend the price of a house on a car, there is a way to have one in the family. On the cusp of this Christmas, the company has added a new model to its range: a push-along toy car designed for a toddler. A new baby in our family has just taken delivery, lucky lad! Not bad to say you had a McLaren as your first car …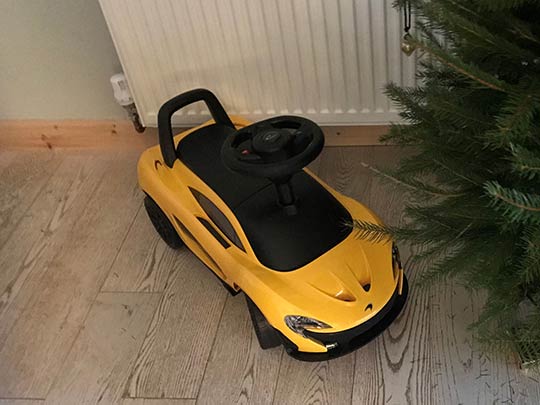 So what's the red, curved McLaren badge all about? Called a 'swoosh', it is said by some to represent the silhouette of a Kiwi bird, symbolic of Bruce McLaren's New Zealand homeland. But the official versions is that it's a streamlined speedmark with similarity to the vortices created by the rear wing of a McLaren Formula One car. So now you know.
McLaren 720S Stats Review
Model tested: 720S
Top speed:  212 mph
0-62 mph: 2.9 secs
Economy:  28.5 mpg
CO2:  249 g/km
Price:   £208,600
Images: Sue Baker