Oh to find a sexy new car with a big bow around it parked outside on Christmas morning. How's this for a Christmas wish?
Some people have all the luck. A friend woke up one Christmas morning a few years back and opened the curtains to see a big red ribbon adorning something on her driveway. It was the new car she really wanted, specially delivered as a Christmas present from her doting husband.
No such luck for most of us, but we can dream. So what would be on your wish list as a big, beautiful four-wheeled surprise, come next Sunday morning, if only Father Christmas was feeling especially generous? Something practical and affordable, or an exotic flight of fancy?
If it were the latter, then how about a car that is gorgeous to look at, sensationally quick, would make all the neighbours go Christmas-tree-green with envy, and is British-made by a company whose name is also found on the Formula One grids. Yes, that's right. A McLaren.
Door drama
I recently spent a lucky morning driving a McLaren 570S, a sinuous powerhouse of a supercar with lights like giant quotation marks, exorbitantly windswept body lines and dramatic dihedral doors that open like a bird of prey stretching its wings ready for the hunt.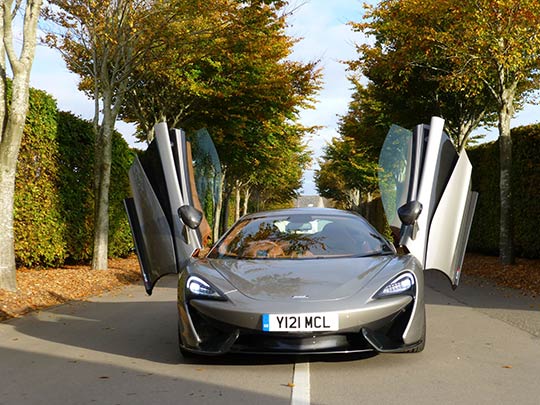 Don't choke on the description and the price, but this is actually McLaren's 'entry level' car at £143,250. What kind of performance does the lowliest model in the McLaren hierarchy buy? A top speed you'll never use, at nearly three times the UK legal limit, and 0-62 mph sprint acceleration in the blink of an eye. Well, slight exaggeration, but nearly, at a mere 3.2 seconds.
The car looks utterly gorgeous, with its sculpted aluminium body cladding a carbon fibre central tub and with the engine sitting above the rear wheels, to which it delivers its immense power. The leather-clad cabin is a capsule of comfort. The head-swivelling effect the car has on onlookers is a tsunami of envy.
Mega powerful
A typical family car has an engine with power delivery in the region of 100 to 150 bhp. So what's the 570S's output? It's 562 bhp, with 442 lb-ft of torque. The engine is an eight-cylinder, 32-valve petrol unit that is right behind your back as you sit snugly in the body-hugging driving seat.
So what's the driving experience? You sit quite low to the ground, encased in what feels like a missile in restraint mode. Squeeze the throttle, and the car catapults you along the road, but rein back and it is docile and mannerly, albeit like a panther spring-coiled and alert for the next pounce.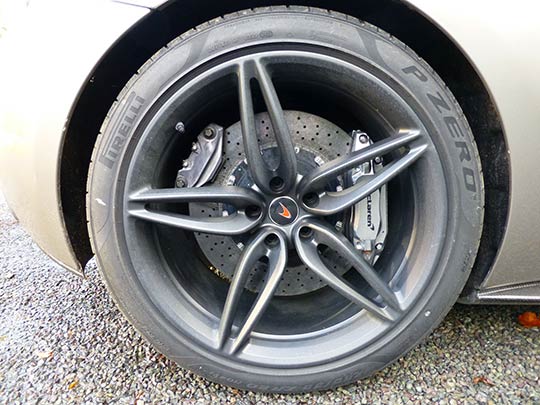 The McLaren is incredibly tactile, highly informative in feedback and rich in physical sensation as you drive. The suspension is supercar-firm, and jars over the back-road bumps, but it isn't as unforgiving as other supercars can be. It is surprisingly civilised for the kind of car it is.
Gift-wrapped
On UK roads it feels like the world's fastest thoroughbred stallion at play in a pony's paddock. You can't actually use any more than a modicum of its performance, but you revel in the knowledge that it's there, alert, ready; if only there were somewhere worthy of its mega performance. Like the Nurburgring.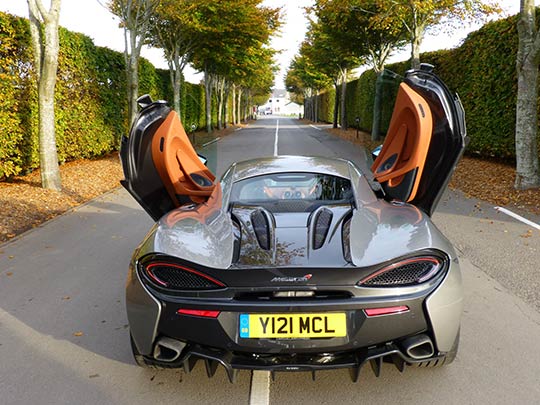 So Santa darling, if you're feeling especially generous, I'd love one of these, please. Tied up in a big red bow, ready for me to unwrap on Christmas morning. I'm not holding my breath, though …
McLaren 570S Stats Review
Model tested: 570S Coupe
Top speed:  204 mph
0-62 mph:  3.2 secs
Economy:  26.4 mpg
CO2:  249 g/km
Price:  £143,250
All Images: Sue Baker