Just over a quarter of a century ago, on a motor show stand in Chicago, a legend was born. That was when Japanese car maker Mazda made a show-stopping reveal. The wraps came off a small, sleek, two-seater sports car with a soft-top roof and pop-up headlights.
The Mazda MX-5 was an instant hit, having wisely been given its debut in the US, which would quickly become a huge market for such a trendy 'little deuce coupe', as a generation of buyers who grew up to the sounds of 1960s Beach Boys' music instantly regarded it. The MX-5 – so-called because it started out as 'Mazda Experiment project number 5' – took a lot of its inspiration from a classic British sports car, the original Lotus Elan.
Twenty five years ago, a year on from its US arrival, the MX-5 went on sale here in the UK. Priced at £14,249, it was something of a bargain for a great-looking, pert-handling, if not exactly sizzling performing little sports two-seater. The engine was a 1.6 litre unit pushing out 114 bhp, and the 0-60 mph acceleration time was just over nine seconds.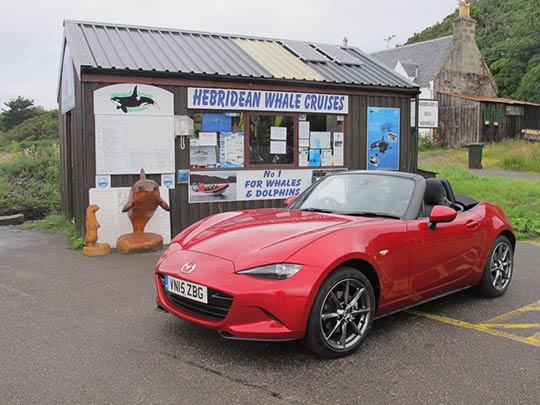 Popular classics
Those early MX-5s, with their cute looks and zany pop-up lights, are now sought after as desirable classics, although many are badged as Eunos roadsters. That's the name that was used for Japanese models, many of which were imported here because Japan drives on the same side of the road as us.
Now we fast forward through the generations of MX-5. The second model appeared in 1999 and it had grown fatter and heavier, and also shed its much-liked pop-up headlights in favour of permanently fixed ones, to satisfy new safety regulations. The third generation car arrived in 2008, continuing the weight gain and spreading body dimensions.
Although it grew plumper and pricier, the sporty little Mazda has remained a very well-loved car and has been a huge hit with us Brits. Over the MX-5's 25-year life span to date, we have bought over 100,000 of them. It is the world's favourite sports car, the best-selling two-seater roadster in history.
New generation
Just launched and newly on the road is the fourth generation MX-5, with something of a return to its roots. It has shed weight, been to the gym and emerged leaner and fitter. It's inevitably dearer than its 1990 ancestor, but the price hasn't really gone up that much, with the new car kicking off at £18,495. There is a choice of two engines, either a 1.5 litre, 129 bhp unit or a two-litre with 158 bhp, both with a six-speed manual gearbox. The bigger engine was chosen principally for the US market, and it's the smaller, lighter 1.5 that feels the definitive choice for UK roads.
What is it like to drive? Terrific. It's a five-star honey, with driving dynamics to match its freshly-muscled looks. You feel hugged in the driving seat, in a cabin that is sportily sparse. The car is low-slung, direct in its feedback, and terrifically nimble. It's a beautifully engineered modern rear-wheel-drive sports car with grippy precision on the bends and an eager exuberance that makes it a joy behind the wheel.
The hood is slick and quick to raise and lower, so the car is practical for a fickle British climate.
Drawbacks? Yes, the boot's a bit small at a mere 130 litres, so pack light and just wear a big smile. The MX-5 supplies that. I could stop smiling all the time I was driving it.