South Korean car maker Kia aims to woo customers away from BMW, Mercedes and Audi with its newest model. That's a bold aim, but it's a bold car.
Kia has come a long way in recent times, with a strong range of good-to-drive cars sold with the longest warranty on offer from any motor manufacturer. Seven years of cover is more than double the vast majority of others.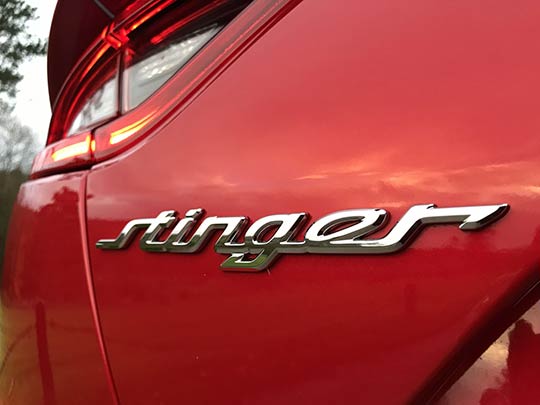 Until now, the Kia range has all been mainstream fodder: hatchbacks, estate cars and SUV-crossovers. Once a budget brand with looks to match, it has evolved over the past decade into a stylish line-up thanks to the talent and canny direction of German-born design chief Peter Shreyer, who previously worked for Audi.
What Shreyer has done for Kia's design, another highly-regarded German is now doing for the cars' engineering. Albert Biermann is ex-BMW, and he is steering a revolution in the way Kias drive, to echo the much-applauded change in the way they look.
Sports GT
Here is welcome evidence of the impact that Herr Biermann is making on Kia's chassis engineering. The company has not produced a sporty GT model before, and the boldly-named Stinger is intended to spearhead a new confidence in the way a car wearing a Kia badge drives, and in particular how it can ride and handle.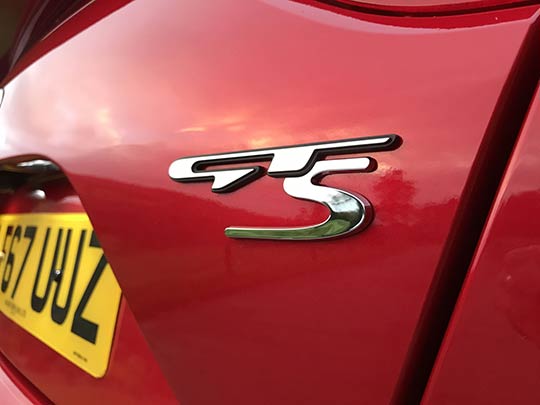 The target market is clearly territory currently occupied by prestige German brands, with a price tag to match. The first model in the new Stinger range, the GT S, has a 3.3 litre V6 petrol engine and a £40k price tag. That's a lot of money for a Kia, but it's a lot of car.
Further down the line, in early 2019, there will be other versions. A more modestly powered and more affordably priced two-litre petrol Stinger is coming, and so is a 2.2 litre diesel. But this one is the flagship of the trio, and it's very good. Not just for a car wearing the badge it does. It's good by any standards.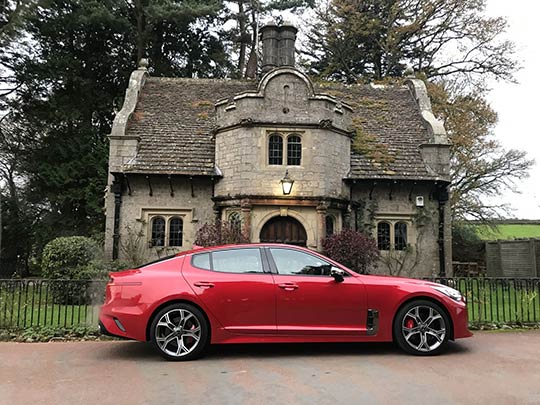 Luscious looker
Although the Stinger's engineering was done in Korea where Alberrt Biermann is based, it was designed in Europe by Peter Shreyer and his team. It is clearly styled to be an eye-pleaser, and it's hard to quarrel with the way the car looks. It has sleek, swept-back lines, a crisp curve of the roof from front to back, and chiselled detailing around the body. It shrieks a blend of drama and elegance.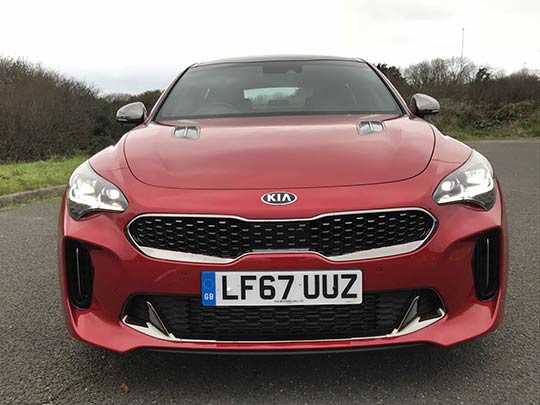 Red brake callipers set behind dramatic alloy wheels reinforce the overall sporty look, and there are twin exhaust pipes on both sides under the rear bumper.
Bold colours set off the overall design, and the Stinger looks particularly good in the vivid red shade of our test car. Red, sporty, and not ashamed to show it.
Rear-driven
German cars are lauded for the way they drive, and a rear-wheel-drive layout has much to do with the esteem in which a BMW in particular is held as a driver-pleaser. Now here is the first rear-driven Kia.
The engine is a twin-turbo V6 with a mighty power output of 365 bhp, and 376 lb ft of torque, which means that it has plenty of punch across the rev range. The sub-five seconds acceleration time means that it is the quickest Kia yet made.
It's academic that the top speed is more than double the UK limit, but nice to know how fast you could go on an empty, derestricted German autobahn.
The gearbox is an eight-speed automatic, and the car has all-wheel-drive that has zero off-road pretensions but is all about glueing the car to the Tarmac to let you drive rapidly and securely.
Looking to sell your previous car and upgrade to the new Kia Stinger? Get an online car valuation with webuyanycar and you could sell your old car within an hour!
Clingy cornering
From the moment you first slip behind the wheel, the Stinger is a driver-pleaser. The engine sounds the part, with its delicious muted growl. The steering has a pert precision that speaks volumes about the contact between wheels and Tarmac. It's nicely weighted and full of feel.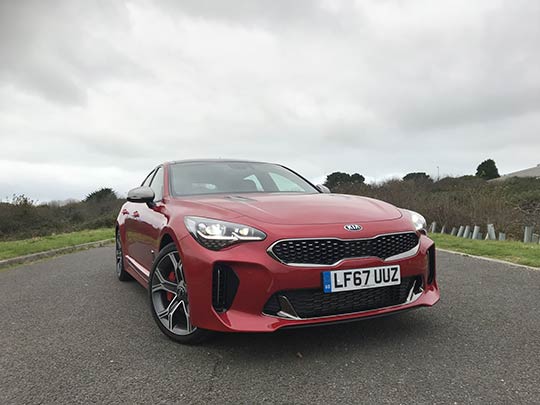 Squeeze the throttle, and the car surges forward with tidy urgency.  Dull cars have muted feedback. This one is positively talkative as it communicates what it's doing as you drive.
It has a commanding control through the bends, tautly precise and with a poised, sure-footed maturity. It is not at the expense of ride calibre though, as can sometimes be the case with a performance car. The ride feel is firmish but absorbent, massaging out the bumps.
The Stinger is a honey, probably the most fun I've had behind the wheel of any car this year that doesn't have an unaffordably six-figure price tag.
Good kit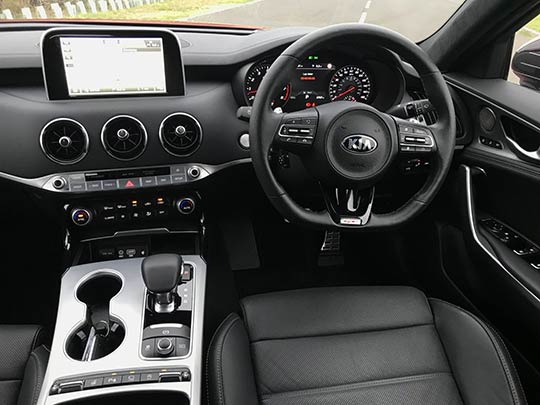 Cabin quality is good, with quality materials and pliant surfaces. Head-up display is standard, so is an eight-inch satnav-infotainment touchscreen, front seats with heating and cooling, a toasty heated steering wheel, and a good range of safety equipment including autonomous emergency braking and blind spot monitoring alerts.
Kia says that the Stinger is 'a flagship for us that will help change people's perceptions. We are a volume car brand, but now we are showing that we can do this kind of product. This is a car for individuals who enjoy driving.' Amen to that, and bravo Kia. More of the same, please.
Kia Stinger Stats Review
Model tested: Stinger GT S
Top speed:  168 mph
0-62 mph: 4.7 secs
Economy:  28.5 mpg
CO2:  225 g/km
Price:   £40,495