If you need a seven-seater car, the choice is limited to just a few SUVs, people-carriers and estate models. Here's the only one that also comes with a seven-year warranty.
Most cars come with four or five seats. That's enough for most owners, be they singletons, couples, or average size families.
For some, though, more is better, and having additional seats on board is a real boon. So seven-seater cars appeal to those with more children than most, or who regularly want to do trips with the extended family, including grandparents.
Then there are the gregarious types who like going somewhere with a full load of chums and need another row of seats to accommodate them all.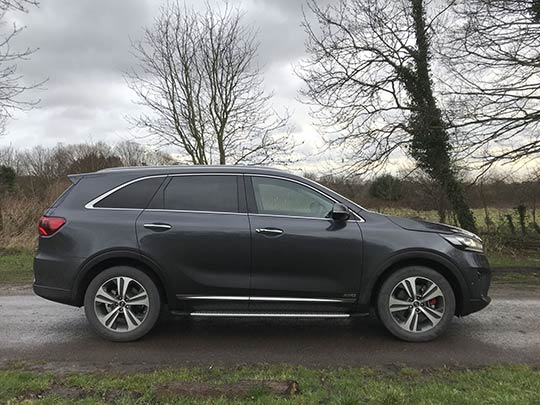 The choice available includes a variety of models, such as the Ford S-Max, Citroen's Grand C4 Picasso, the Peugeot 5008, Renault Grand Scenic, Land Rover Discovery, Volvo XC90, Skoda Kodiaq, VW Touran, Audi Q7, Mercedes E-Class Estate and Tesla Model X. Oh, and here's another one: the Kia Sorento.
Have you got a growing family and need to upgrade your car to a seven-seater? Sell your car with webuyanycar and take a look at the Kia Sorento.
Knees squeeze
Having seven seats is one thing. Having enough room for seven adults is something else, and in some seven-up cars, it's all a bit of a squeeze – especially in the back row. That rearmost pair of seats is often only big enough for children, and ideally quite small ones who haven't grown very long legs yet.
That's where the Sorento differs from many of its rival seven-seat models. It is one of the most generous for all-round knee room, and genuinely capable of accommodating seven adults on a trip, albeit with only a very modest quantity of luggage in what remains of the boot when all the seats are upright.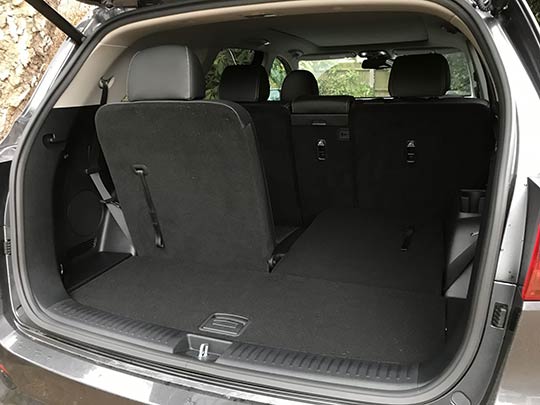 Used as a five-seater, with the rear pair folded flat into the boot floor, the Sorento has a very decent 660 litres of boot space, and with the two rear rows of seats stowed it can house 1,732 litres for moving 'stuff'.
Big SUV
The Sorento is quite a big sports utility vehicle at almost 4.9 metres long, and it feels it when you're up there in its elevated driving seat. Once on the move, though, it seems to shrink-wrap around you, and by the standards of the type of vehicle it is, it feels nimble in a way that belies its bulk.
Its motor is a 2.2-litre diesel engine with a 197 bhp power output. It comes with standard four-wheel-drive and either a six-speed manual gearbox or eight-speed auto. With manual gears, the Sorento has a maximum towing limit of a top-notch 2,500 kg. Even with auto, it's still a socking good hauler for pulling two tonnes.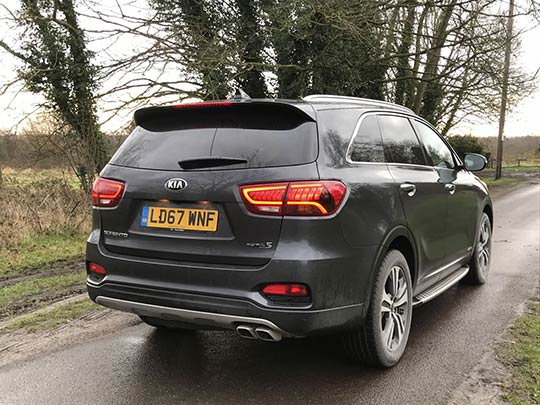 This isn't the kind of car you want to throw around on the bends, and its demeanour is solidly confident rather than feeling especially sporty. Passengers may appreciate that, because driver exuberance isn't always to the taste of those in the back, although there is a bit of body lean going around tighter corners. They'll appreciate the ride quality though because it's pretty comfortable for this type of vehicle, and irons out all but the worst of the bumps.
A bit of hush
Seven-seaters aren't always the quietest vehicles. A big body, big engine, larger external mirrors, a long interior and big wheels often combine to produce a medley of sound permeating the cabin. In this respect, the Sorento is not the most hushed of its ilk, but it's up there amongst the better ones.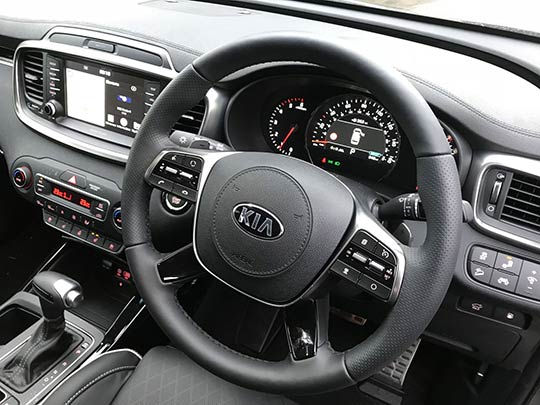 There is some wind noise at motorway pace, though not much, and the engine is decently muted unless you accelerate very aggressively. It's all rather civilised.
That comes at a price, of course, and the Sorento kicks off at around £29,000 but climbs to almost £42,000 at the top end of the range. All versions have the same power output 2.2-litre diesel engine and all-wheel-drive, and all come with seven seats. The price difference is in choice of trim level and equipment.
Kia Sorento Stats Review
Model tested:  2.2 CRDi 4×4 Auto GT Line S
Top speed:  124 mph
0-62 mph: 9.6 secs
Economy:  43.5 mpg
CO2:  170 g/km
Price:   £41,995
Images: Sue Baker