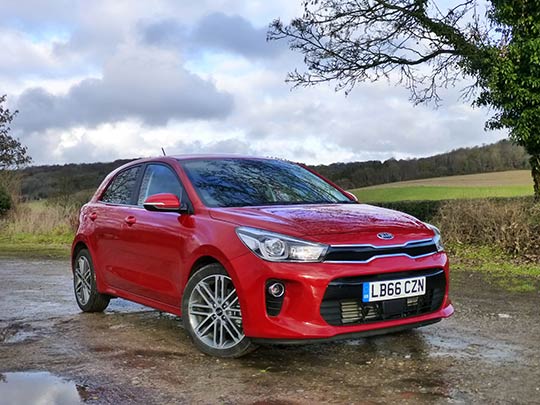 Supermini cars the size of the Ford Fiesta, Vauxhall Corsa and VW Polo are in big demand, and here's one of their Asian rivals newly refreshed and competitively priced.
This is a busy year for Kia. The Korean company is grabbing attention with its new Optima range, including both saloon and estate versions, and coming soon is a low-CO2 plug-in hybrid. Due this spring is a new Picanto, updating the little city car in the Kia line-up.
Then later in the year the dramatically named Stinger is on the way, a performance-orientated GT model that caused a stir at last month's Detroit Motor Show. With its swept-back style and sling-shot pace, it is intended to put Kia in the frame to woo Audi and BMW buyers with something a bit different.
Newly arrived on the UK scene this month is the latest Rio hatchback supermini, seventeen years on from the launch of the original, first-generation model. This is a lynchpin of the company's car range, which is growing in popularity, with a record of over 90,000 Kias sold in the UK last year.
Slightly bigger, much sharper
The original Rio first appeared just after the millennium, as a budget model with bland styling and indifferent driving dynamics. Its 2005 replacement was perkier, though still a bit dull looking, until a face-lifted version in 2009 introduced Kia's now familiar tiger's nose grille that gave the car a stronger identity. The third generation Rio arrived in 2011 and has been more engaging to drive. So this new one is Rio gen-four.
What's the difference? It's fractionally longer and just a whisker lower, has a slightly more imposing front, revised rear styling, an upgraded interior, and drives with a bit more panache. The under-structure is new, the bodywork is stiffer, and the suspension has been beefed up a bit.
Boot space has been increased to 325 litres, 47 litres more than the previous Rio, and is now just a bit bigger than the boots of any of those three main rivals.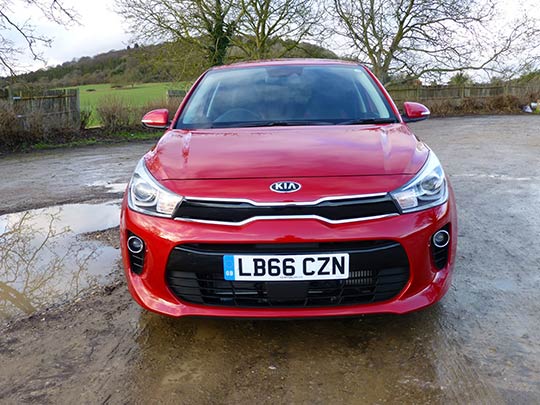 Driving it
The Rio is noticeably improved in this new model and drives with solid civility. On a twisty back road it handles tidily, and although it isn't exactly a smile-inducing fun drive, it is a calmly competent one. There is quite a mature feel to its general behaviour.
That's the good news. There is still some room for improvement, and areas in which it still isn't quite up to the benchmark set by the best of its rivals. It isn't quite as pert and engaging behind the wheel as a Fiesta, nor as quiet and refined as a Polo. Although the suspension mostly cushions surface abrasions, the ride is a bit choppy at times over some of the coarser rural roads.
For long-legged performance combined with frugal economy, our diesel-engined test car with its sub-100 g/km CO2 and 70-plus combined mpg is an interesting bet, and in top-level trim comes pretty well equipped. The kit list includes heated seats and steering wheel, which is unusual in a car this size.
Road ready
The Rio now comes only as a five-door model, the previous three-door version has been discontinued. There are ten versions in the range, and three trim grades boringly badged 1, 2 or 3. There is a new three-cylinder, one-litre petrol engine that could well be the peach of the range and likely best-seller.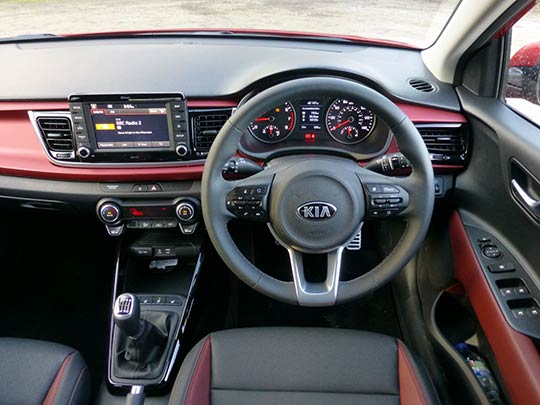 There are also two four-cylinder petrol engines, a 1.2 litre with 84 bhp and a 1.4 litre with 99 bhp. Diesels are 1.4 litres with either 69 or 89 bhp. All Rios initially come with a manual gearbox; there is no automatic option, although that may come later.
The cabin is a bit corporate-looking in most versions, and doesn't have many pliant surfaces to up the quality feel, but the decor is considerably perked up by warmly colourful dash and door inserts in that accompany red exterior bodywork. New Rio pricing starts from £11,995, and tops out at £17,445.
Kia Rio Stats Review
Model tested: Rio 1.4 CRDi 3
Top speed:  108 mph
0-62 mph:  11.6 secs
Economy:  74.3 mpg
CO2:  98 g/km
Price:  £17,245

Images: Sue Baker