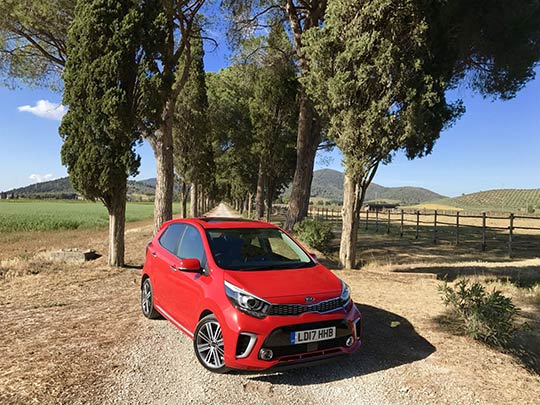 The smallest car in the Kia range has just been replaced with a new model that's well worth a closer look.
Here's a pub quiz-worthy question: what's the meaning of Kia, the Korean car brand name? It apparently derives from characters in the Korean language that mean 'to come out of the east'.
Kia first came out of the east and into the UK in 1991, when the Kia Pride was launched here. It was based on the Mazda 121, and it gained popularity as an affordable budget city car. Then in 2004 it was replaced by the Picanto. Now, thirteen years later, here is the third generation (fourth, if you include the Pride) of a car that has already clocked up 160,000 UK customers.
What's different about the new one? A lot. It's pretty much the same size as the previous model, but with a lighter but stronger body, a bit more interior space shoehorned into it, a cosmetic refresh both inside and out, more equipment and tech features, and revised engines.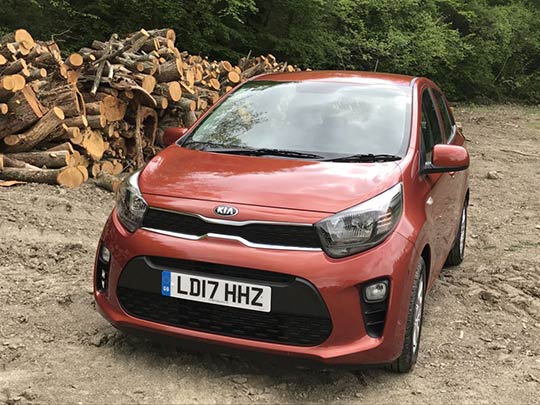 City car rivalry
The new Picanto is up against some stiff rivalry from other small-size city cars that were not around when the original model first appeared. It now has strong competition in the Volkswagen up!, Renault Twingo, Hyundai i10, Toyota Aygo, Citroen C1, Peugeot 108, Skoda Citigo, Seat Mii and Suzuki Celerio.
Kia's new baby is well up with the best of them. It has five doors and its freshened looks make it a lot smarter, with a tiger-nose grille and sharp styling. It's a pity that the cabin is still clad in hard plastics, but that's in common with the rest of the city car pack. The decor is quite chic and modern, and is lifted in the upscale versions by piano black trim, but it's neither as funky or quite as classy as some of the rivals.
The Picanto now has tech features that are desirable and not routinely available in a budget model, such as torque vectoring that varies power delivery to different wheels to make the car clingy on the bends. Also standard are six airbags, electronic stability control and hill start assist, with autonomous emergency braking available as well.
Lively little engines
Kia is in the three-cylinder club with a perky one-litre unit that suits the Picanto well and gives it some added character. Three-pot engines are increasing popular for smaller cars, and this one is a honey. The four-cylinder 1.2 litre motor is longer-legged with better performance, but makes the car feel a bit more ordinary.
In common with other similar size city cars, there are no diesel Picantos, just petrol ones. The starting point in the engine line-up is the one-litre, non-turbo, 66 bhp unit that has 64.2 mpg average economy and 101 g/km CO2. It's a willing and distinctive-sounding little motor that does a decent job of hauling a relatively light car, but it isn't particularly quick with a 0-62 acceleration time not much below 14 seconds.
The 1.2 litre, 83 bhp engine might be a better bet if you need a bit more oomph, dropping the sprint time to 11.6 seconds while the combined fuel figure is still a healthy 61.4 mpg. There is also a one-litre turbo, 99 bhp version coming later this year that might well be the pick of the bunch. Most Picantos come with a five-speed manual gearbox, and there is also a four-speed auto.
Budget buy
The Picanto is light, precise and friendly to drive, with tidy handling and a quite reasonable ride quality, although it can be unsettled by sharper bumps. Noise levels are subdued, and it's decently comfortable for such a compact size.
As well as squeezing a bit more kneeroom into the cabin, the Picanto's boot has grown by 25 per cent over the previous model, and is now 255 litres. That's bigger than any of its rivals', although a couple come very close.
The trim levels are called 1, 2 and 3 as in the previous model, but with the addition of two higher-spec levels in the GT-Line and GT-Line S. The starting price for a Picanto is £9,450, which buys a one-litre, 66 bhp car in base level 1 trim. The range tops out at £13,950 for a top-spec 1.25 GT-Line S. It's a lot of little car for the money, especially with a standard Kia seven-year warranty.
Here's another pub quiz fact: in its native Korea, the Picanto is known as the Kia Morning.
Kia Picanto Stats Review
Model tested: Picanto 2 1.0
Top speed:  100 mph
0-62 mph:  13.8 secs
Economy:  64.2 mpg
CO2:  101 g/km
Price:   £10,750
Images: Sue Baker