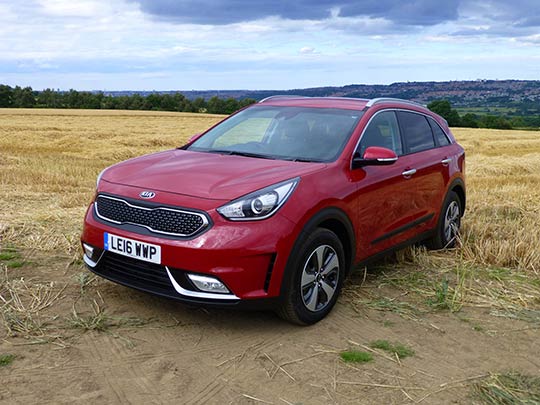 Hello to a new petrol-electric crossover model from the South Korean car-maker.
This car is a new departure for Kia, the South Korean car maker once known for its budget models and now morphed into a chic alternative to better-known mainstream brands. As the company's first hybrid, and unusually an SUV-crossover one, the Kia Niro is a landmark car that currently doesn't have a direct rival from any other manufacturer.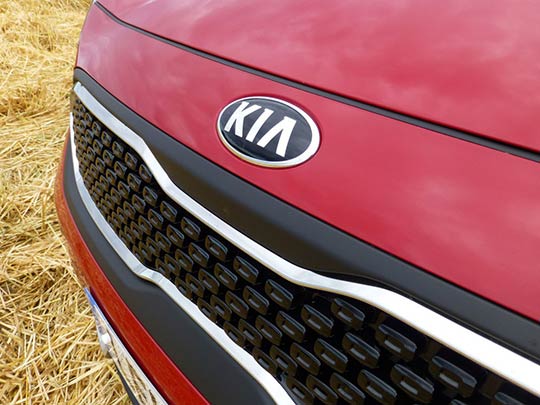 It clearly targets Nissan Qashqai customers, but for less money and with the advantages that come from being a hybrid, with an electric motor and battery pack as well as a petrol engine. There are other compact hybrids around, like the Toyota Prius and Hyundai Ioniq, though in lower-slung hatchback bodies.
Other SUV hybrids – or maybe we should call them HUVs for hybrid utility vehicles – do exist, from such as Lexus, Infiniti and BMW, but they're a lot bigger in both size and price. So Kia reckons it has found a niche in the car market for a family-friendly hybrid with good fuel economy and low emissions at a price that won't break the bank.
New direction
The Niro marks a new direction for Kia, as the first of a planned range of hybrid cars from the Korean firm, so it's just the start of more to come. Another will quickly follow when the Optima plug-in hybrid arrives this autumn. Unlike the Optima, which is already available as a diesel, the Niro will be exclusively hybrid.
It is a so-called 'parallel hybrid', with the engine and electric motor working in harness. The car can run for short distances in town traffic in electric-only mode, but most of the time is powered by the engine, with energy recouped from regenerative braking being used to replenish the battery pack.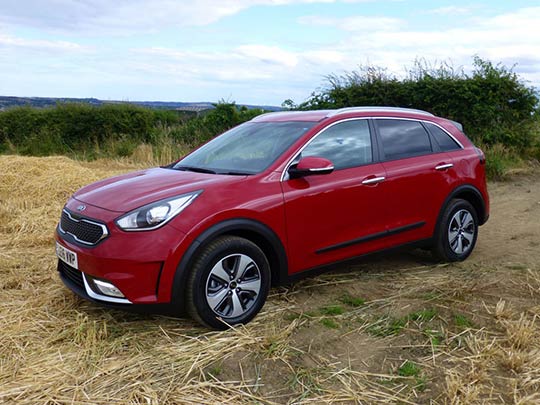 The engine is a 1.6 litre, 104 bhp four-cylinder petrol unit. It is teamed with a 32 kW electric motor. Combined, they give the car a total 139 bhp power output, and 265 lb ft of torque, which is enough for willing performance that won't excite a keen petrolhead but does the job solidly enough for an average family driver. It's a relaxed drive, and the braking regeneration is less obtrusive than in some other hybrids, that have a slightly disconcerting 'grabby' feel under braking.
Well kitted
There are four models in the Niro range, all with the same 1.6 litre engine, electric motor, lithium-ion battery pack and six-speed dual-clutch auto transmission. The trim levels differentiate them: 1, 2, 3 or First Edition, priced from £21,295 to £26,995. The two lower-spec models ride on 16-inch wheels and have 74.3 mpg economy and 88 g/km CO2 output. The two higher ones are on 18-inch wheels with 64.2 mpg economy and 101 g/km CO2.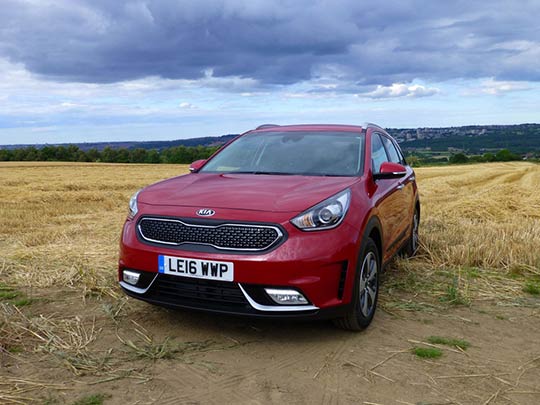 The Niro 1 is relatively basic, although it is equipped with DAB radio, Bluetooth and USB connectivity and music streaming. From grade 2 and above the car comes with a standard integrated TomTom satnav system and Kia's Connected Services, which give you traffic information, weather reports and local points of interest for the area you're driving in. There's no charge for this during the car's warranty period, which is for seven years.
Top-spec Niros have a standard kit list that includes front seat heaters and coolers, a heated steering wheel, eight speaker audio and wireless mobile phone charger.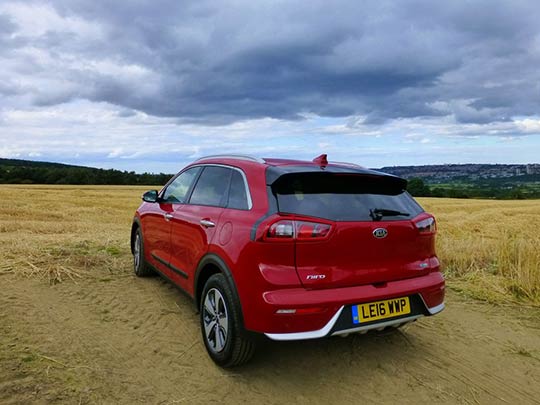 There's lots to like about the Niro, but it does have a few shortcomings. The foot-operated brake pedal is quite annoying, voice directions on the satnav are sometimes a bit late, and cabin quality is generally ok apart from the rather stark white gloss trim in the First Edition. There's quite a lot of road rumble from under the car, and economy mostly isn't much different from a good diesel model.
Drive the car with a view to maximising economy, though, using dashboard aids to guide you, and it is possible to push the mpg up into the lower 90s. For anyone who does a lot of urban driving, as a commuter or on the school run, it has interesting potential.
Kia Niro Stats Review
Model tested: Kia Niro 2
Top speed:  101 mph
0-62 mph:  11.1 secs
Economy:  74.3 mpg
CO2:  88 g/km
Price:  £22,795
Images: Sue Baker