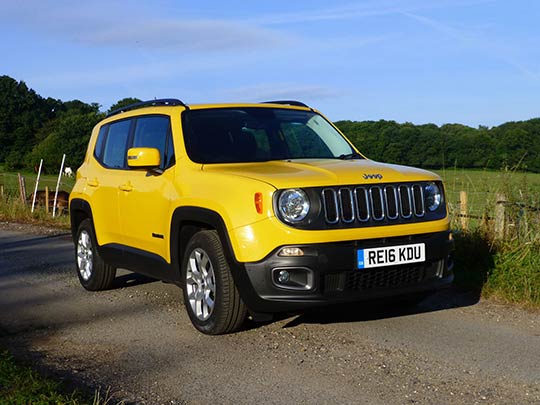 Driving the newest model from the world's oldest mass producer of four-wheel-drive cars.
When my cousin bought a new car in a vivid shade of yellow, everyone in the family took the mickey. Why on earth had he chosen that colour, we all chortled. But he had the last laugh. "Now I can always find my car easily in a car park, even if I forget where I left it," he said smugly. Anyone who has ever scoured a parking lot for a silver car will know exactly what he means.
Even so, the dayglow bright banana shade of this Jeep Renegade is rather excessively extrovert in a car that already draws attention to itself for its butch looks, upright stance and bold seven-slot vertical grille. It oozes attitude in its straight-backed muscular body design, and purpose in its competent-on-and-off-road driving manners.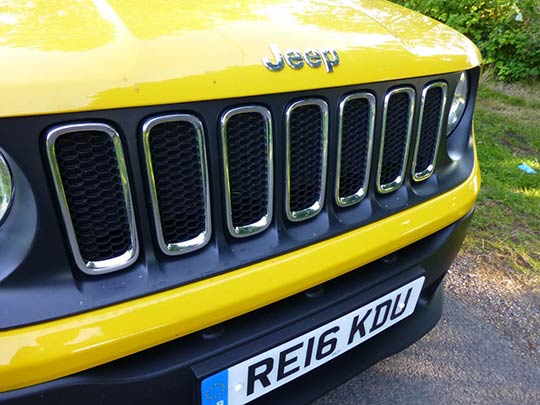 Well it would, except that this particular Renegade is what my gran would call 'all mouth and trousers' – a 4×4 in looks and a 2×4 in actuality.
The Renegade is the smallest and newest model in the Jeep range, and the least pricey. It is also the one that has re-energised the brand and served up an amiable ruggedness at a more affordable price than its bigger, much more butch brethren from the famously American brand.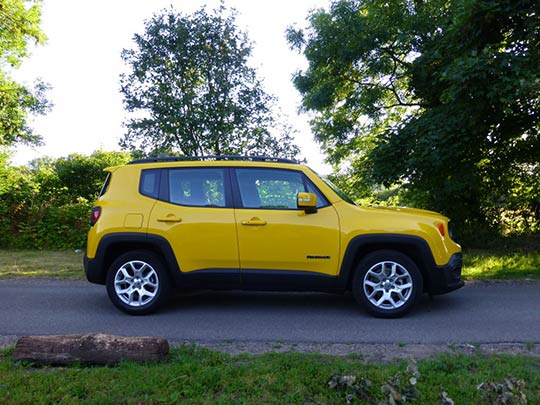 Not that this one hails from across the Atlantic, badges apart. It is based on the same under-body kit as a Fiat 500X, and is built alongside the chunky Fiat in the same factory in southern Italy. So it is European underneath its brash exterior and the American twang of those iconic badges.
Wartime birth, long history
Even so, it claims a proud heritage behind its success as the youngest and best-selling model in the Jeep line-up. This summer Jeep is celebrating a big anniversary, 75 years. The brand was born out of wartime necessity, a rugged vehicle needed for difficult times. What started out as a 'GeneraLpurpose' vehicle, a GP, morphed into the name Jeep by which it has been known ever since.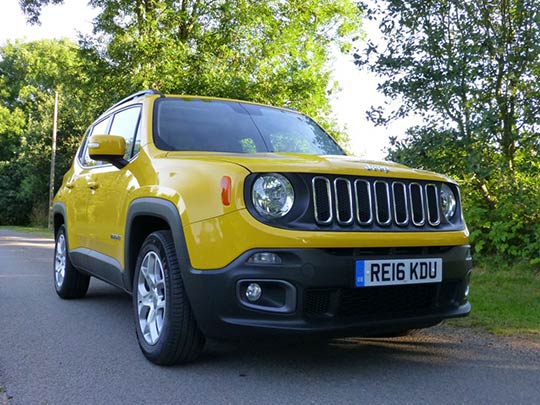 Jeep's story famously began in Toledo, Ohio, where car maker Willys-Overland won the contract to produce a light reconnaissance vehicle for the American army to use in the second world war. Production began in 1941. After the war, Willys decided to make a non-military version, the Civilian Jeep, or CJ, to sell to farmers and builders.
It's a well-known story, but that was the start of what would become one of the world's best-known car brands. It spans from the CJ that morphed into the Wrangler, then the Wagoneer and Grand Wagoneer to the Cherokee, Grand Cherokee, and mostly recently Renegade. Along the way, there was also the Patriot, but that was not a success and is best forgotten.
Rugged capability
Although it candidly isn't the most dynamically accomplished car in its class in its road behaviour, the Renegade has an engaging charm and chumminess that comes from being a rugged-looking SUV with an elevated driving position and oodles of character. Some decry its square-shaped boxiness, but to kinder eyes, it is funky and fun.
Off-road the 4×4 versions of the Renegade are surprisingly accomplished and agile, capable of mastering tougher terrain than most owners would ever try. It is also the car that has saved Jeep from extinction on this side of the Atlantic.
In the new registration month of March this year, coincidentally the 75th anniversary year, Jeep's UK sales topped 2,500.  That is more, in one month, than Jeep sold here over five years from 2009 to 2013. No wonder the Renegade is seen as the saviour of Jeep.
'Easter eggs'
The Renegade range starts from £17,495 for a 1.6-litre petrol engined manual model and goes all the way up to a two-litre, 167 bhp diesel auto 4×4 Trailhawk at £29,000. There is also a 75th-anniversary special edition Renegade 4×4, with a 138 bhp diesel and auto transmission, at £28,595. Our test car is a mid-range 1.6 litre, 118 bhp diesel with a six-speed manual gearbox and two-wheel-drive.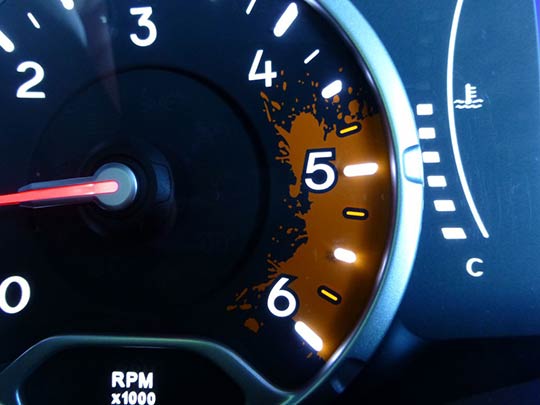 They have a sense of humour at Jeep. As a bit of fun, the Renegade has a number of seek-them-out 'Easter eggs' – playful little arty details installed around the car by the design team as visual treats to be found. Such as: the mud-splay on the rev counter, the little outline of an original 1940s Jeep in the corner of the windscreen, the 'Born 1941' on the dash, and the spider that says 'Ciao Baby!' inside the filler cap. Yes, really.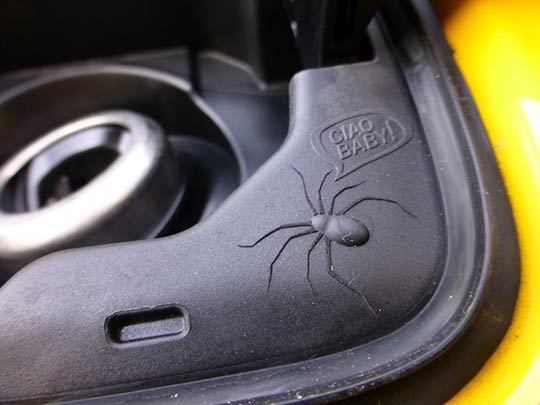 Jeep Renegade Stats Review
Model tested:  Jeep Renegade Longitude 1.6 MultiJet
Top speed:  111 mph
0-62 mph:  10.2 secs
Economy:  64.2 mpg
CO2:  115 g/km
Price:  £21,395
Images: Sue Baker