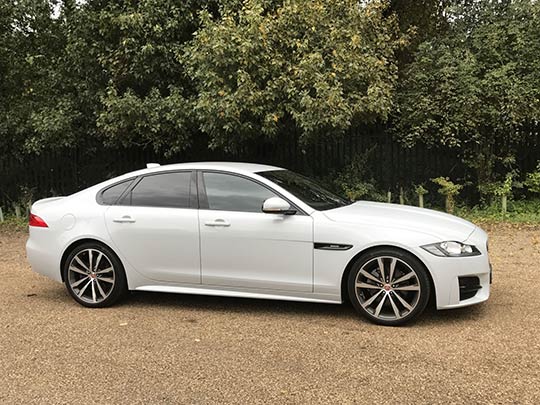 This has been an electrifying week for Jaguar, and a memorable one for test driving the capably elegant XF.
Jaguar hit the headlines this week with the announcement that every new model the company launches from three years hence will be electrified. It means that from 2020 onwards all Jaguars will be either fully electric, a plug-in hybrid, or an electrically assisted mild hybrid.
The brave new world of cleaner eco motoring comes ever closer. Mandatory targets for reduced emissions are the big hurdle that is the motivating factor behind these new commitments by car makers. Volvo was first out of the starting gate with an electrification pledge, but Jaguar's announcement is quickening the pace for the rest of the industry.
It's timely that we have just spent a week with one of the key models in Jaguar's current line-up, the svelte and businesslike Jaguar XF. It is in high level R Sport trim with a two-litre, 178 bhp Ingenium diesel engine and performance-orientated all-wheel-drive.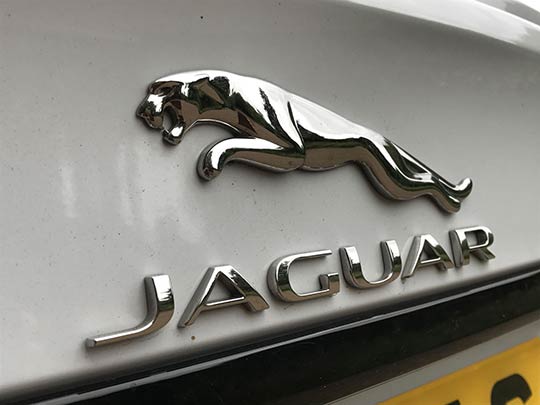 Considering the new Jaguar XF for your next car? You can get a fantastic price on your next car if you're a cash buyer, and by selling your previous vehicle to webuyanycar, you can use the cash your receive to negotiate a better deal on the XF! You can get a free online car valuation in under 30 seconds right now, so why not find out how much your car is worth today.
Sports practicality
As Jaguar's mid-size model, sitting in the range between the XE and XJ, the XF is big enough to be family-friendly as well as smart-suited enough to grab attention in the executive car park. At practically five metres long it is a large car, but with a big cat ability to tread lightly in its tidy manoeuvrability.
There's plenty of room all round in the cabin, including very decent headroom in the rear seats. Fit and finish is excellent, and the cabin has a cosseting feel with its wraparound fascia and driver-focused design.
Past Jaguars were often criticised for having smaller boots than their rivals, but in the current range – F-Type sports car excepted – that gripe has been reversed. The XF has a bigger boot than many of its rivals, at 540 litres. Flip down the rear seat-backs, and you can increase that to 885 litres.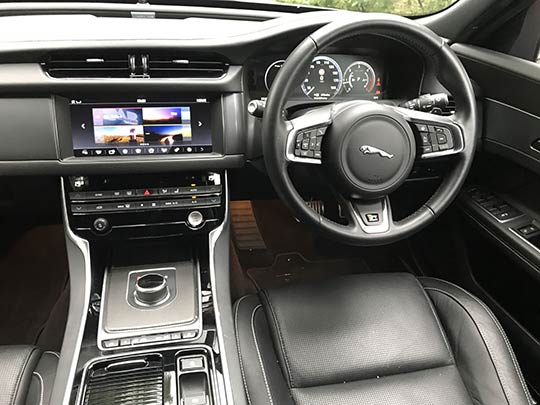 Grippy paws
This XF has enough performance to rival a sports car, with its gutsy engine and weight-savvy aluminium bodyshell. Strong acceleration, combined with precise, responsive steering, makes it enjoyable to drive and a fine mile-muncher over a distance.
In this R-Sport version it has a firmer suspension set-up than other XFs, and it results in a fine-handling agility that gives the car a grippy, energised feel on one of those snaky back roads that are such an enjoyable feature of so much of countryside Britain.
Most of the time you wouldn't necessarily know that this was a car with power delivery going constantly to all four wheels. The feel is not noticeably different from that of a front-wheel-drive XF. But when the going gets tougher or you're pushing on in slippery conditions, there's a grippy-paws feel about the car that makes you glad it's all-wheel-drive.
The XF is a fun drive, a smile-inducer on a long cross-country dash. It's not all good news though. Refinement is mostly pretty civilised but the engine is gets a touch vocal when you work it hard, and the taut handling comes at the expense of a bit of ride harshness over a lumpy surface.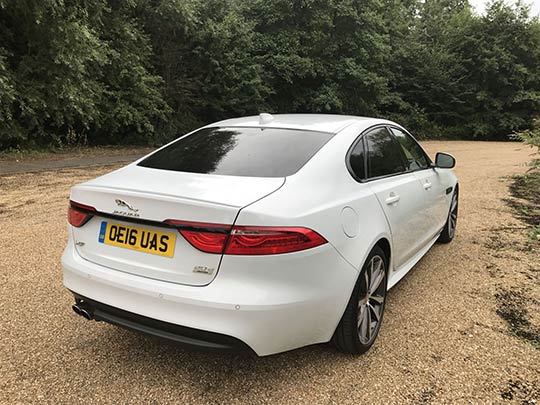 Lavishly kitted
Standard kit on the car includes R-Sport bodykit, sport suspension, eight-inch touchscreen navigation, full connectivity, variable digital dials, auto lights and wipers, heated seats, and an array of safety kit from autonomous emergency braking to full length curtain airbags.
The XF looks sound value at its on-the-road list price of £38,650. Equivalent German machinery is more expensive. Tot up the extras on the test car, though, and the cost ramps up steeply. For example, the glacier white paint is an extra £690, the swish carbon fibre veneer trim is £1,125, and the diamond turned Venom 20-inch alloys add just over £2k.
So our test car's all-up price, extras included, is a fiver short of £49,000. That's a big price, but it's a lot of car.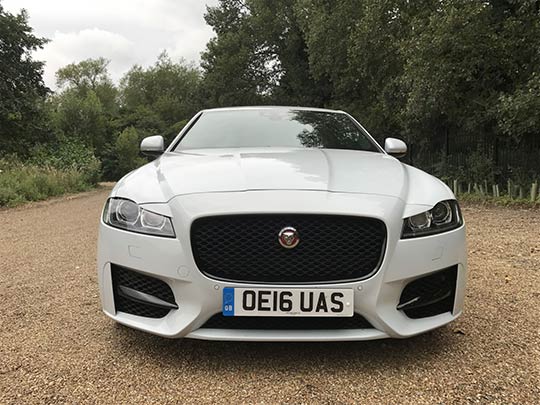 Jaguar XF Stats Review
Model tested: Jaguar XF R-Sport 2.0D 180 AWD
Top speed:  136 mph
0-62 mph:  8.4 secs
Economy:  57.7 mpg
CO2:  129 g/km
Price:   £38,650
Images: Sue Baker