A new compact SUV from Jaguar is destined to be the biggest-selling car in the company's history, and the first built outside Britain.
When Jaguar first revealed the F-Pace in 2015, it was a dramatic change in style for the big cat brand. It was as if Jaguar had taken a giant leap forward from its gentlemanly 20th century image and dug its claws firmly into the 21st century car scene.
Since the F-Pace went on sale early last year it has been big success, winning dozens of awards around the globe, including reigning World Car of the Year and Women's World Car of the Year. Designed in Coventry, built in Solihull, and with engines produced in Wolverhampton, it is a thoroughly British success story.
Now here comes its little brother – or as the design team led by charismatic Scot Ian Callum calls it, Jaguar's Cub. The new E-Pace is a slightly scaled down, arguably even better proportioned and mildly sportier sibling for the F-Pace. Jaguar expects it to become the most successful model in its 95-year history. It will also be the first Jaguar manufactured outside Britain – at Graz in Austria.
Clawing new customers
As a chummy-looking, compact SUV with a starting price of £28,500, the E-Pace is predicted to woo lots of buyers who would never have considered a Jaguar before. The company expects eight out of 10 E-Pace customers to be new to the brand, and younger than its traditional owners.
With its new 'Cub', Jaguar is finally shaking off its lingering image as a maker of cars principally for long-toothed businessmen heading home from wood-panelled boardrooms. Young families with their own little cubs are more likely customers for this Jag.
The E-Pace has some cheeky details, or what the motor industry is fond of calling 'Easter eggs' to be discovered around the car. There is an endearing little graphic on the front nearside lower edge of the windscreen: a prowling Jaguar closely followed by her cub. Open the centre armrest stowage box, and you find it lined with a cub-like animal fur pattern. There are embroidered tags on the seats similar to those you see on fancy luggage.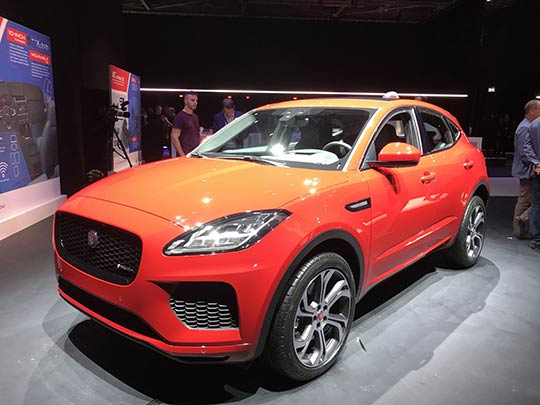 Cub stats
Under the skin, the E-Pace has a similar structure to a Range Rover Evoque and Land Rover Discovery Sport. Like other modern Jaguars, it has aluminium in its bodywork: the bonnet and bumpers are made of aluminium to save weight. An interesting safety feature is a pedestrian airbag that pops out from under the front edge of the bonnet in the event of a front-end collision.
The E-Pace comes in front-wheel-drive mode and with 17-inch wheels in the base version, but most will be 4×4 and with wheels up to 22 inches. The engine choice will be between a range of two-litre engines, both petrol and diesel, with power outputs from 148 to197 bhp. The crucial taxation-deciding CO2 outputs start from 124 g/km.
The base version of the car will be a 2.0 Ingenium diesel with a 124 mph top speed, 9.5 seconds 0-62 mph sprint time and 60.1 mpg combined fuel economy. At the top of the range is a 197 bhp, 2.0 Ingenium petrol model with a 151 mph top speed and 0-62 acceleration in 5.9 seconds, so the quickest E-Pace will be quite a sprinter.
Tech kit
In common with other Jaguars including the F-Pace sports car, the E-Pace will have a multilink rear suspension design that should give it agile handling. There are advanced driver assistance system including eautomatic emergency braking and driver condition monitor to warn if your attention behind the wheel is flagging.
The 4×4 versions have All Surface Progress Control, an electronic system that sets up the car to cope with rugged or slippery terrain. It won't scramble up mountains like a Land Rover, but Jaguar promises it will take you competently off-road.
The E-Pace will come with a standard 10-inch touchscreen, and it will be upgradable to a 12.3-inch TFT screen and head-up-display in upscale versions. Techies will like the car's connectivity: up to eight devices will be able to stream internet content in the car via an onboard 4G hotspot.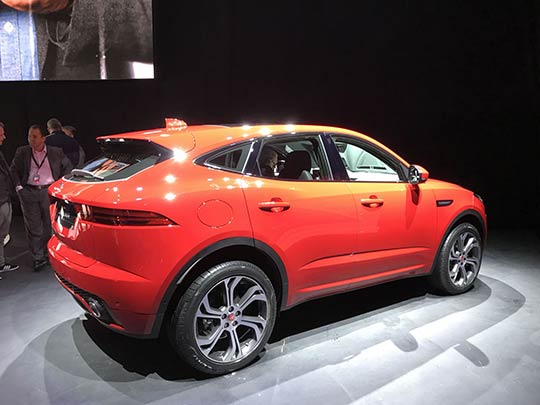 Has the Jaguar E-Pace Preview got you thinking about your next vehicle purchase? When the time comes for you to sell your current car, you can use webuyanycar to find our how much your car is worth, using our handy online car valuation tool. If you're happy with the price you receive, you can book an appointment with one of our friendly car experts at over 475 webuyanycar branches around the UK. There's no pressure to sell, and you can book an appointment at a time and location that works for you! Click here to find out what your car is worth!
Images: Sue Baker