There's something rather thrilling about driving a car that, in modified form, has conquered Antarctica.
A famous expedition more than a century ago is remembered for its pioneering bravery, but also more sadly for its failure. It has gone down in history that Sir Ernest Shackleton's attempt to cross the Antarctic in 1907 was heroically unsuccessful.
It was mostly on foot, but the team's equipment included a rudimentary motor vehicle with skis instead of front wheels, special oil with anti-freeze properties, and with an engine silencer that doubled as a foot-warmer.
It has taken another 110 years before anyone has managed to conquer Antarctica by motor, and how brilliant it is that the man who managed it – with a lot of help from an enterprising car company – is Shackleton's great-grandson, Patrick Bergel.
Santa Fe success
Earlier this year Patrick, a London entrepreneur with an uncanny resemblance to his famous ancestor, drove a heavily modified Hyundai Santa Fe across the Antarctic on an expedition that was as emotional as it was adventurous.
The car was adapted with a revised chassis, raised and strengthened suspension, a huge 230-litres fuel tank in place of the standard car's 64 litres, and massive 40-inch balloon tyres to cope with deep snow and exceptional conditions. The changes were made by expedition specialists Arctic Trucks of Iceland.
The 2017 expedition was kept secret until it achieved a successful crossing of Antarctica, and then announced at a celebration in London with the monster Santa Fe as its star.
4×4 and seats for seven
So Hyundai's big SUV has had historic stardust sprinkled over it, as the car that conquered Antarctica and helped Shackleton's descendant to finish what his famous relative started. It puts the spotlight on a car that until now has been in the shadow of other, better-known SUVs, such as the Land Rover Discovery Sport and Nissan X-Trail.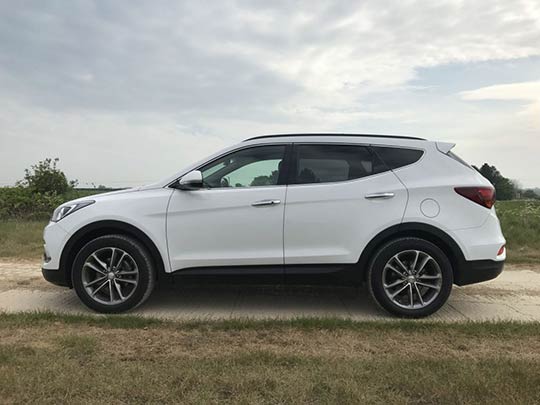 Even in standard form, the Santa Fe a big bruiser of a car, 4.7 metres long, with a 2.2 litre, 197 bhp diesel engine, four-wheel-drive and seating for seven people.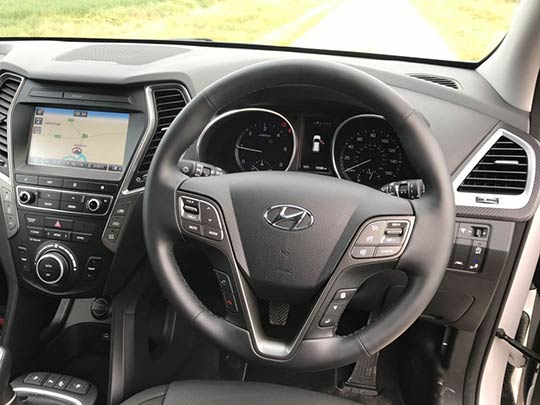 As with any large SUV, you sit high off the ground with a commanding, over-the-hedges view of surrounding countryside as you drive. There's no disguising that this is a big vehicle, and it feels it from behind the wheel, but it is also quite nimble for its bulk and has a secure, planted feel on the road.
Cushioning ride
One of the Santa Fe's strong features is its cushioning ride, which makes it good for a relaxing gallop across country on a long trip. It glides nicely on a motorway. Ride quality is very good.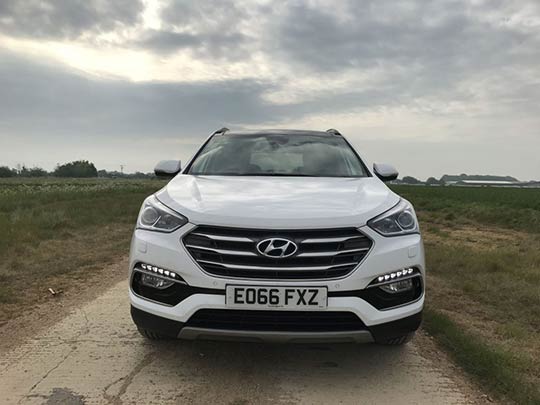 Refinement is a bit less so. The 2.2 litre CRDi diesel engine is a bit vocal when worked hard, and there's also a bit of fluster from wind noise over the exterior mirrors at speed.
It has a lot going for it as a versatile family car, though. With all seven seats in use, there isn't much room behind, but as a five-seater with the rearmost pair folded down into the floor, the boot space above them is a generous 516 litres.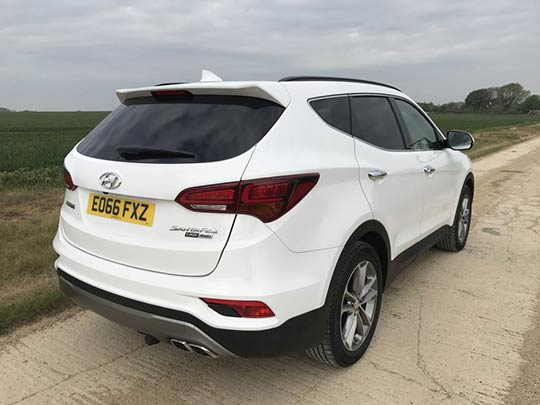 Santa Fe pricing starts from £32,545 and the top model is a whisker below £40k. Even with a standard five-year warranty, that's quite pricey, but it buys a car that comes with big boasting rights. Imagine telling the neighbours: 'One of these, with a few mods, crossed Antarctica!'
Hyundai Santa Fe: Stats Review
Model tested: Santa Fe Premium SE 2.2 CRDi 4WD
Top speed:  126 mph
0-62 mph:  9.0 secs
Economy:  46.3 mpg
CO2:  159 g/km
Price:   £37,395
Images: Sue Baker