One name, three cars, with a choice of power sources. That's the message from Hyundai, the Korean company that is taking alternative fuel very seriously. 
Greener motoring is gaining momentum, but very slowly. Sales of electric cars in the UK are on an upward curve, but it's hardly stratospheric. So far this year, the total number of cars that have been eligible for the government's Plug-In Car Grant has risen by almost 40 per cent compared with last year, totalling more than 30,000 vehicles. Hybrids have done a bit better, with another 44,000 or so.
To put that in context, though, the total number of new cars sold in the UK in the first 10 months of 2016 was over 2.3 million. EVs and hybrids are still very small fry, then.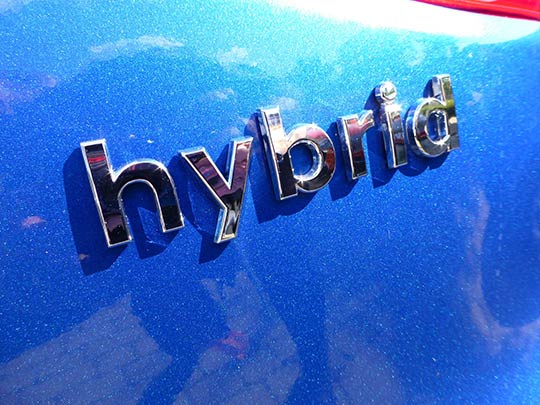 Even so, car companies are keen to woo more of us into alternative fuel vehicles, and Hyundai has just launched its new Ioniq in two versions, a pure electric and a petrol-electric hybrid, with a plug-in hybrid coming next year.
It's a looker
Sleek styling and a swept-back shape that slices cleanly through the air give the Ioniq quite an attractive look. Unless you know what it is, the hybrid doesn't shout ' green car' at you. It's also a bit less oddball visually than a rival Toyota Prius.
The pure electric Ioniq is a bit more in-yer-face, with an identical shape, but adorned with a rather plasticky panel on the front grille that doesn't do it any favours.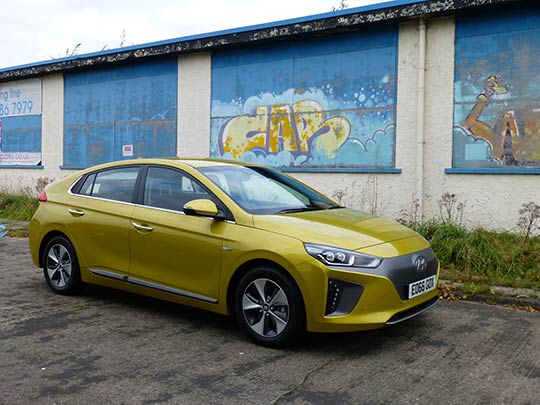 Prices for both versions start at around £20,000, and it is the hybrid that is expected to be the more popular model. Even though the electric Ioniq has a claimed range of 174 miles, you'd be unlikely to achieve in normal driving with the heater, air con, lights or wipers being used, and up to about 140 miles is more realistic. So range anxiety could be a worry for potential buyers.
The hybrid, though is a different story. It has a 1.6 litre petrol engine and an electric motor that produce a combined power output of 139 bhp. So it's a perky performer, with low emissions, but with a range of around 700 miles. That makes it much more practical .

Driving manners
It's a pleasantly undemanding car to drive, not particularly exciting but mannerly and smooth. It doesn't have a CVT – continuously variable transmission – like other hybrids such as the Prius. Instead it has a twin-clutch auto, which gives it a perkier feel.
It rides comfortably, is nicely refined, and doesn't feel in any way odd or outlandish, and so would make a perfectly viable alternative to a totally fossil-fuelled mainstream family car.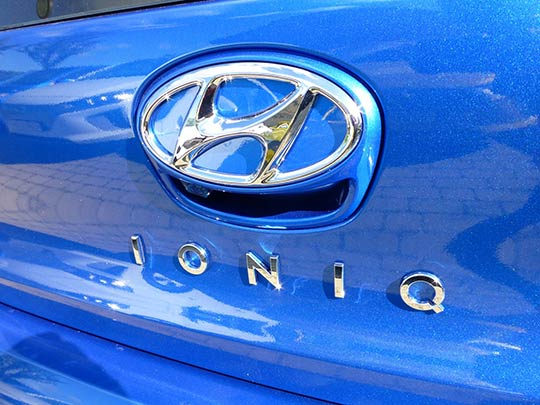 Under the skin, it shares much in common with Kia's Niro hybrid. The body styles, though, are rather different, with the Niro more of a compact SUV and the Ioniq a saloon with a coupe look to its back end.
You can buy an Ioniq hybrid from a fiver short of £20,000, but the best-selling version is expected to be the better-equipped SE, with a kit list that includes adaptive cruise control, reversing camera, autonomous emergency braking, dual-zone climate control and auto headlights. Top-spec SE Premium comes with a leather-clad cabin, front and rear heated seats and even a heated steering wheel.

Hyundai Ioniq Stats Review
Model tested: Hyundai Ioniq Hybrid SE Premium
Top speed:  115 mph
0-62 mph:  11.1 secs
Economy:  70.6 mpg
CO2:  92 g/km
Price:  £23,595
All Images: Sue Baker