Smarter looking, better to drive and still good value with a five-year warranty, can the new Hyundai i30 woo buyers away from a Focus or Astra?
This year is going to be very busy for Hyundai. The South Korean car brand has a new i10, has just launched this new i30, and is about to unveil the latest i30 Tourer at next week's Geneva Motor Show. There's more coming, with an i30 Fastback, a Plug-in Hybrid Ioniq and a small SUV due later in the year.
Hyundai has been innovative with its Click to Buy website launched in January, described as a 'no-haggle' shopping experience and acknowledging that the way people choose and buy cars is changing and increasingly moving online.
The car range is undergoing a design refresh, with a more emphatic family face to the front styling. This new third generation i30 pioneers the look, with a much more prominent grille and sleeker front lights, aimed at giving the H-badged brand a classier presence on the road.
Fresher faced
Does it work? Well, the i30 still doesn't really stand out from the crowd, but it does look smarter, and its style is more appealing to European eyes than the old car. That's deliberate, says Hyundai. Much of the testing and development work on the car has been done in Europe, including dynamic testing at the Nurburgring.
The result is a car that rides and handles noticeably better than its predecessor. It is manufactured in Europe too, at Hyundai's factory in the Czech Republic, rather than back home at base in Korea.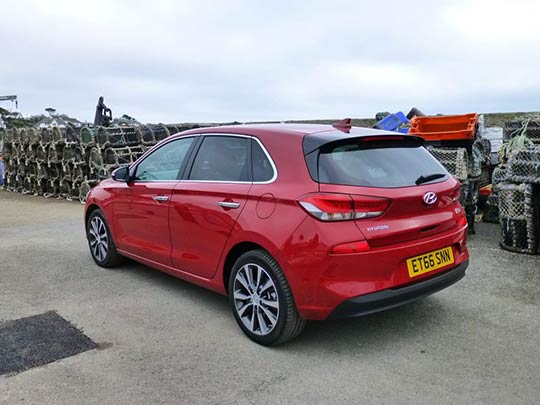 The i30 range kicks off with a new one-litre, three-cylinder, turbocharged petrol model, priced at £16,995 in base S trim. It's a small motor for a medium-sized car, but it is well up to the job with a 118 bhp power output and zippy performance. There is also a 1.4 litre non-turbo petrol model with 138 bhp.
Under 100 grams
Our test car is the 1.6 litre turbodiesel, with the only engine in the range that ducks below 100 g/km CO2 output, and so qualifies for band A road tax. Pricing for the diesel models starts from £19,695.
So how does it drive? With civility and decent refinement, it's grippy on the bends and rides pretty well, with good absorbency over back-road bumps. The six-speed gearbox is nicely spaced and slick in action. There's much to like about it, although it is up against some tough rivals.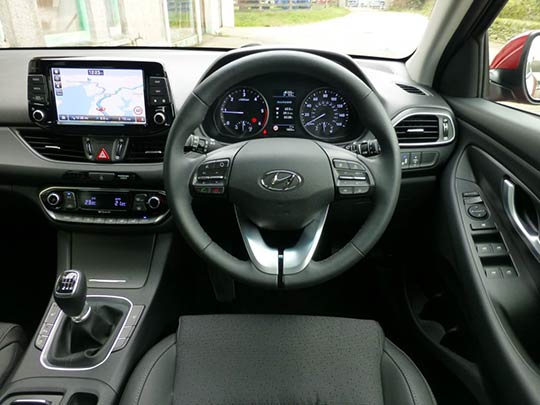 The steering is a bit disappointing though, with a rather numb, uncommunicative feel. Performance is fairly average, but economy is good. The combined figure is very optimistic, but 60-ish mpg should be comfortably attainable.
Is the i30 a dynamic match for a rival Focus or Golf? Not quite, although it has moved much closer to the benchmark they set for driving enjoyment. Where this Hyundai puts its new nose in front is in its roomy practicality.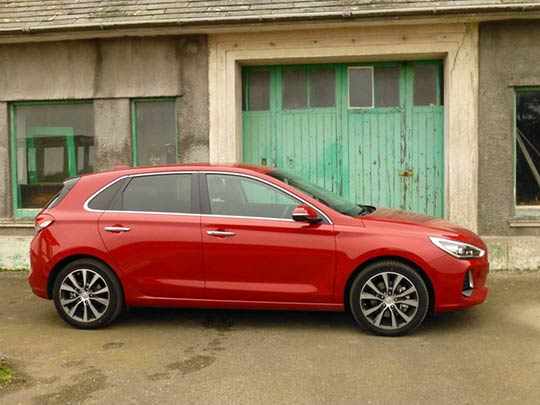 Big boot, rival-beater
A six-footer can sit anywhere in the i30 and not feel squeezed for space. It is especially good for headroom. Cabin room is not at the expense of boot space though. It has more carrying capacity in its rump than its main rivals.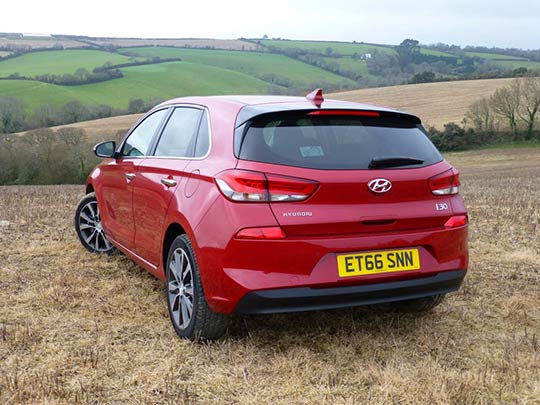 With a boot measuring 395 litres, the i30 beats the VW Golf by 15 litres, a Vauxhall Astra by 25 litres, and a Ford Focus by a whopping 80 litres. It's the same story with the back seats folded. Compared with the i30's 1,301 litres of carrying capacity while in temporary use as a two-seater, a Golf has 30 litres less, while a Focus and Astra are beaten by 85 and 90 litres respectively.
Pricing starts from a fiver short of £17k and tops out at £24,750. All but the three lowest-priced versions come with standard satnav. The warranty on all Hyundai cars is five years.
Hyundai i30 Stats Review
Model tested: i30 1.6 CRDi 110 Premium
Top speed:  118 mph
0-62 mph:  11.0 secs
Economy:  74.3 mpg
CO2:  99 g/km
Price:   £22,445
 Images: Sue Baker