Just as the Fiesta celebrates its big anniversary, here comes the quickest one yet …
It's hard to believe that the Ford Fiesta is 40 years old this summer. Or that the hugely successful Fiesta – which was long been Britain's best-selling new car – was originally named Bobcat while it was under development way back in the early 1970s.
The Fiesta's long and illustrious history is being celebrated this coming weekend in a celebration drive from Dagenham to Brighton, which will be led by 40 Fiestas fronting more than 600 Ford vehicles converging on Brighton Racecourse for a Ford summer festival.
Amongst them will be an early example of the hottest Fiesta yet produced, the new ST200 unveiled at the Geneva Motor Show back in March and due to reach the first UK owners in the next few weeks. To try it ahead of its arrival, we grabbed a German-registered example of one of the first right-hand-drive ST200s.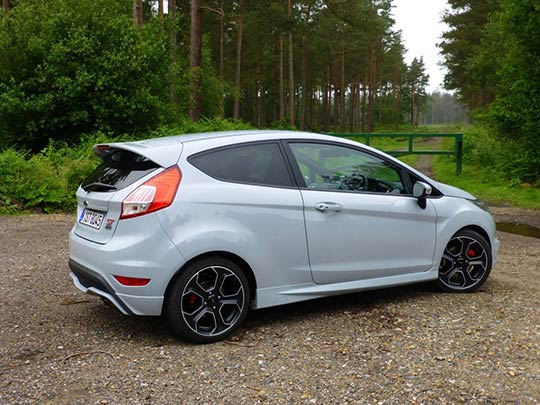 Rapid supermini with overboost
The new Fiesta range-topper is a firecracker of a supermini. It has a 1.6 litre engine and a slick six-speed manual gearbox. The 200 on its badges refers to its power output of 200 PS, the metric version of 197 bhp. For anyone who remembers the well-regarded Fiesta XR2 'hot hatch' of 20 years ago, it's a bit of a shock to realise that the ST200 has double the power output of that memorable ancestor.
It also has ten per cent more power and 20 per cent more torque than a standard Fiesta ST, which until now has been the quickest current Fiesta. Performance is an upward leap too, with a top speed of 143 mph and off-the-line acceleration from 0-62 mph in 6.7 seconds.
Then there's overboost. Floor the throttle, and there's an extra 15 bhp (topping 212 bhp) and 22 lb ft of torque (to 214 lb ft) briefly available for up to 20 seconds, for a transient bit of extra overtaking punch.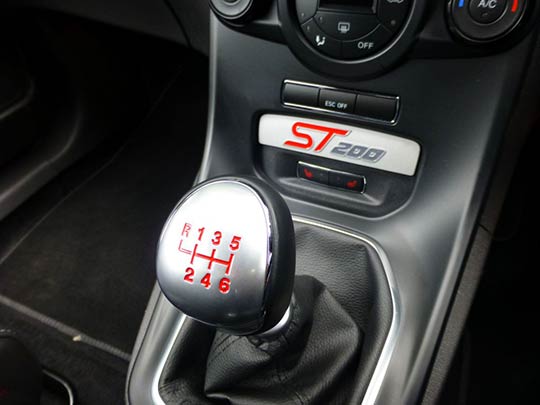 Goes like a storm
If you spot a slightly oddly-coloured grey Fiesta with bright red flashes in its wheels rapidly overtaking you sometime soon, it could well be one of these. 'Storm Grey' is the car's launch colour, and the shade that most buyers will probably go for, as it instantly identifies an otherwise fairly discreet fastest Fiesta.
Apart from the colour, the badges and the bright red brake callipers, there's not a lot else that instantly tells you at a distance that this is the ultimate hot Fiesta.
Take a quick shufti inside, and there more to confirm its identity: high-back sculpted Recaro race-style seats with red ST logos, red graphics on the gear lever, a prominent badge on the lower dash, illuminated ST200 sill plates and a rev counter that red-lines at 6,500 rpm.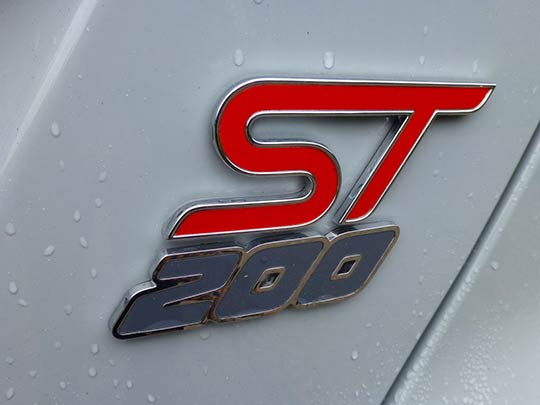 Electrifying …
From the off, the ST200 feels alive with great poise and purpose, and with an electrifying urgency. The gear ratios have been shortened, and third gear in particular sling-shots the car. It is hugely enjoyable to drive on a typical country B-road, with wonderfully clingy handling. It's a peach of a 'pocket rocket', energising to drive.
With its high level of performance, you need good brakes to haul it back fast when the speed limit changes, and it has bigger discs and a larger tandem brake master cylinder than other Fiesta, to do the job with rapid efficiency. They bite back the pace very effectively.
For a high-performance hot hatch, it isn't as brutal a ride as you might expect. There's a necessary sporting firmness to it, but without the jarring edge of some performance hatchbacks. It's a very worthy smaller brother for Ford's ultimate hot hatch Focus RS, although a pricey one at a similar cost to the lowest-spec RS, and £5,000 more than a standard Fiesta ST.
Ford Fiesta ST200: Stats Review
Model tested: Fiesta ST200
Top speed: 143 mph
0-62 mph: 6.7 secs
Economy: 46.3 mpg
CO2: 140 g/km
Price: £22,745