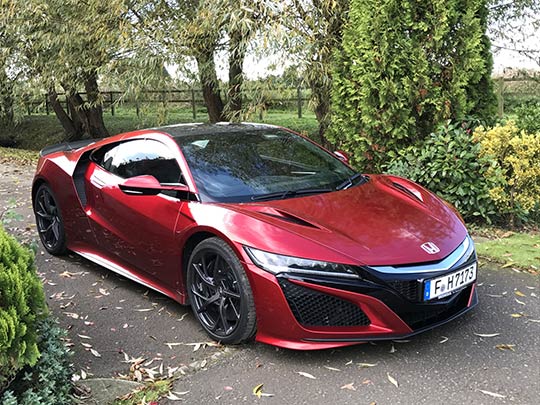 There's a new super-quick supercar with lightning performance, hybrid design and four-wheel-drive. It wears a Honda badge.
It's the key question that motoring writers are invariably asked, and that savvy drivers often ask themselves: 'Money no object, which car would you buy?' If those Lotto numbers ever come up, on which set of wheels would you spend a big chunk of money?
It's a tough choice between some highly-desirable models, but there's a new candidate very worthy of consideration. Is it Italian exotica, German opulence or something British that James Bond might drive? None of those. It's Japanese-American, and a Honda.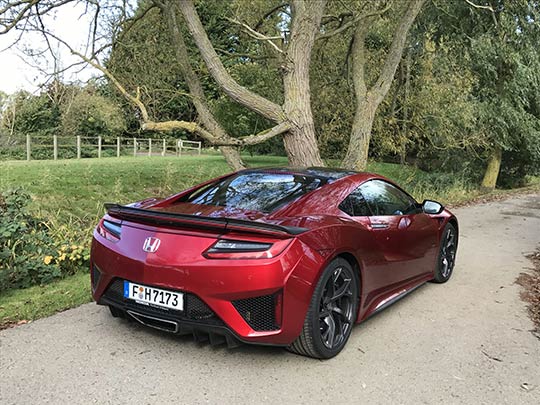 The new-generation Honda NSX is a stunner. It's lightning-quick, and a gorgeous looker. While I was driving one of only two currently in the country, it was a constant gawp-magnet on the road. Heads swivelled, faces peered at us from other cars, a motorcyclist gave a thumbs-up, and a van driver in the next lane took frantic snaps on his mobile.
No wonder. With its racing car-style space –frame construction and bodywork that combines aluminium and plastic, the NSX has a swept-back style that is a fine blend of chiselled edges and voluptuousness. It oozes speed.
How quick is it?
Sensationally so, it's by far one of the quickest cars on the road. It is a petrol-electric hybrid with a rear-mounted twin-turbocharged 3.5 litre V6 engine and three electric motors. Together they produce 568 bhp of power and 476 lb ft of torque. The transmission is a nine-speed auto, with paddle shifts on the steering wheel for when you are in the mood to operate it manually.
The body is designed with airflow management that creates down force to increase stability, similar to a Formula One car. Front electric motors create dynamic torque vectoring, a system that manages power delivery to the wheels for optimum control. Braking energy is recouped for battery regeneration in the hybrid system. Four-wheel-drive helps keep the lavish power securely planted.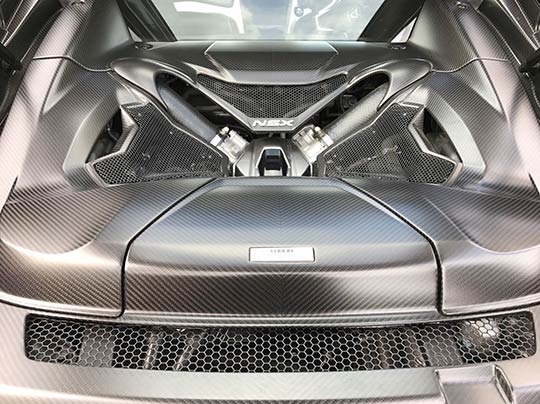 According to Honda, the new NSX was bench-marked against some serious supercar exotica with a view to bettering them from all major aspects. The targets were the Audi R8, Porsche GT3 and Ferrari 458. That's some competition.
Pioneering heritage
The new NSX has a heck of a heritage to live up to. The original Honda NSX, launched in 1990, was the world's first all-aluminium supercar, was said to have styling  inspired by an F-16 jet fighter plane, and the revered Formula One world champion Ayrton Senna was involved in its development.
Why NSX?  The name derives from the concept car that preceded the first NSX, and its initials were said to represent New Sportscar eXperimental.
There has been a long wait for the second generation car. The original model was in production for 15 years, until 2005, and the new one has arrived after an 11 year gap. Development work on it was shared between Japan and America, in a collaboration between Honda and Acura, a US car brand. So the car sells as the Acura NSX in the States, is produced in Ohio.
Permanent smile
So what's it like to drive? Stunning. It's surprisingly comfortable. You duck into the low, wide body past large side doors, and settle into a huggingly-comfortable seat. It only adjusts fore-and-aft, not up-and-down, which is a bit of a disappointment if you're on the short side and would rather be raised up a bit, but there's just enough headroom for a 6 ft 3 ins driver or passenger. The steering column adjusts in-out and up-down.
The main controls are slick little switches on the centre console, and there's a drive mode controller that lets you select Quiet, Sport, Sport+ and – not for the road – Track. These adjust chassis settings, steering, braking, throttle, suspension and so on to tailor the car's responses to the driving mood you're in.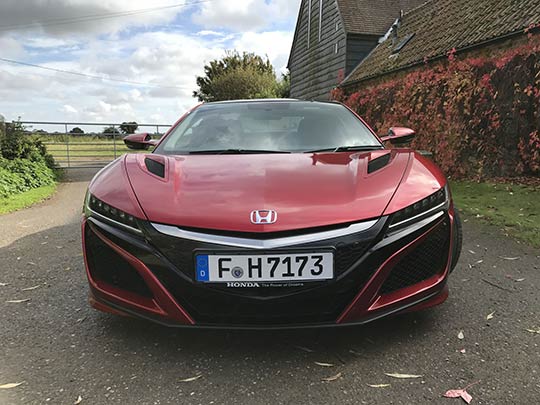 In all modes, the suspension is set sports-car firm and does feel surface undulations, but that's a price to be paid for superb handling. Actually, the ride verges on hard, but not harsh.
The car is aural porn, sheer petrol-head heaven in the sound it makes, helped by the proximity of the engine, just over your shoulder.
The car feels unbelievably quick, with a 0-62 sprint time in three seconds. It also feels glued to the road, joyful to drive, with well-weighted steering and tactile enough to paste a permanent smile on your face.
No complaints then?
One or two, actually. Our test car had an annoying creak somewhere in the interior trim. The cabin is less beautiful than the exterior, with some materials and switches that are very mainstream Honda rather than high-priced supercar. The paddle-shifts are too annoyingly sharp and clicky in operation, rather than subtle and nicely-damped like those of its rivals.
Even so, the NSX is an amazing car, and probably the most sensually enjoyable I've driven this year. Money no object, I'd be tempted.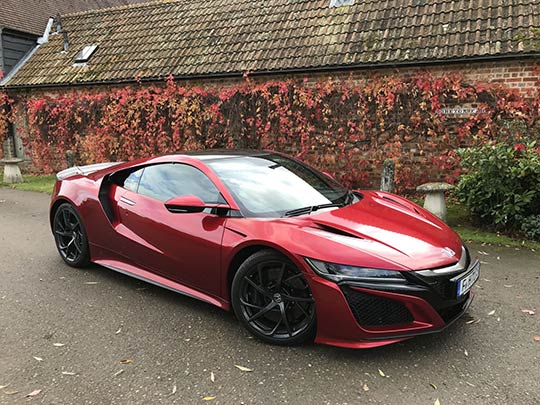 Honda NSX Stats Review
Model tested: NSX Sport Hybrid
Top speed:  191 mph
0-62 mph:  3.0 secs
Economy:  28.3 mpg
CO2:  228 g/km
Price:  £166,150