Who needs a big engine for good performance in an average sized car? The current generation of one-litre petrol engines is remarkable, and here's a good one in the latest Civic.
It is not that many years ago that if someone mentioned a sub-one litre engine, you would assume that the car in question was dinky and its performance decidedly meagre. How times have changed.
This chic white Honda Civic is no micro-car at four and a half metres long, with five doors, five seats and a roomy boot. Sitting snugly under its sleek curvy bonnet is a three-cylinder, 988 cc petrol engine.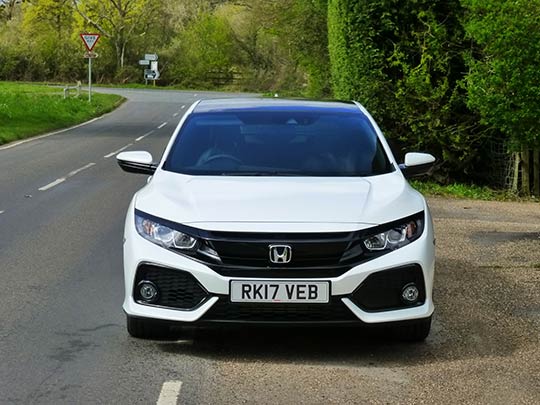 Performance? It sprints to the benchmark 62 mph in around 11 seconds, and the top speed is heading towards twice the UK legal limit. Puny engine? Maybe. Puny performance? Hardly!
Do you like the sound of the 2017 Honda Civic already? If you're looking to upgrade your old car for a family friendly compact car then get an online valuation today!
Family pleaser
This current Civic, new to the UK earlier this year, is the tenth generation of a model that has been in Honda's range since 1972. It also basks in the glamour of being the latest incarnation of a model that has distinguished itself in the British Touring Car Championship over recent years.
Honda has been around for 70 years now, and this Civic is said to be the result of the biggest new model development programme the company has ever undertaken. It is the most rigidly structured car in the Civic's long history, which is evident in the taut body control when you drive it. It feels driver-pleasingly good behind the wheel.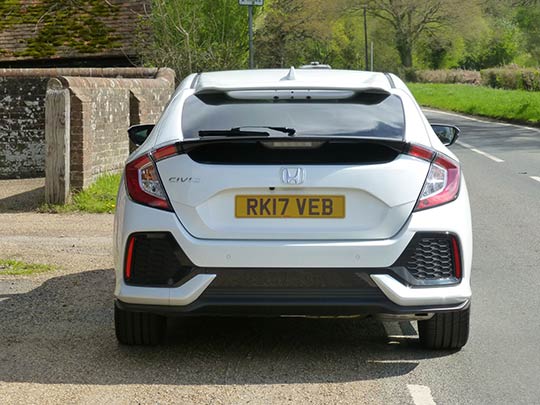 It's a family pleaser too, with decent rear legroom that is not at the expense of boot space. The 478 litres of room in the back will accommodate a pretty massive supermarket shopping haul, or a family's holiday luggage, and the rear seat-backs fold to give you 1,245 litres of load capacity with only the front seats in use.
Three-pot motor
All of which makes it pretty amazing that the entry-level engine in the Civic is this little three-pot motor with a one-litre capacity. The ace in its armoury is that it's turbocharged, boosting its power output to 127 bhp and its available torque to 148 lb ft, all stirred into life via a slick six-speed manual gearbox.
It's enjoyable to drive, grippy through the bends and with a pretty decent ride quality. The test car's EX trim includes standard adaptive suspension damping. It enables you to choose a setting to suit your mood and the level of ride comfort you prefer.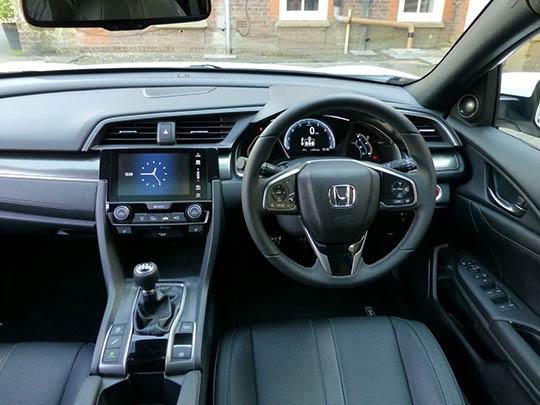 The dynamic setting panders to your inner Lewis and sharpens the responses for when you're driving solo, but the standard setting is more cushioning with passengers on board. It's good to have the choice.
Smooth and civilised
There is a distinctive sound to a three-cylinder engine. At lower speeds, in urban driving, it can sound a bit thrummy, but it's not unpleasant, and it smooths out into a steadier tone when you're going a bit quicker. At motorway pace it's pretty smooth and civilised.
This is a pretty reasonably quite car. There's minimal wind noise, the air slips cleanly over that sculpted body, and there's a bit of road rumble feeding up from the bite of tyres on Tarmac, but it isn't ever troublesome.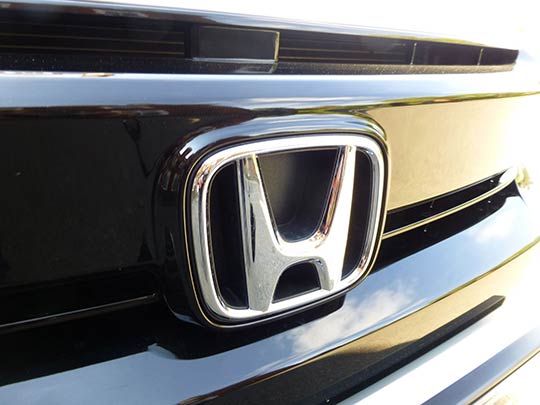 You get decent feedback through the steering, which is agreeably weighted and direct. Honda's engineers seem to have done a pretty decent job of upping the Civic's game in this latest model, and it's certainly worthy of consideration by anyone looking for a good-to-drive car in its size bracket.
How much is it?
The Civic range includes 1.0, 1.5, 1.8 and two-litre petrol engines, and 1.6 diesels, with a manual gearbox, automatic manual, or continuously variable CVT.
Civic pricing starts from around £18,500, which buys a three-cylinder, one litre car like this one, but in base SE trim. The choice of trim levels rises through Sport, S, SE Plus, SE Plus Nav, SR, EX and Prestige, with a top end price of around £27,500. Above that are the ultra-sporty Civic Type R models, priced from £30,200 to around £33k.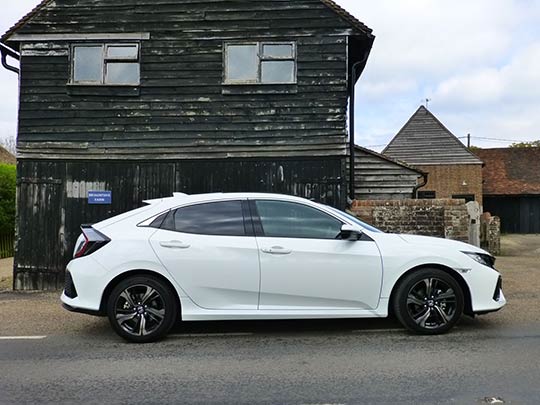 Honda Civic Stats Review
Model tested: Civic 5-door hatch 1.0 i-Vtec Turbo EX
Top speed:  126 mph
0-62 mph:  11.2 secs
Economy:  55.4 mpg
CO2:  117 g/km
Price:   £23,200
Images: Sue Baker