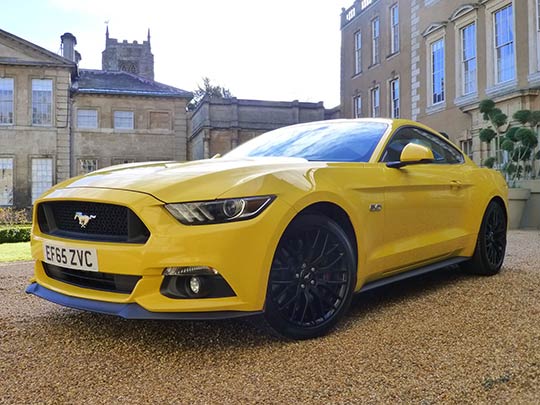 It's a staggering fact that Ford sold a new vehicle every 30 seconds, 24 hours a day, seven days a week last month. March is the motor industry's bumper sales month, but even so, market leader Ford was on full throttle with its sales of cars and commercial vehicles averaging out at two a minute.
Just a few of them, to some very lucky owners, were this big beast. The new Ford Mustang is the icing on Ford's very sizeable sales cake. This sixth generation muscle car is a handsome hunk with a weight of expectation on its beefy haunches.
Few cars come with such a baggage of anticipation, having so deeply ingrained themselves in the sociological psyche, as the Mustang. This is a latest incarnation of a model that has been around for over 60 years, inspired popular songs –  'Mustang Sally' sung by Wilson Pickett – and starred in iconic films. Bond drove a white one in Diamonds Are Forever, and the green Mustang driven by Steve McQueen in Bullitt featured in a chase through San Francisco that is widely rated as the best film car chase ever.
Quick success
The original Mustang, launched in the mid-1960s, was an immediate success. The day after its official reveal, there were enthusiastic reports on the car in 2,600 newspapers around the world. Within two years of going on sale, a million Mustangs were sold.
That vindicated two key decisions. The first was to make the car a four-seater, rather than a two-seater like the previous Ford Thunderbird, which didn't sell anything like as well. The second was its memorably muscular name. Reputedly Henry Ford II, then the company boss, wanted to name the newcomer T-bird II, and Cougar was also considered as a possible name, but  Mustang it became.
The car quickly endeared itself to a car-hungry generation, with its galloping horse badge on the long bulging bonnet, and its throbbing V8 motor giving it a rich engine noise to thrill petrolheads. The sound of a big V8 burbling away under the bonnet is pure aural porn. There may be some people who don't appreciate this kind of mechanical music, but they must surely be rare.
Modern Mustang
The new right-hand-drive Mustang is Ford's 'halo' car, expected to cast a glow over the rest of the car range. It is not just one model, there are two body shapes in the coupe and convertible, two engine choices in the five-litre V8 or 2.3 litre Ecoboost, and two transmissions with a choice of six-speed manual or automatic.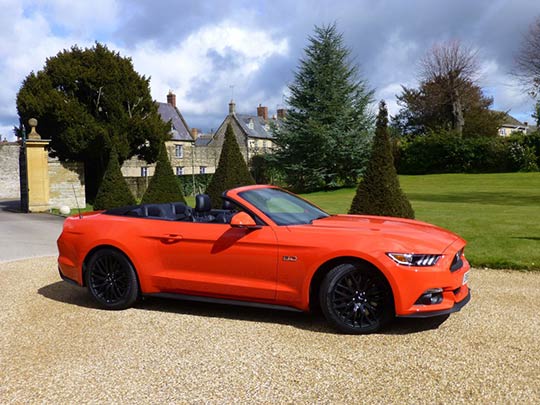 Ford expects to sell 80 per cent of Mustangs with V8 engines, and 70 per cent coupes. So a V8 Coupe manual is the definitive car, and the one we were itching to try.
What's it like? Let's get the flaws out of the way first. Yes, there are some. The driving position, clearly designed around a beefy American male body shape, isn't instinctively comfortable for anyone shorter or slimmer than that. Some of the interior trim and fixtures are more bling than classy. None of the car's edges are that easy to see from the driving seat, so it's a pity that parking sensors are not a standard fitment, when they are really essential kit. It's a four-seater, but with miserably small legroom in the back.
Fast and fabulous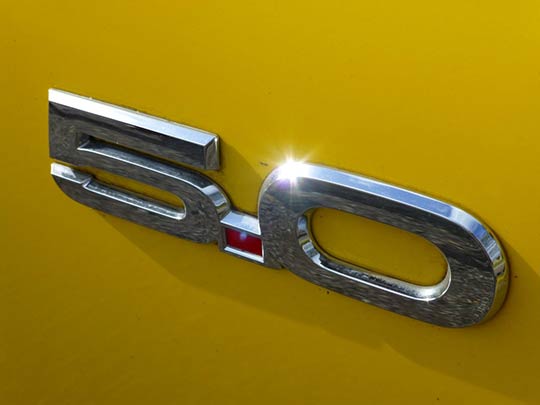 Enough of what's wrong, because so much else about the car is so right. It's a monster for performance, with its 410 bhp engine and 391 lb ft of torque. It's capable of 155 mph flat out on an empty German autobahn, and the 0-62 mph acceleration time is a supercar 4.9 seconds.  The CO2 output is a whopping 306 g/km.
The combined fuel economy figure is 20.8 mpg, although we didn't see much about 17 to the gallon on a moderate test drive. Why moderate? Because a bright yellow Mustang is hugely conspicuous and, well, I value my licence!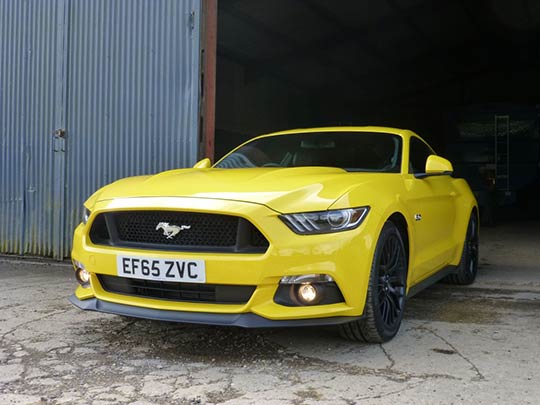 For all its techy modernity, this car is old-school for handling, with its huge front engine driving the rear wheels, and a tail-happy tendency when you are heavy on the throttle. Thankfully we were driving it on dry roads, it could be a bit of a handful in the wet.
That's part of its appeal. Muscle cars makes demands on you as a driver, and reward you with spine-tingling enjoyment. Fancy one of these? Pricing starts at £30,565 for a Fastback (coupe) 2.3 litre manual, the convertible starts at £34,995 and the V8 from £36,495. The Convertible V8 Auto range-topper is a fiver short of £40k.
All images: Sue Baker