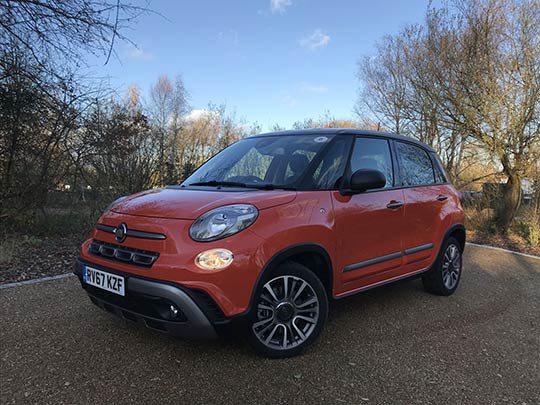 The cutesy little Fiat 500 is very popular here in the UK, but its chunkier cousin hasn't been quite as popular. Now the 500L is newly updated. Will that make a difference?
Across in mainland Europe, the pumped-up practicality of the Fiat 500L has made it a good seller for Fiat. Since it first appeared five years ago, more than 430,000 have been bought. So it's a familiar sight on roads around the continent.
It hasn't enjoyed quite the same success here though, with its larger styling proving a bit too eye-Marmite for many. Its looks seem to have proved somewhat of a deterrent, while other SUV-crossover models have fared a lot better.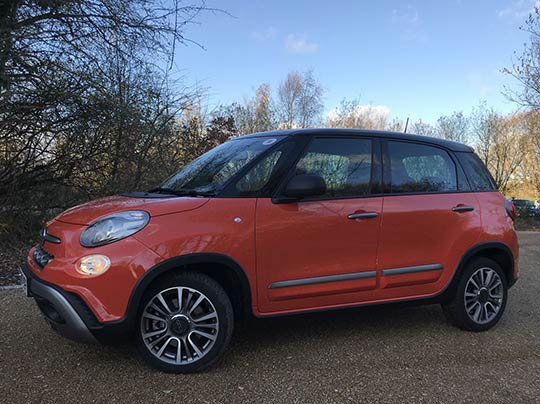 Undeterred by the lukewarm demand in Brexit Britain, Fiat has just revamped the 500L and widened the range on offer. There are now three versions: the 500L Urban that's expected to take the major share of what the company hopes will be a growing demand for the car, the 500L Wagon with seven seats shoehorned into the cabin, and the 500L Cross with mild off-roader tweaks.
This latter version is designed to appeal to those who like a more rugged look and replaces the previous Trekking variant.
Do you like the Fiat style and want to upgrade your 500 to the SUV crossover version, the 500L? Get a free valuation and treat yourself to the new and updated model.
Inside and out updates
So what's different about the updated 500L? Underneath, nothing much. Fiat portrays this as quite a substantial mid-life revision, saying that 40 percent of the car's components have changed. That doesn't include anything fundamental in the mechanical department though.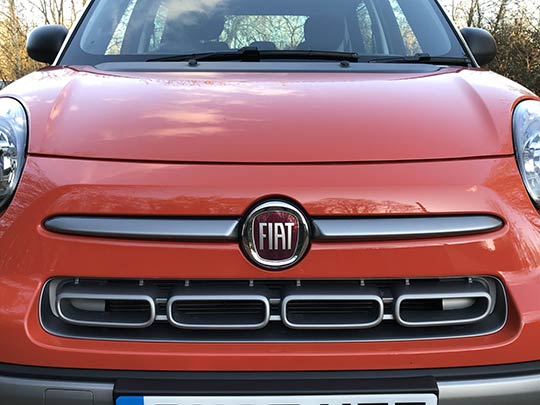 Most of the facelift involves styling changes to the exterior and a refreshed cabin design. The car's front end has been lightly refreshed, with a new grille and other detail changes that soften that larger and rounder face.
Inside the car has had a more extensive overhaul to modernise its look and up the ambience and quality of what has been rather budget-effect surroundings in the pre-update 500L. It's all still fairly plasticky, but better calibre and with more kit to keep it up to date.
Porky carrier
The central touchscreen satnav and infotainment centre is nicely contoured into the dash, sandwiched between two good sized air vents. It's a seven-inch screen and incorporates the latest connectivity. Below is a trio of controls for the heater-ventilator system, which is very much preferable to the screen-based controls in some other cars.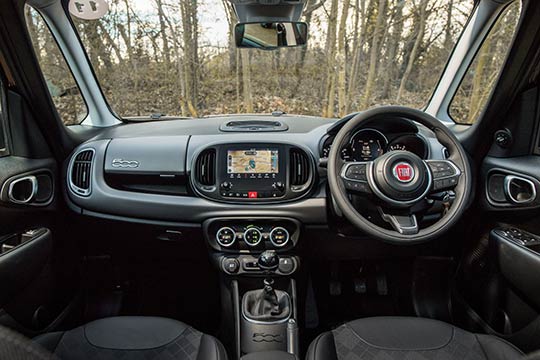 Stowage is well catered for around the car, including – rather unusually – two gloveboxes with a handy oddments shelf in between. The makeover includes new seat fabrics with nicely muted designs that are a bit more upper-crust than before.
For a car with a relatively big rump, you might expect it to have a really big boot. It's not bad at 400 litres, but that's smaller than the luggage bays in some key rivals that are also arguably better looking than the Fiat.
Drive style
How does it drive? Acceptably, if not entirely impressively. Under the skin it's the same story as before, and the 500L still feels a bit of a lump from behind the wheel. It is competent if not exactly invigorating: dynamically it isn't the most engaging car of its type. The ride is a bit lumpy and the precision of its handling and cornering agility is only middling-to-fair.
>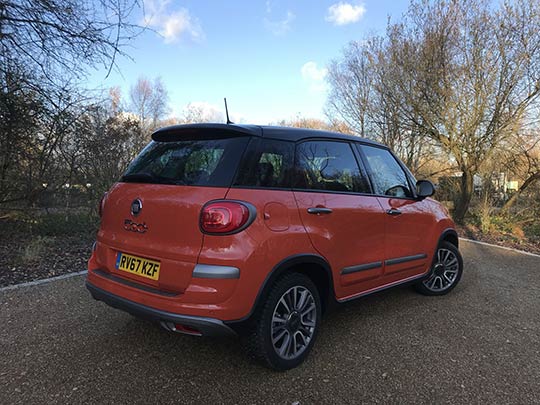 If you're an average driver with a family to transport, though, and not too often in a seriously press-on mode, it's acceptably mannerly. It's a touch wallowy on a bendy road, but a comfortable motorway cruiser.
It does feel quite roomy inside, has a good economy in this diesel version, and has that elevated seating position that endears it to any young children or nausea-prone adults strapped in the back seats. The high stance and large glass area gives them a good view out and discourages the car sickness from which some kids suffer in lower-slung, higher-waistline cars.
Prices for the 500L start from around £16,195 for a 1.4-litre petrol model in catchily-named Pop Star trim. Well, it has more of a ring about it than all those SE and other trim level initials in other cars. The range tops out with this 500L Cross model that comes in just one trim option and with either a 1.6 litre, 119 bhp diesel engine or a 1.3 litre, 94 bhp petrol motor.
Fiat 500L Stats Review
Model tested: 500L Cross 1.6 MultiJet
Top speed:  114 mph
0-62 mph: 11.5 secs
Economy:  65.7 mpg
CO2:  114 g/km
Price:   £21,320
Images: Sue Baker