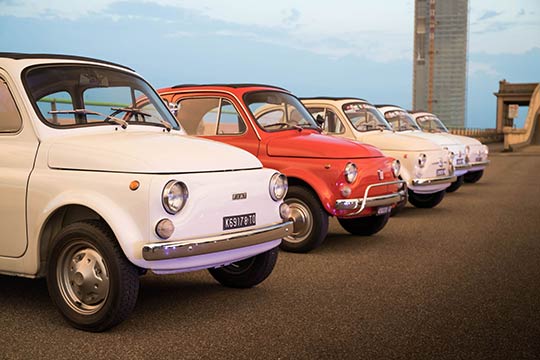 This summer marks a big celebration for a little car that has been around even longer than the Mini.
Forever young since 1957. That is the tag Fiat is using to celebrate a significant anniversary this summer of its highly popular small car, the Fiat 500. Hard to believe, but the sunny-natured little Italian city car is 60.
The tiny original Fiat 500, with its front-opening, rear-hinged 'suicide' doors, had extremely modest performance: a top speed of just 53 mph. It had a two-cylinder, air-cooled, 479 cc rear engine driving the back wheels, with a power output of just 15 bhp.
The car was memorably very dinky, a few inches short of ten feet long, or just under three metres, but four adults could squeeze into it. Fully laden, it was quicker than walking, although not much.
It was launched as a more practical rival for the Vespa and Lambretta motor scooters that were so popular in the mid-50s. It was modestly priced, weather-proof and more practical than a pair of scooters, but could carry the same number of people, so it quickly gained its own popularity. The baby Fiat was a trend-setter, arriving on the motoring scene two years before the original Mini.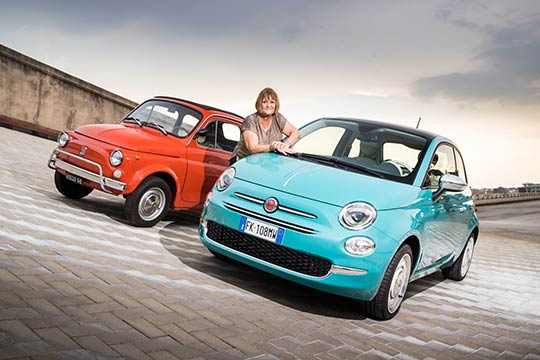 Film star factory
The 20th century Fiat 500 was built at the famous Lingotto factory in the centre of Turin, notable for its rooftop test track, accessed via a spiral roadway snaking up through one end of the building. The steeply-banked track is unforgettable for a famous chase scene in the classic 1960s film 'The Italian Job'.
Where else could Fiat hold a 60th birthday party for its iconic little car than up on the roof at Lingotto, where all the generations of Fiat 500s across the decades were lined up in celebration. The company laid on a huge birthday cake, and we party-goers drove old and new baby Fiats on the famous track, now preserved as an Italian national monument. It was like motoring through automobile history.
The modern Fiat 500 as we know it today was launched ten years ago to celebrate the original's 50th birthday. Although it still has a similar silhouette to its famed ancestor, it is a remarkably different car now: much bigger at almost four metres long, with the engine at the front and front-wheel-drive.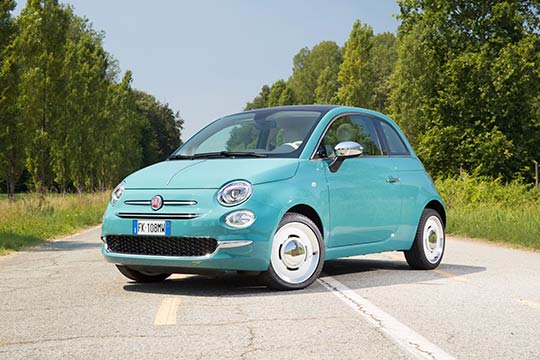 Italian-ish
Today's Fiat 500 comes with a choice of engines from three-cylinder, 900 cc to four-cylinder, 1.4 litre petrol, or a 1.3 litre MultiJet diesel. Even the lowest powered model has a power output of 59 bhp (so four times that of its ancestor), and a top speed of almost 100 mph (double). Prices start from £10,730.
Although it's still regarded as a quintessentially Italian car, the current Fiat 500 isn't built there. It is made at a factory in Poland, and also in Mexico, and exported to 100 countries around the world.
Anniversary model
It has also spawned a whole family of associated models: the cute little soft-top Fiat 500 Cabriolet, the rather pumped-up and porky-looking 500L, and the shapelier 500X crossover.
Fiat has just launched an anniversary edition, the Anniversaire, in celebration of 60 years of the Fiat 500 – or the Cinquecento as Italians call it.
The modern Fiat 500 isn't the crispest-handling car of its size, but it has an appealing character and is chummy to drive with mannerly behaviour and a fair ride quality. It's cute looking, nippy around town, has a funky cabin and is well-equipped with safety kit and connectivity.
The anniversary model is in the UK as a limited edition of 250 cars, and comes with a metal plaque confirming its special status. The kit list includes a seven-inch touchscreen for infotainment and satnav, multi-function steering wheel, auto lights and wipers, cruise control, automatic climate control and rear parking sensors.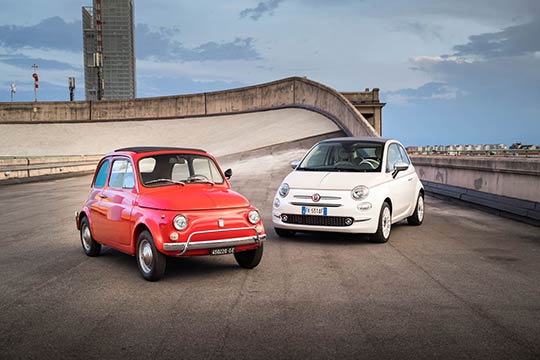 Fiat 500 Stats
Model tested: 500 60th anniversary 1.2 69 bhp
Top speed:  99 mph
0-62 mph:  12.9 secs
Economy:  74.3 mpg
CO2:  88 g/km
Price:   £19,240
Images: Sue Baker