In the bleak mid-winter we all need a bit of cheering up, and a blast in an open-top car could be just what you need. 
Most modern cars are so achingly rational. They tend to be tall and practical, with roomy boots, fold-down seats, and an armoury of safety features. They are selfless and sensible, functional and family-friendly.
But if you have any speck of petrolhead instinct coursing through your veins, don't you just occasionally yearn to drive something a bit more, well, selfish? To have some fun behind the wheel? For a bit of breezy engagement? That is the appeal of driving a convertible, with the option of de-lidding the roof and going topless when the mood takes you.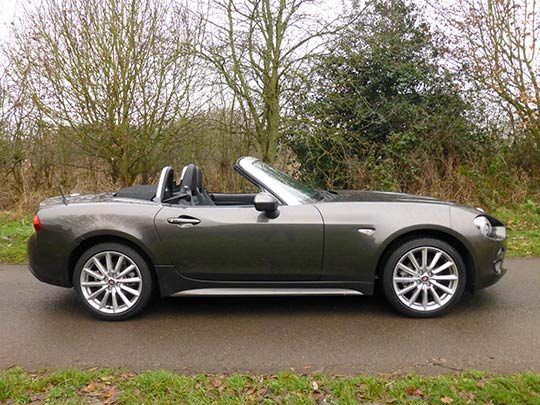 Spring and summer are the seasons most naturally associated with classic soft-top cars, when many emerge from winter hibernation like butterflies escaping from their chrysalids. But a well-designed modern drop-top, with an efficiently engineered hood that can be elevated rapidly, and seals tightly against the elements, is just as viable in the middle of winter.
Hidden secret
So here is the sexy little two-seater soft-top sports car that we have been testing at this chilly tail-end of the year. It is the newest Fiat to arrive on the scene, the 124 Spider.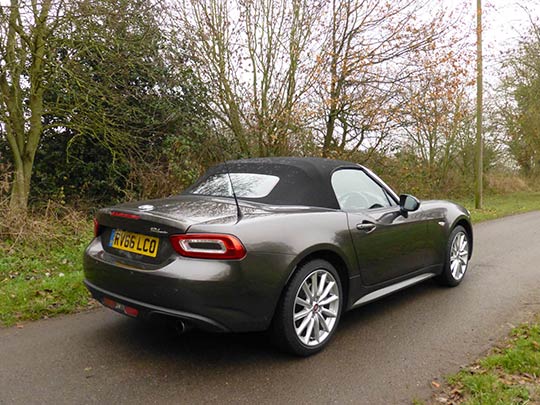 Fiat has a long history of drop-top cars, stretching way back, with the ancestry of this particular model rooted half a century ago. The 1960s was the heyday of youthful optimism and cars to match, and in late 1966 the original Fiat 124 Sport Spider made its debut.
In celebration of that car's recent 50th birthday, here is its modern-day descendant, newly arrived on UK roads. It has a hidden secret though. What looks like an all-Italian traditional sports car, with its sleek lines and slick hood, has a skeleton in the closet.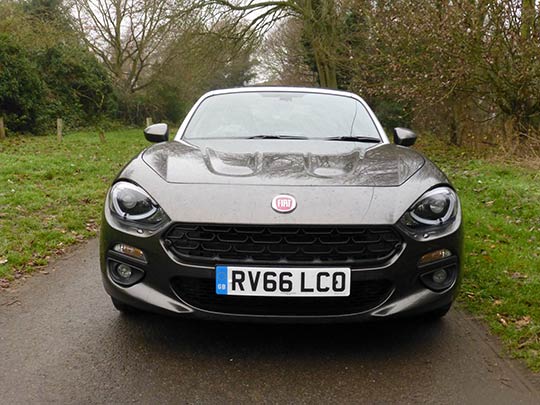 Underneath, it is basically a Mazda MX-5 in new clothes. So the Fiat badges disguise a car that isn't fundamentally Italian at all. Ho hum. Does it matter? Arguably not much, because it looks the part and the MX-5 is a fine base for a decent and affordable sports car.
Going topless
Soft-top cars used to come with a built-in handicap. The hood. Anyone past 40 who remembers convertibles from their youth, and any owner of a classic model today, knows what a pain the folding fabric roof can be – a jumble of metal struts and over-stressed material. Old-style convertibles used to rake your hair to straw with the top down, and douse you with draughts and drips, or worse, when driving in the rain with the roof raised.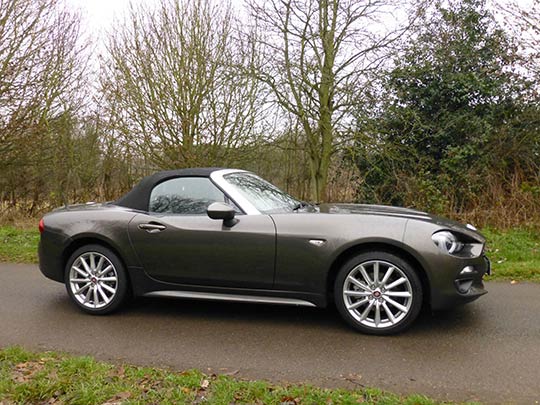 That's all history. Hooray for this new Fiat Spider's exemplary hood, which is very quick to lower or raise, and seals tightly to be completely weatherproof. To open it, you simply release the lever above the windscreen, which automatically triggers the side window motors to lower them just a fraction. Then you push back the hood and it concertinas down behind the seats, where you press down to lock it in place.
At a stretch, it can all be achieved without leaving the driving seat. Then there's a lever between the seat backs to release the hood again, and it's an easy pull forward to close it and secure the screen-top latch. Job done, weather shut out.
Heat treat
With older convertibles, another big concern was how efficient the heater was. Could you drive with the top down at this time of year without risking frostbite? Happily that's history. On this Fiat's options list, and fitted to our test car, are seat heaters that keep you toasty while driving topless in late December, or at any other chilly time of the year.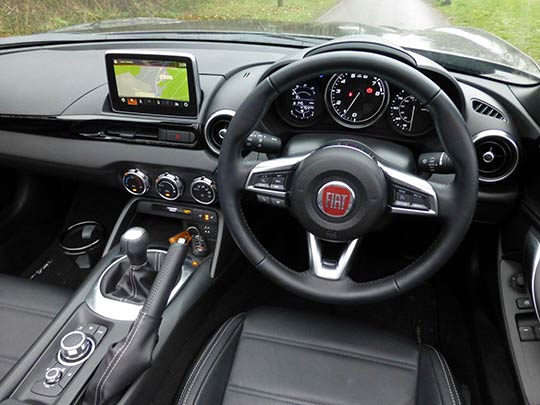 You don't choose a sports car if you are a must-take-all packer, because low-slung sleekness and a big boot tend to be mutually exclusive. Even so, the Spider's boot isn't too bad for the type of car it is, at a neat oblong box-shaped 140 litres.
Road-going fun
Like most good sports cars the 124 Spider is rear-wheel-drive, and its engine is a 1.4 litre turbo petrol unit with a 138 bhp power output. That sounds a modest size of motor, but the car is relatively light with a kerbweight of around a tonne, and it is a zesty performer with a 7.5 seconds acceleration time.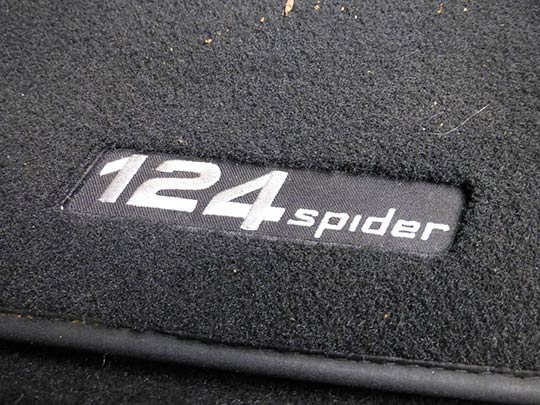 It's a fun drive, pointy and entertaining although a bit looser-feeling than the closely-related MX-5. The Fiat seems set up a touch softer and isn't quite as taut as the Mazda. It's a bit more skittish too.
Even so, there's enough driver engagement and tactile response to make it a car you look forward to taking somewhere just for the enjoyment of an open road with an open roof. Especially with summer on the way. Yes, I know it's still mid-winter, but we're already past the shortest day, receding in the rear-view mirror of last week. That's as good an excuse as any to put the top down!
Fiat 124 Spider Stats Review
Model tested: Lusso Plus Multiair
Top speed:  134 mph
0-62 mph:  7.5 secs
Economy:  44.1 mpg
CO2:  148 g/km
Price:  £23,295
Images: Sue Baker