On and off the track with a hot Honda
Blink your eyes. That was quick! About one-third of a second, typically, is the time taken by a human blink. Now here's an amazing fact. That is precisely the same time gap that covered the first eight cars across the finish line at Brands Hatch in a round of the British Touring Car Championship last year. If you'd blinked at that moment, you would have missed them!
That's how intensely competitive BTCC racing is, and why it's so very popular as one of the most engaging forms of motorsport in the UK. For a long time, too. It is now in its 58th year, and the oldest team on the grid and current reigning champion, Honda, has been involved in the hugely-popular race series for 26 years.
Honda's Halfords Yuasa BTCC race team uses a competition version of the Civic Type R 'hot hatch'. As a road car, it is known as a sizzling performer with extrovert looks to match. The race derivative is the same model with permitted modifications that include lightened bodywork, special paint and a bespoke roll-cage to protect the driver in the notorious close-contact rough-and-tumble of the incredibly competitive racing.
Honda's heroes
The team's cars are driven by reigning BTCC champion and twice series winner Gordon Shedden, known as 'Flash'; three times title-holder Matt Neal, who is unusually tall for a racing driver at 6 ft 6 ins; and new recruit Andy Neate.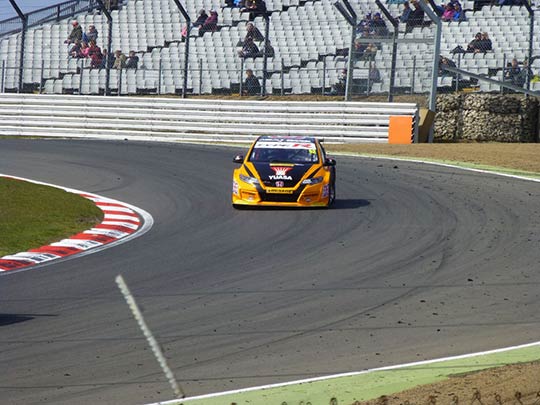 Spending a day in fly-on-the-wall mode with the Honda race team is a lesson in masterly precision and mind-boggling logistics. The kit the team carries with it for its three cars at a race meeting, such as this weekend's BTCC round at Thruxton in Hampshire, includes over 100 tyres: two-thirds of them dry weather 'slicks' and the rest grooved wet-weather compounds.
Each one is ready-mounted on a wheel, to go straight onto a car when needed. The team's attention to detail is so pernickety that every tyre must have its inflation valve perfectly aligned, directly opposite the wheel's logo.
Eighty tons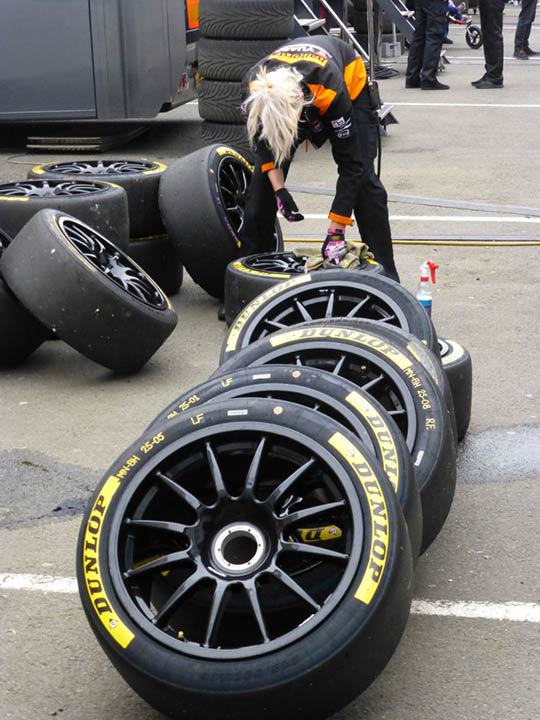 This huge cargo of wheels is just a fraction of the total tally of components carried in the team's huge road transporters. There is 80 tons of equipment. With every last nut and bolt counted, the full list totals 10,000 items! No wonder motor racing is an expensive sport. And this is a team whose cars are known as some of the most reliable on the grid.

The remarkable efficiency of what they do is evidenced by the time it takes to change an engine in one of their cars. A car dealer would take up to 10 hours to do the job if a motorist's engine needed replacing. Race team time: just 38 minutes!
When a BTCC driver wins a race, he has to carry 'success ballast' next time out – 75 kg of lead, equivalent to the weight of a passenger, stashed where the passenger seat would be in the road version of the Type R. It affects the car's handling and increases tyre wear, acting as a penalty to benefit drivers further back in the race. It's a tough series.
Lairy road car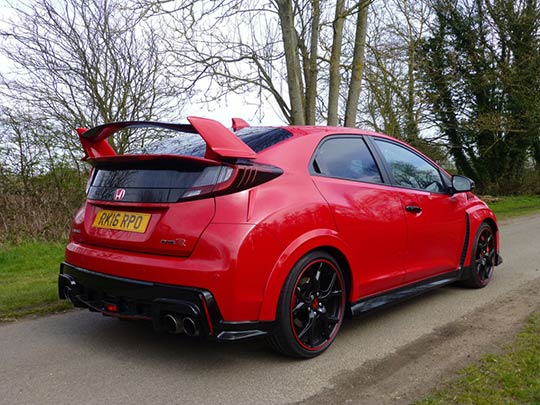 The success of the racing Civics, and the Honda team's dominance as reigning BTCC champions, is a tribute to the desirability of the Civic Type R road car. It is a lairy-looking beast, one of the most extreme hot hatches currently available and a bit of a wild car only moderately tamed by safety-biased electronics. It has over 300 bhp powering the front wheels.
It is certainly quick off the mark, with a 5.7 seconds 0-62 acceleration time and vivid performance from the two-litre 16-valve turbocharged petrol engine. It is huge fun to drive, but you mustn't mind being looked at wherever you go. That eye-popping rear spoiler makes sure of that.
As for the racing version, it will be out in triplicate this weekend at Thruxton for the fourth round of the BTCC 2016 championship. There will be another seven rounds to follow at race tracks all around the country, including Knockhill in Scotland, before the final at Brands Hatch in October.
Honda Civic Type R: Stats Review
Model tested: Civic Type R
Top speed: 168 mph
0-62 mph: 5.7 secs
Economy: 38.7 mpg
CO2: 170 g/km
Price: £30,000