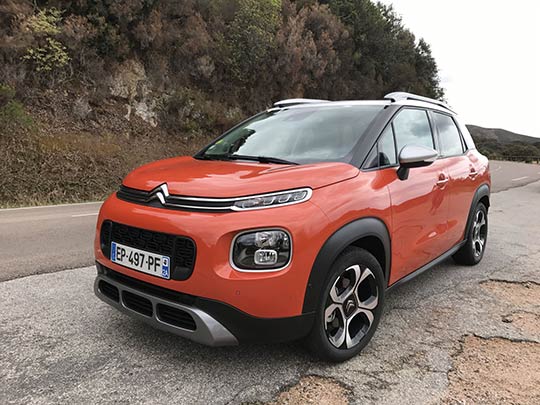 SUV-crossovers increasingly dominate the traffic, but they don't have to be big and bulky, as the mushrooming breed of smaller ones now shows.
Hooray for the double chevron brand. Here is a car that is clear evidence of just how much Citroen is rediscovering its mojo. Following on from the delightfully quirky C4 Cactus, here comes the new C3 Aircross with a welcome dash of character and attitude.
It ploughs a fresh furrow for the French company. The C3 Aircross does not have a direct predecessor, although it effectively replaces the old C3 Picasso. That was more of a mini people-carrier, and although a pleasant and practical small family car, it lacked personality.
Based on the latest C3 supermini, the C3 Aircross is a steroidal version with added gym kit. It has a higher ride height, roof bars and a choice between 90 colour combinations, and some distinctive wheel designs. From its funky style, personable colour palette and its venetian blinds – of which more in a minute – the C3 Aircross is dressed up like a mini-adventurer.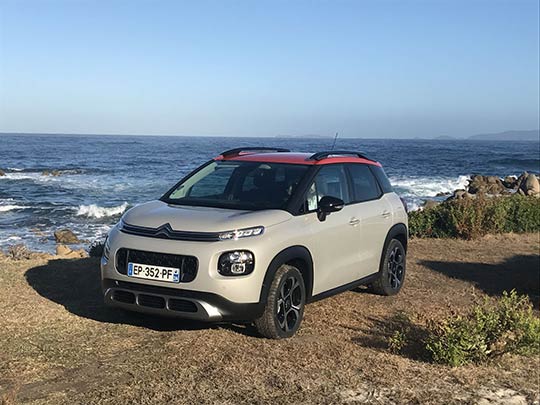 If you're looking to enter the world of SUV's, then the Citroen C3 crossover is a great place to start. Find our how much your old car is worth and start the process of upgrading your vehicle today.
Chunky style
From the front it resembles one of those trendy pug-faced dogs that are popular with so many young celebrities. There's a shallow snout stretching from either side of the chevron badge to the slimline upper lights. Below, the mouthy grille sits between squarish headlights, and above a dramatic three-slot skid-plate valance.
At the back the C3 Aircross is a bit reminiscent of a MINI Countryman, but with rear lights that wrap around rather than sitting upright. The Citroen's tail lights are a quite distinctive signature when they're on, with bright centre-less LED oblongs. They give a strong rear identity to the car by night.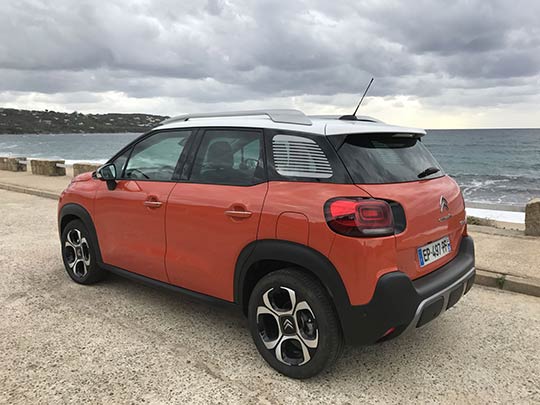 What about those venetian blinds? This is a novel notion by Citroen. They shade the rear three-quarter windows, with nine narrow bands of white sandwiched between wider bands at the top and bottom. It's a cunning trick to give a view out from inside, but adding a touch of privacy and sun-shading from outside. Clever, quirky and practical.
Friendly to drive
Expectations of the way the C3 Aircross drives are potentialy influenced by its close relationship with the Vauxhall Crossland X. They share a similar structure, and are built in the same Spanish factory. The Citroen is a notch above the Vauxhall though: better to drive, feeling more poised and planted on the bends, and with superior body control.
It is more comfortable too, with a better resolved ride quality and seat cushioning that helps to absorb  the transmission of road surface undulations. This is a friendly car to drive, it's fairly undemanding but without anything much to complain about.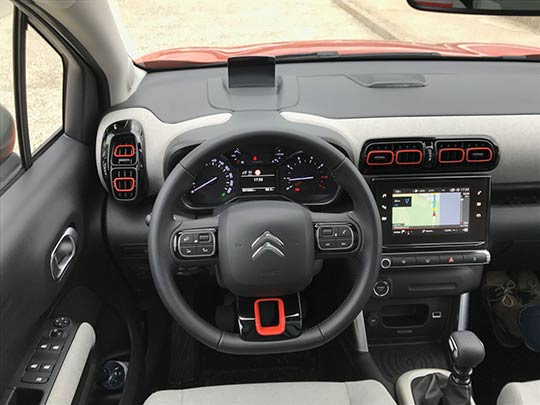 The steering is light and reasonably precise, the six-speed manual gearbox snicks through its ratios pretty cleanly and back seat passengers have nothing to gripe about. They sit quite high up with a good view out, and with those partially-shaded rearmost side windows giving a cosy feel.
Power and practicality
When the C3 Aircross goes on sale from November, there will be a choice of engines: PureTech petrol motors with power outputs from 81 to 128 bhp, and Blue Hdi diesels with power outputs from 98 to 118 bhp. Transmission choices are five or six-speed manuals or a six-speed automatic with manual mode.
Some models have a hill descent control system, and 'Grip Control' that gives you a choice between five driving modes and sets the car to manage slippery and modestly off-road surfaces.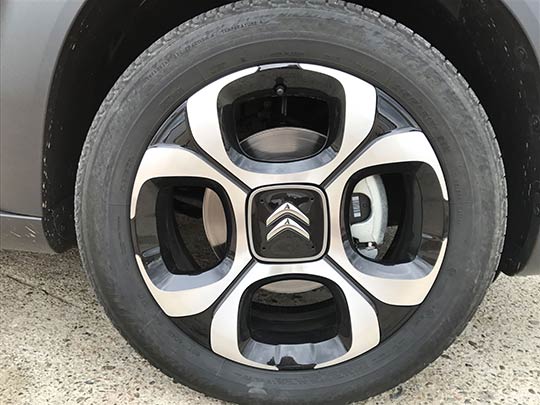 It's a practical family car, with a back seat that slides 15 cm fore and aft to vary the seat-back angle and increase boot space. For the car's overall length, at 4.15 metres, it has a big boot with 520 litres capacity, stretching to 1,289 with the rear seats folded.
There are three trim options, called Touch, Feel and Flair. In keeping with Citroen's aim to make this a 'people-minded SUV' that will appeal to young families, there is a wide range of colour combinations to let you customise the car to look different from others. The choice runs to 90 combinations, with eight body colours, four roof shades, five interior trim options and four colour packs that let you have contrasting door mirrors and detailing. Prices start from around £14,000.
Citroen C3 Aircross Stats Review
Model tested: C3 Aircross Blue HDi 120 S&S manual Flair
Top speed:  114 mph
0-62 mph:  10.7 secs
Economy:  68.9 mpg
CO2:  107 g/km
Price:   £19,525
Images: Sue Baker