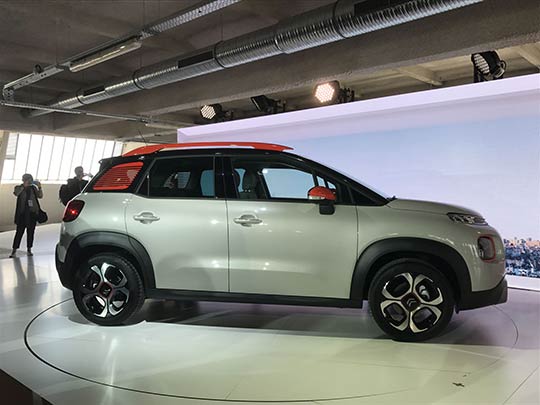 The double chevron car maker has taken the wraps off its chic new compact crossover SUV
With the Paris skyline as a dramatic backdrop, and with trendy French electro-pop band Blow playing at full revs to emphasise the Frenchness of the event, Citroen has just unveiled its new crossover-SUV. So here comes another hunky car of the kind that is steadily engulfing the motoring world: tall, practical, multi-purpose and leisure-orientated.
In the words of Citroen's British global boss, Linda Jackson, the newly-hatched C3 Aircross marks 'the acceleration of Citroen's transformation'. It comes just three months after a teaser concept car was shown at the Geneva Motor Show, and will go on sale this autumn.
A surprise is that it doesn't have the parking nudge-protective airbumps that feature on other recent Citroens, notably the C4 Cactus and C3 hatch. That's a pity, because as well as being a very practical protection against minor damage, airbumps add character. But it does have another distinctive feature.
Where other SUVs have thick rear pillars, the C3 Aircross has large rear side windows with slatted venetian blind markings that are coloured to match the car's roof. They add style as well as having a purpose, giving the illusion of a rear pillar, but it's see-through.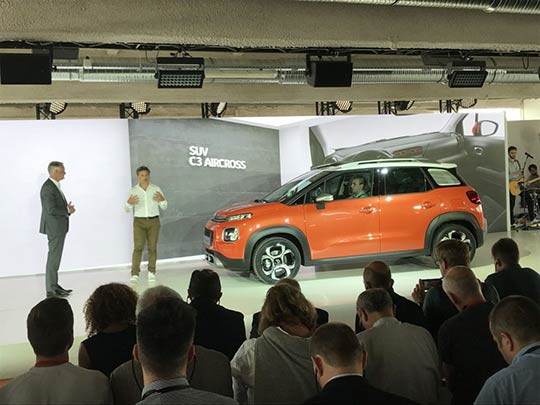 Variable boot
Why Aircross? The name apparently derives from 'airy crossover', and that's a fair summary of a car with big windows and – for its size – a spacious interior, as well as a decently sized and variable boot which Citroen claims is the biggest amongst its rivals. The body measures 4.15 metres long, 1.76 metres wide and is 1.64 metres tall. The wheelbase is 2.6 metres.
It's a five-seater, with the useful practicality of a sliding rear bench seat. The rear seat row not only split folds in a 60/40 configuration, but has reclining backrests and the bases slide separately fore and aft to vary knee-room and boot space.
With the rear seats set in the aft position, the boot is 410 litres, but it goes up to 510 litres with the seats slid forward, and reaches a maximum 1,289 litres with them folded down. The front passenger seat also folds flat. There's room for items up to 2.4 metres in length to be carried. The boot has a split-level floor with a  sill-level shelf that can have items stowed under it, or be lowered for carrying bigger luggage.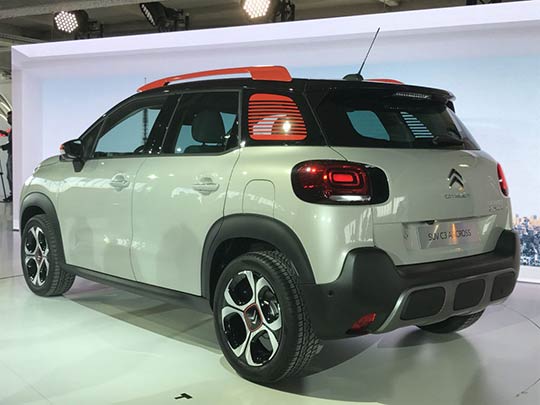 Rugged touches
The C3 Aircross is a soft-road SUV rather than an off-road one, but it does have some rugged touches to give it a bit of a butch look. It has a short bonnet, big wheels, front and rear skid plates and mildly pumped-up suspension with just over 70 cm of ground clearance.
It comes with roof bars, and is equipped with grip control to cope with slippery surfaces, hill descent control to manage its behaviour on slopes, plus five driving modes to suit differing conditions. Other techy features include lane departure warning, head-up display, Apple CarPlay and wireless charging for smartphones.
There will be a choice between six engines, from 1.2 litre petrol to 1.6 diesel.
There is also plenty of scope for trendy personalisation, with some 85 different colour combinations of paintwork, contrasting roof and interior trim choices.
The C3 Aircross will be a new rival for other compact crossover-SUVs, notably the Nissan Juke, Renault Captur and Vauxhall's new Crossland X. Citroen is also planning a larger sister model, the C5 Aircross, planned for launch in the latter half of next year.
Thinking of upgrading to the new Citroen C3 Aircross? You can sell your old car quickly and easily here with webuyanycar!
Images: Sue Baker