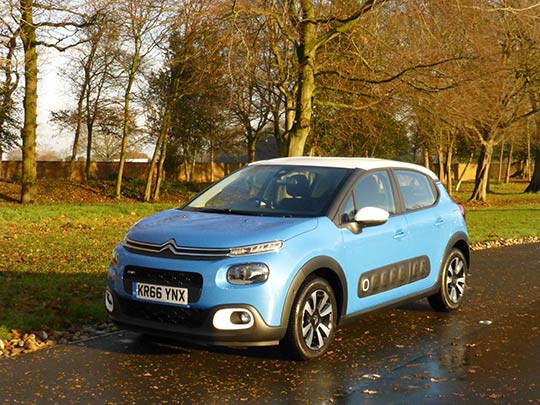 Let's start the year with a car brand that is going places. Citroen is busy reinventing itself for a new generation, and here comes its newest offering. 
Last summer Citroen revealed its new C3 supermini at a chic art centre in trendy downtown Lyon, and now at the dawning of a new year in chilly mid-winter it's here, freshly arrived in UK showrooms and newly on the road.
It comes just as Citroen is revving up its big new push to establish a fresh image for itself, as a purveyor of sprightly and interesting models with some unique visual appeal and a big emphasis on comfort as the brand DNA.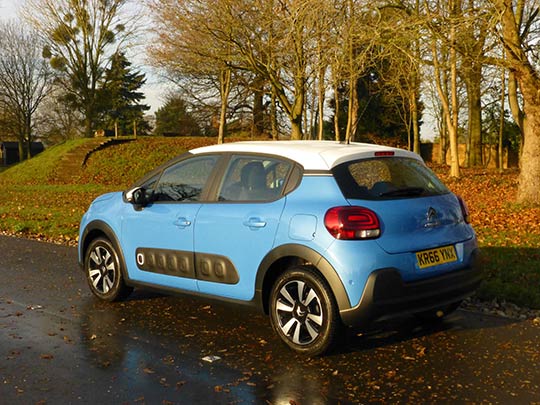 Citroen is a passionately French company that once had a proud reputation for quirkiness, which in recent times faded behind some rather mundane cars. But it is now on the move again, rediscovering its mojo under the direction of British boss Linda Jackson. She is honing a chic new identity for the double chevron brand based on style and comfort.
Scaled-down airbumps
The new C3 endorses that, with a pliant absorption built into the car's suspension to give it a more cushioning ride than some of its rivals. As a result there's a friendly and relaxed feel to the way this new C3 drives, even though it shares many basic under-skin components with its predecessor, the previous generation model.
So how does the new C3 shape up against its major opposition? Initial impressions based on style, looks and technical specification were good, and the driving experience confirms that. It doesn't zoom to the top of the class, but it is more engaging to drive than the old car, and is now much more in the frame as a viable alternative to the dominant trio of Ford Fiesta, Vauxhall Corsa and Volkswagen Polo.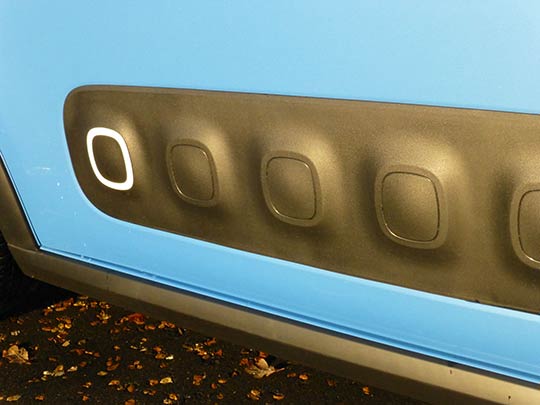 One asset this new four-metres-long baby Citroen has in its armoury is airbumps, those air-filled cushions that protect the body sides against minor damage. Pioneered on the C4 Cactus, the airbumps have been scaled down for the C3, to be lower and sleeker, matching the car's smaller size. They're a boon against carelessly opened neighbouring car doors in tight parking spaces.
Recording it
The C3 has another notable feature that could also be a very handy asset. It's ConnectedCam, a built-in forward-facing camera tucked behind the rear-view mirror. It comes as standard kit on higher-spec models. It is GPS-enabled, so knows where you are, and has a button you can press to take a photo or video of the road ahead.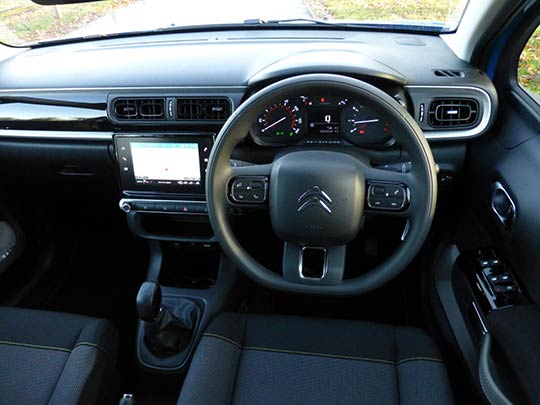 You can pair it via an app on your mobile, so things you see as you drive can be uploaded automatically to social media. There's a more serious purpose to it too. Sensors built into the car to detect any imminent collision are primed to trigger the video recording system, to automatically activate 30 seconds before the crunch and for another minute afterwards. So you have a record of precisely what happened just before, during and immediately after any unlucky happening. Handy.
Bright idea
Another smart feature the C3 has is white linings in the door bins. What a bright idea, using a contrasting light shade for the inner surfaces, so you can instantly see what's lurking in there. It's a simple touch that is very welcome and you do rather wonder why car door bins are usually so uniformly dark inside.
Now to the technical nitty gritty. The engine choice is petrol or diesel, with most buyers likely to opt for the perky 1.2 litre, three-cylinder petrol unit that comes in three power outputs: 67, 81 or 109 bhp. The middle one is mooted to win the popularity prize, and it's a decent enough performer. We wouldn't recommend the lowest-powered version, with its very modest oomph.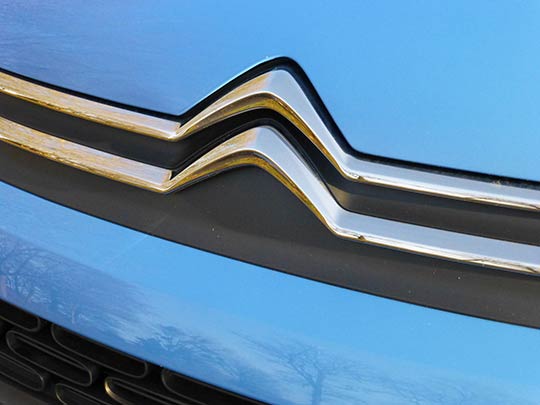 The diesels are BlueHDi units with either a 99 or 109 bhp output, and these are the most frugal for running costs, with sub-100 g/km CO2 figures and combined economy as high as 80 mpg – although we all know the real world consumption will more likely be between 60 and 70 mpg. Still pretty healthy though.
Price jump
There's plenty of competition on the supermini scene, so the C3 needs to be keenly priced to grab a good share of the action, and it is. Prices start from just under £11,000, and it feels like quite a lot of little car for the money. But that's for an entry-level Touch model, and to rise to the mid-range Feel trim level of our test car is quite pricey, at a £2k-plus jump.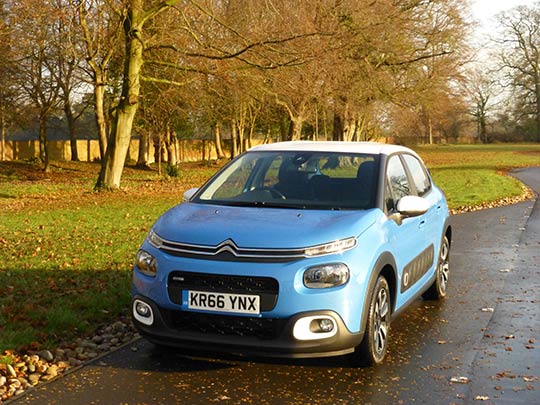 It's less of a climb, though, to top-spec Flair trim, which adds just over another £1,000, and also stacks up some desirable extra kit – including the ConnectedCam system that is an interesting feature to have in today's social media-savvy age, as well as providing useful evidence of any unfortunate incident.
Citroen C3 Stats Review
Model tested: C3 Feel 1.2 PureTech 80
Top speed:  104 mph
0-62 mph:  12.3 secs
Economy:  60.1 mpg
CO2:  109 g/km
Price:  £13,745
All Images: Sue Baker