We might know who is king of the ring, but it's time for the ultimate vehicular showdown! Who owns the best car collection: Conor McGregor or Floyd Mayweather?
Let's take a look at their rides before we make a decision. Scroll down to see the result.
Conor McGregor's Cars
One of the world's most notorious sporting figures, Conor McGregor burst into the UFC spotlight in 2013 and is now estimated to be worth in the region of $34 million (Forbes).
Known for regularly flaunting his lavish lifestyle to his social media followers, the 28-year-old has invested in a pretty impressive multi-million pound car collection. Let's take a look at some highlights from his garage.
He's owned his fair share of Italian super cars with *just* three Lamborghinis in his collection – an ivory Lamborghini Aventador Roadster that spits fireballs from the exhaust, a forest green Lamborghini Huracan Avio which is the only one of its kind in Ireland (and was recently towed away in Dublin!) and a lime green Lamborghini Aventador nicknamed 'The Mutant'.
img loading="lazy" src="https://cms.webuyanycar.com/globalassets/images/car-magazine/2017-07-17075902_255841221509710_5528111097409699840_n.jpg" alt='' />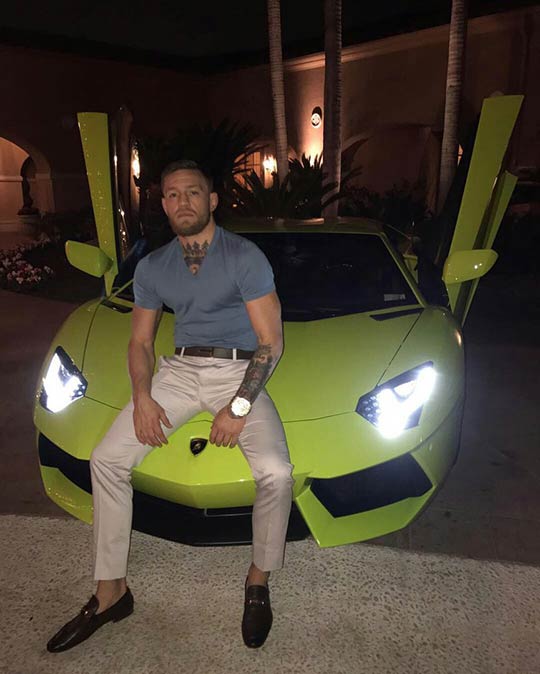 But he also likes a touch of luxury too, having been the owner of a Rolls Royce Dawn, Phantom Drophead and Ghost – the latter a custom-made model worth £280,00.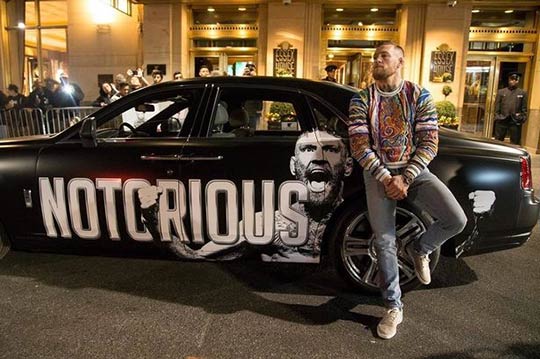 He's also been seen driving around in a few different Range Rovers like this one – just a little less flashy compared to the rest of his car collection!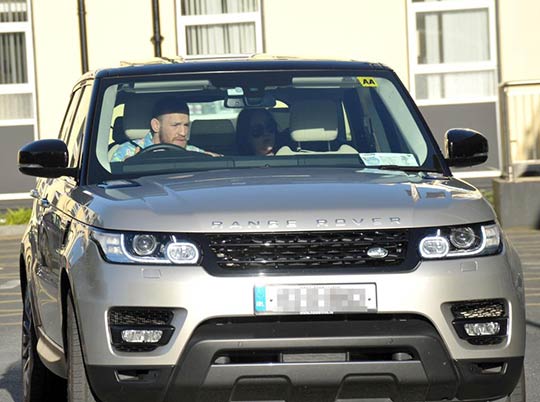 He can often be seen flaunting his BMW i8 on his Instagram account, adding an electric car to his ever-growing list of vehicles.
<
Floyd Mayweather's Cars
Worth a whopping $340 million (Forbes) it's no surprise that the American boxer has an impressive car collection. A lavish lifestyle needs lavish motors, so let's take a look at some top picks of the cars he owns.
One of the world's fastest and most expensive vehicles – so why not own three Bugattis?! That's right, Floyd Mayweather owns three of these beauties. Last year he spent a cool $6,500,000 on two of them.

No car collection would be complete without a Ferrari, and he's had a few: a Ferrari 458 Italia Spider, Ferrari Enzo, Ferrari 599 GTB Fiorano and Ferrari 430 Scuderia.
img loading="lazy" src="https://cms.webuyanycar.com/globalassets/images/car-magazine/2017-07-Mayweather-Ferrari-599-in-black-600x450.jpg" alt='' />
Staying with the supercars, Floyd Mayweather has owned several Lamborghinis – his most recent purchases being a Lamborghini Aventador LP Roadster and a Lamborghini Murcielago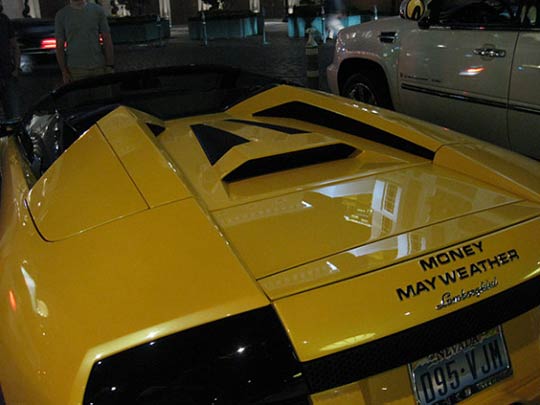 Just like McGregor, he likes a bit of luxury and has owned a number of a Rolls Royce models too, his latest purchase being a Rolls Royce Phantom in 2016.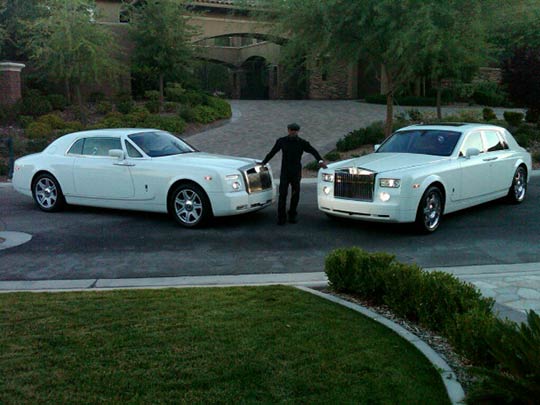 The Result
It's fair to say both are up there when it comes to impressive car collections, from super cars to luxury rides, we're not envious of them…nope, not one bit…!
But we've got to say one person just about edges it. Come on, with THREE Bugattis sitting in his garage, surely Floyd Mayweather has to get the points in this round?!
Comment below with who you think should win the fight of the car collections.
If you fancy upgrading your car to one of these beauties then why not see how much your old one is worth and sell your car with webuyanycar.